Love Is Blind's Deepti Called Shake's Apology "Insincere"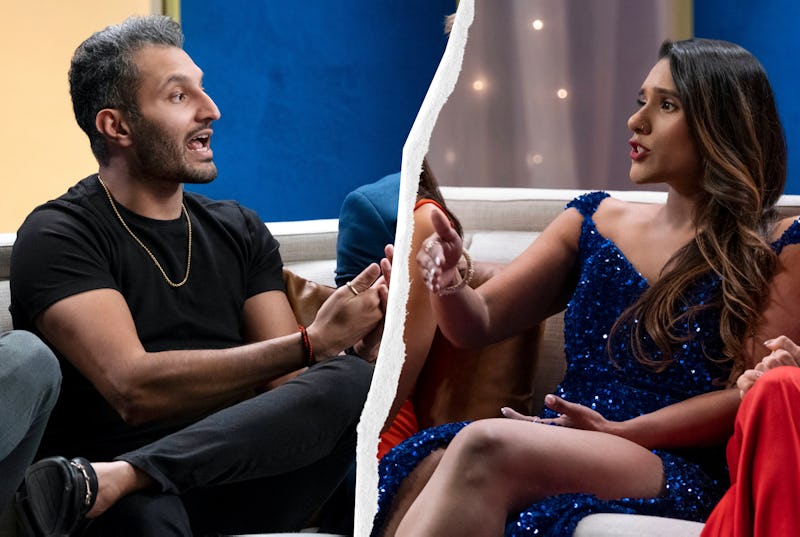 Adam Rose/Netflix © 2022
The Love Is Blind drama continues to unravel, especially after the reunion episode, as Deepti responds to the apology Shake gave to her. Abhishek "Shake" Chatterjee made quite the name for himself on season two of the series due to his somewhat questionable remarks he made whilst dating women in the pods, comments that had the goal of revealing more about a woman's appearance. He apologised to Deepti - both publicly and privately - for his words and actions, which she has branded 'fake' and revealed she was 'broken' by his cruel behaviour on the show.
Shake and Deepti made an "emotional" connection in the pods and so their whirlwind romance kicked off with a proposal and an engagement. However, things quickly turned sour. Shake made it known to everyone but Deepti that he was struggling with physical attraction and intimacy as he saw Deepti as more of "an aunt". Fast forward a few weeks and the wedding comes around, which saw Deepti leave Shake at the altar telling him that "I deserve somebody who knows for sure, so I'm choosing myself and I'm going to say no."
But this was just the beginning of this couple's tensions. Shake was quick to take to Instagram to claim in a video that his Love Is Blind experience was heavily and inaccurately edited, which was followed by a written statement from Deepti's brother Sunny and his partner, Hina Merchant Vempati. Deepti's family called Shake a "loser" and a "clown" and that he couldn't blame it on the "edit" as "no one forced you to say those words."
On Mar. 1, Shake posted another video to Instagram saying he wasn't sorry for anything that happened on Love Is Blind, "I'm not sorry. I think I handled the situation as best as anybody in my situation could. And at the end of the day, I'm going to live my best life going forward. And you don't have to like me. Only I have to like me, thankfully."
And the Love Is Blind reunion episode didn't improve on matters whatsoever, if anything, Shake doubled down on his comments, even bringing hosts Nick and Vanessa Lachey into the mix when they questioned his motivations for being on the dating show.
But Shake's recent apology (Mar. 8) has not gone down well with his ex-fiance. Per MailOnline, Deepti said that "This is the first time he's apologised. Right before he made that video, he sent me the same text message. But for me… it's too late." Deepti explained that she feels he's just doing "damage control", adding that it's "clearly what he's continued to do on social media since that apology, it's evident that he does not care."
Deepti went on to say, "I honestly don't want anything to do with him and his apology is fake. It feels insincere." It doesn't look like Shake and Deepti will be making amends any time soon and definitely won't be returning to Nobu together in the near future.
Amongst all the drama, however, Deepti has been hailed by fans for choosing herself and championing self-love. The Love Is Blind star admitted she's battled body insecurities and identity issues before the show but has worked hard to build her confidence and embrace her culture.
This article was originally published on