Love Island's Haris Insists Street Fight Video Doesn't Show Full Story
Here's what the former contestant had to say over the controversy.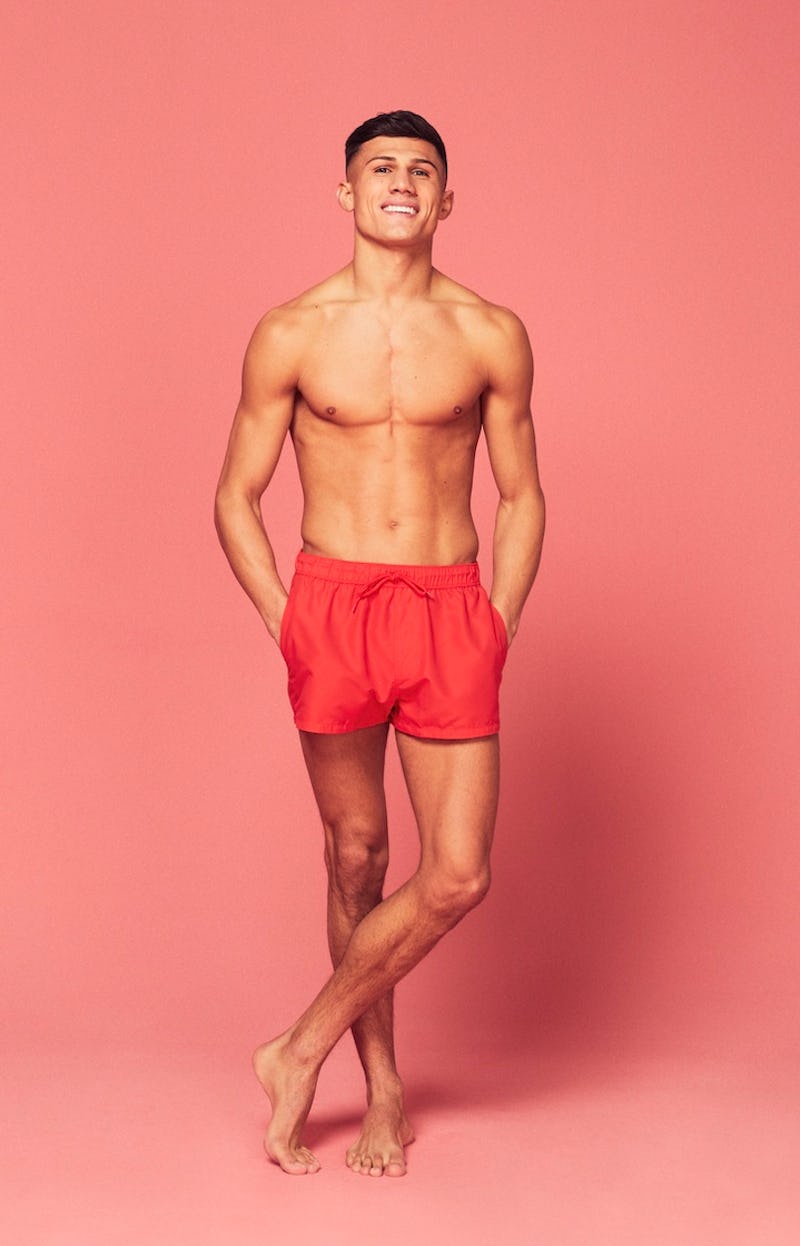 ITV2
The winter edition of Love Island kicked off in South Africa on Jan. 16, and Haris Namani was among the plucky hopefuls searching for love. The 21-year-old hails from Doncaster, and knows a fair few things about TV already — he sells them for a living. However, Haris' time in the sun was cut short not long after a video of him involved in a street fight resurfaced online. Since leaving the villa, Haris has directly confronted the footage, sharing his side of the story. More on that, and everything else you need to know about the former Love Island hopeful, below.
What is Haris' Job?
Doncaster-based Haris is a TV salesperson — and it's also evident from his social media that he loves boxing. In fact, the Islander believes his love for the sport prepares him for the show. "The nerves have not hit yet. I've been boxing for years, so I know how it works to go somewhere with pressure, but maybe it will hit a little when I get there. I'm sure when I get in the groove I'll be fine. I'm not one to shy away from a situation," he told Bustle.
What Is Haris' Instagram?
As with all of his fellow contestants, Haris' bio on Instagram currently reads: "I'm off to find love in the Love Island villa. See you soon!" Over on @haris_namanii you'll find the boxing fan sharing workouts and jet skiing shots. "I suit this lifestyle, I'll not stop till it's an every day ting," reads one caption. At the time of going to press, he has 1.7k followers.
What Else Is There To Know About Haris?
Haris has never introduced any of his previous partners to his family — and knows that any potential partner will need to pass this challenging hurdle before they can find love. "I've never taken a girl home," he says. "I'm not going to say I've fallen in love until I've taken them to meet my mum and dad or sisters and brother." Interestingly, Haris has yet to experience falling in love. "I've never found love. I think this is the show that can help me," he revealed. "It's the best opportunity for me to find the girl and find the right one. I've obviously not found the right one myself.
In the days leading up to his villa entry, Haris faced a public controversy as his ex girlfriend Courtney Hodgson claimed he dumped her weeks before going on Love Island. In response, Haris told Bustle: So basically we were seeing each other through the summer, and then maybe in Sep-Oct time I said to her, 'Courtney I don't think it's going to work out.'"
"I couldn't see a future with her and she was not the one. She never met my mum or dad or my two sisters and that's it. I don't know why she's talking about it so much, obviously maybe she's a bit more interested in me than I was in her. I'm a bit shocked."
The Street Fight Video Controversy
On Jan. 23, The Sun published a video which allegedly showed Haris in a fight on a night out in May 2022. Meanwhile, Haris left the villa in a "planned" dumping alongside Anna-May Robey, in scenes that aired on Jan. 25. He has since returned to the UK. In a statement following his exit, Haris said: "I'm devastated that this video has been seen, it's not a reflection of my character. I'm not someone that goes looking for fights and I didn't want to be in that situation. This was a heat of the moment thing."
He continued: "The video doesn't show everything that happened. Afterwards we met up and we cleared the air. We've shaken hands and we get along now. It's not something that would happen again."
This article was originally published on