Luca's Political Tattoo Is Giving Love Island Fans The Ick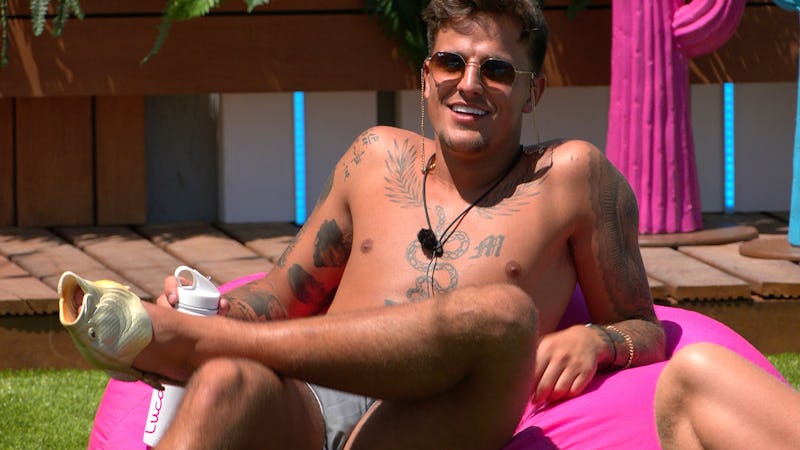 ITV
The 2022 Love Island hopefuls have now settled into the famous Majorcan villa. As usual, every move of this year's islanders is being scrutinised by social media - inspiring some top-tier memes and hilarious commentary. Just days into the new series, Love Island's Luca Bish has caused quite a stir among fans, after one eagled-eyed viewer brought attention to Luca's Winston Churchill tattoo that is giving some fans the ick.
"I don't think we're talking enough about the fact that Luca from Love Island has Winston Churchill tattooed on his forearm," one Twitter user wrote. At the time of writing, Luca is yet to address his political ink in the Love Island villa, but that hasn't stopped a wave of fan reaction and debate on social media.
Following the discovery of Luca's controversial body art, one fan described the tattoo as a "walking red flag," while another fan joked, "Please can we pop a top on Luca as his tattoos are an ick."
However, others didn't read too much into the Churchill-themed ink. "Tbf, guy has one of everything tattooed on him don't think we can read much into any of them, they don't exactly scream that a lot of thought went into it," another fan wrote.
Meanwhile, many other Love Island viewers were more puzzled by some of Luca's other tattoos, including a scorpion, a snake, a rose, and the year 1995. "Are we also going to ignore the bigger fact of having 1995 on his stomach when he's 23… not a bad thing, im just nosey and need relevance," another user commented.
Sadly, we may never know the true meaning behind the reality star's Churchill tattoo, but you can find some of the very best fan reactions to his body art below.