You Want To Be Seated Next To Lukas Gage
The 27-year-old The White Lotus and Euphoria actor is making fame fun again.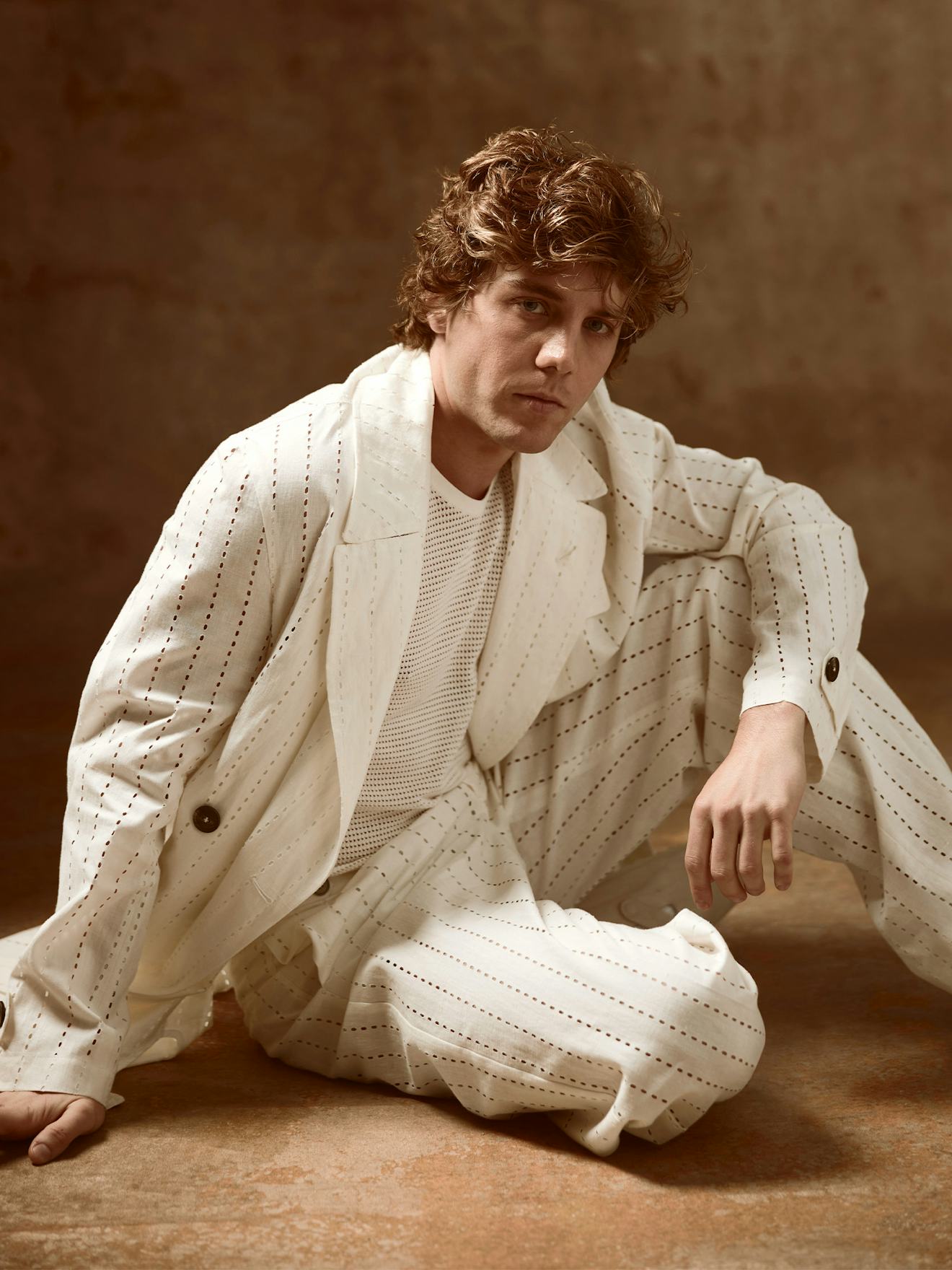 Lukas Gage enters, drinking water out of a champagne flute. Dressed in an ankle-length eyelet trench coat over a white mesh muscle top, Gage seems to glide into the room, then right over to the bar. It's a hair before noon, and he's between photo shoots: one with Bustle and one for Armani Beauty's Gen A initiative. He pops a bottle of champagne. "I don't take myself too seriously, and I don't want to take life too seriously," he tells me, dumping out the water and pouring the bubbly. "There doesn't have to be a political, social statement for everything."
The 27-year-old Euphoria and The White Lotus actor is gaining a reputation for his outlandish, unencumbered energy. He first made headlines for leaking a Zoom audition video in which the director, thinking he was muted, insulted Gage's "tiny apartment." ("I wasn't trying to do anything but give someone a little bit of a laugh," Gage says now.) Then he was in the news for "crashing" Paris Hilton's 2021 wedding to Carter Reum. ("Everyone was having a f*cking blast. I did a shot with [The Real Housewives of Beverly Hills'] Dorit Kemsley.")
Recently he appeared in a cozied-up bed selfie with Vanderpump Rules star Katie Maloney, sparking dating rumors. ("She was at the Edition Hotel, and my friends and I got a room there, and [I] was like, 'Come up.'") His interest in the Vanderpump Rules universe is long standing: Last March, he threw a birthday party for his writing partner, Phoebe Fisher, at Vanderpump haunt Tom Tom. It drew an eclectic crowd. "It just went from Batman [Robert Pattinson] to Olivia Rodrigo to the cast of every Bravo show," Gage says. But according to Fisher, nobody outshines Gage. "He walks into a room, and he's 'the room,'" she says.
That is certainly true in the greenroom of Smashbox Studios, though Gage is also more introspective than his nightlife shenanigans and shitposting would suggest. Gage didn't mean to crash Hilton's wedding after-party, he explains. A friend invited him without any context, and he was mortified. While his friendship with Maloney was born out of Gage's love of Bravo, the two have established a genuine bond, and spent that night at the Edition talking about life until 5 in the morning. And no, he might not have fully thought through the implications of posting that audition tape, but he was hopeful it would be a moment of levity to other actors struggling to find work during the pandemic. "I still pick at myself and strive too much for perfectionism," he says. "I don't think it was until my 20s that I [started] letting everything go and letting myself just be."
Gage's lack of inhibition has allowed him to use his characters' sexualities in intentional, fresh ways. On Euphoria, he made the task of having sex with Alexa Demie's Maddy in a pool, surrounded by onlookers, look surprisingly intimate. On The White Lotus, Gage was the one who suggested to the show's creator, Mike White, that they rewrite his sex scene with Murray Bartlett to feature the famous rim job moment. "I thought [my character probably] wasn't experienced in the gay world, and I don't imagine he would jump to start having anal sex," Gage tells me. "It made more sense in my head as a character." He has an arc on this season of You — it includes a golden shower; it was his idea to wear goggles — and in March, Down Low, which Gage wrote with Fisher, will premiere at SXSW. It stars Gage as a masseuse developing a relationship with a closeted gay client.
Gage is such a confident, versatile performer of human sexual behavior that his own sexuality — which he has never stated publicly — feels beside the point. "I just want the spectrum of things [I do on camera] to be so crazy different that everyone doesn't know what to expect next [from me]. With Down Low being this queer rom-com, I would love to do a straight rom-com and [show] you can be weird, f*cked-up characters, but you can also be leading men," he says. This year he'll also appear in Fargo as a married man who dreams of being a pro golfer. "I'm totally OK with getting nude but when I get [DMs] like, 'Show us your hole. When are you getting rimmed again?' I'm like, 'I don't think we should just be nude to be nude.' I want it to be important to the storytelling."
Gage's chameleonic tendencies are a product of his childhood in San Diego, where in sixth grade he was bullied so badly that he changed schools. He started trying on a variety of identities and images, hoping one might gain him acceptance. "My older brother was in a punk band, and I looked up to him and kind of copied everything he did," he says. "I tried to be in a band called Reckless Youth. I have a picture of me with black hair and nail polish playing the drums." At home, he found solace in reality shows like Rock of Love and Flavor of Love. "I took on this role in San Diego. I was like a surfer, stoner kid. I was always just trying to find out who the f*ck I was."
After high school, Gage decided to pursue acting and discovered his lonely childhood had given him another crucial skill: He could handle rejection. "I had my audition [for Assassination Nation]. I was so prepared, I was so excited. I lost the role, and [I] didn't even get close [to getting it]," he says of reading for Euphoria creator Sam Levinson's 2018 film. "I heard he was in New Orleans and I got an agent on the phone and was like, 'Can you get me in there?' I went to meet Sam in an audition room, and he was like, 'This role has already been cast, but you're really good.'" Yet Gage, who had flown to Louisiana on his own dime and had spent the night at a hostel, had nothing to lose. "I was like, 'Is there anything else?' [Levinson] literally gave me a paper in the room, and I cold read on the spot," Gage recalls. "He was like, 'Who are you? You're insane. You're unhinged.' But he gave me [the part] and I f*cking broke down crying on the way home."
Fisher, who was also in the room working as Levinson's assistant at the time, remembers the audition in much less manic terms. "I think the casting director ran out and grabbed him to come read for another role. He was just so quick, funny, and improving," she says of the audition that landed Gage a role in Assassination and led to him playing the cursed bro Tyler on Euphoria. "He's just so himself all the time, and Lukas as himself happens to be the most charming, magnetic, magnanimous person. So people are immediately drawn to him."
From there, Fisher says all it took was one transformative hug for the two to become best friends and soon after, writing partners. ("The warmth, the hard body. It was just like coming home," she says.) Gage had been kicking around some of his own script ideas for a while, but together they spent much of the pandemic studying up on the craft of screenwriting: tuning into Aaron Sorkin's MasterClass, rewatching Raising Arizona, and dissecting the structure of Romancing the Stone. When it came time to sit down and actually write, the pair holed up in Fisher's apartment for a frenetic three-day marathon that resulted in the first draft of Down Low. "We sent it to our people being like, 'Hey, can this be a sample that can show that we can write?' They were like, 'Wait, the script's lit. Why don't we just take it out?'" Gage says. FilmNation quickly came on board to produce, with Zachary Quinto, Judith Light, Simon Rex, and Audra McDonald signing up to star. "Having those people who I looked up to say words that I wrote in an apartment at 3 in the morning was probably the most surreal experience in my life."
Down Low takes place over the course of one evening, when Gage's character gives a deeply repressed gay man (Quinto) a happy ending, and hijinks ensue. So, yes, nudity was important to the storytelling. "My character has definitely had a lot of gay experiences, so I was like, 'We have to be f*cking, he has to know exactly what he's doing, and he has to be actually teaching the older man," Gage says. "I want to break that stigma too. We don't just always have to be these doe-eyed twinks. It can be the other way around."
Gage's career is about to take off in an even bigger way, but he says he's realizing that success doesn't equal self-esteem. "When things started happening, [I thought] that was going to solve all my sh*t, and I would feel loved by whoever, and that would make up for the lack of love I got in other places," he says. "But then you get that love, and it just makes you realize, 'Oh, sh*t, I didn't do the work. And I just feel even more lonely now.'" It helps to be surrounded by fellow ambitious up-and-comers, like comedian Megan Stalter and Euphoria co-star Maude Apatow. "They don't have this thing in the back of their heads telling them they can't do something. They're just like, 'If I want to do something, I don't care what it is. Music, writing, acting, producing, whatever,'" Gage says.
"Lukas and I were probably a couple in a past life," says Stalter, "but also I feel like in a past life, maybe he was a throuple with me and Phoebe [Fisher]." She says Gage can make fun out of thin air, like the time he took her as his date to his Euphoria co-star Hunter Schafer's birthday party. "We both were a little nervous," she says, and they were seated at a table full of strangers. Gage and Stalter coped by inventing a "fortune-telling" game. "The game was like, let's go around the table and guess the scariest thing about this person, the best quality that they have, and then what stops them in life," she says. "It opened us up to befriend these people that we hadn't met." Having Gage as her perma-plus-one has been "lifesaving in this business," Stalter says. "It's so rare to meet someone who's that talented but also just wanting to have a fun time. We're theater kids as adults."
Gage describes his Hollywood crew as "really good people [who] can do weird sh*t like take a limo bus to Chili's and dress up in wigs." Or prank call hotels pretending to be a heavily accented husband and wife — a favorite pastime of his and Stalter's. "We just do weird sh*t for fun. I don't know. So many people were like, 'Why are you [taking] a limo bus to Chili's in wigs?' And I was like, 'Because it's f*cking funny.'"
Bustle's Next Gen issue spotlights 8 trailblazers from young Hollywood. These rising stars, united as the faces of Armani Beauty's new Gen A initiative, have already dominated Euphoria, Outer Banks, and Riverdale. So what's coming next? More marathon-worthy TV, several long-awaited book adaptations, and some game-changing work behind the camera. Read More.
Photographer: Austin Hargrave
Stylist: EJ Briones
Set Designer: Kelly Fondry
Grooming: Mira Chai Hyde for Armani Beauty
Manicurist: Zola
Talent Bookings: Special Projects
Video: Samuel Schultz, Samuel Miron
Photo Director: Alex Pollack
SVP Fashion: Tiffany Reid
SVP Creative: Karen Hibbert