Idris Elba Just Posted An Exciting Update From The Luther Film Set
Here's everything we know so far about the upcoming feature.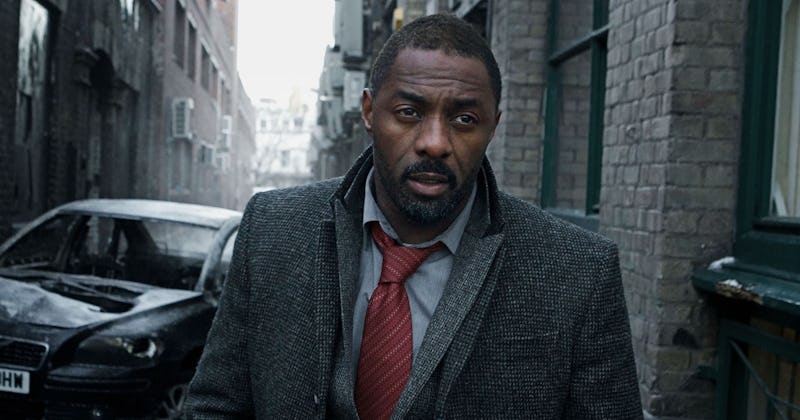 BBC
It's official. More than two years after the drama last graced our screens, a Luther film is on the way, with Idris Elba reprising his role as the troubled yet talented detective, DCI John Luther. The award-winning crime drama will be returning as a one-off feature film for Netflix and has been written by Neil Cross, the brains behind the original BBC drama series.
A Luther reprisal has been rumoured to be in the works for quite some time, but nothing was confirmed until Netflix tweeted the exciting news on September 13, also revealing some big-name new cast members. As Elba prepares to dust off his character's iconic trench coat, here's everything we need to know about the new Luther film.
Who Is Is The Cast For The Luther Movie?
Alongside Elba (who has won two Golden Globes and a Royal Television Society Best Actor Award for his performance in Luther) is Grammy-, Tony- and Emmy-winning Cynthia Erivo and Lord of the Rings actor Andy Serkis, with rumours circulating that Serkis could be our next villain. Only time will tell...
Does The Luther Film Have A Release Date?
Netflix is yet to reveal when the Luther film will be released, but filming has officially begun, according to Elba's Twitter. He tweeted a photo of the Luther clapperboard and a snippet of his outfit, which features Luther's iconic coat. "Oi… I'm back!" the actor wrote.
What Is The Plot Of The Luther Film?
With a Netflix movie budget, it'll be interesting how creators can improve on the classic Luther series which ran for five seasons from 2010 to 2019. The drama typically followed a marauding DCI John Luther as he conducted pretty grim murder investigations. The unconventional cop often found himself at the centre of London's criminal underbelly, with his murderous sidekick Alice Morgan. Details of the film's plot have yet to be released, yet it has been described as"an epic continuation of the Luther saga." Speaking to Radio Times, Cross confirmed that the film, while on a bigger scale, will "stay true" to the original.
"We've really been given the opportunity – while staying entirely true," he said. "I mean, Idris and I have shared this character for more than 10 years. And the key aspect of this whole conversation is primarily, how do we stay true to Luther," he added.
Elba has also shared his hopes for the film, speaking at the BAFTA TV Awards last year, Elba hinted that the "sky's the limit" if Luther made it to film, allowing for the creators to be "a little bit more bold with the storylines. And a little bit more international, and a little more up the scale. But John Luther is always going to be John Luther," the actor added.
He added that the new film's "bigger budget" would allow the Luther universe to expand on a "wider canvas" but would stay true to the original.
Speaking back in 2013, Elba also hinted the Luther film could potentially work as "an origin story", exploring in detail the history of the show's protagonist. And, in 2018, the actor expressed his view that Luther "has all the ingredients to echo those classic films of the '90s, like Seven and Along Came A Spider, and I think what we'd like to attempt is use that as a blueprint to create it."
Luther ran for five seasons between 2010 and 2019, becoming a huge hit for the BBC. As Digital Spy reports, the drama's January 2019 finale peaked with an impressive 4.7 million viewers. But despite ratings success and a nail-biting cliffhanger, the broadcaster are yet to commission a sixth series.
As we await further details of a potential Luther flick, all five seasons of Luther are currently available to stream on BBC iPlayer.
This article was originally published on