Mannequin Pussy Wants You To Scream
Missy Dabice believes that emotions kept inside "do a lot more damage."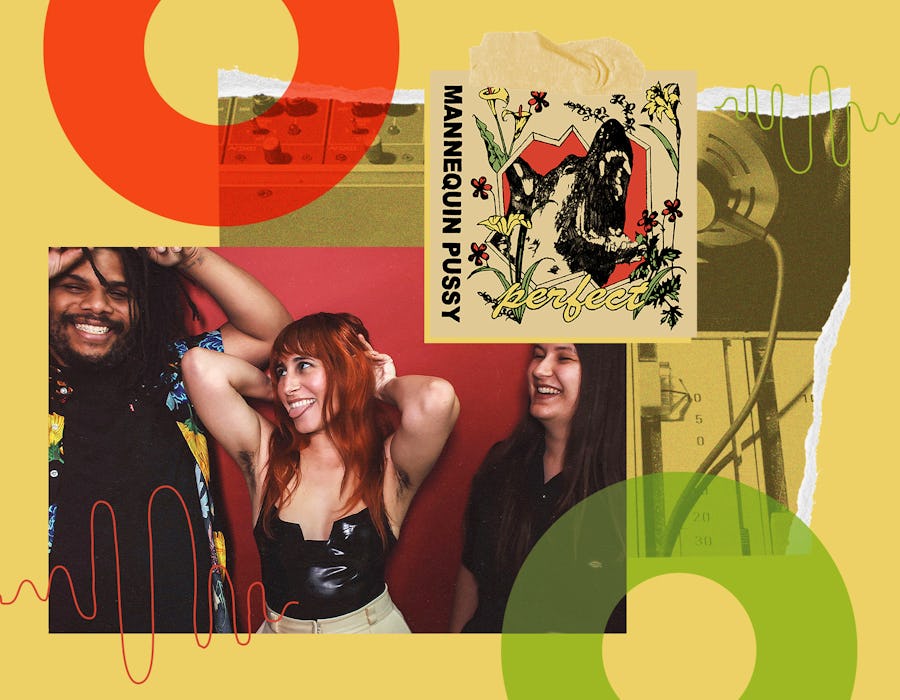 Courtesy of Mannequin Pussy
On the way to Mannequin Pussy's last live show before lockdown, frontwoman Marisa "Missy" Dabice's suitcase fell out of the van. When the band reached Chicago, she thrifted an outfit and had to borrow socks at the venue (presumably from Thalia Hall's merch section). Then, just as the band took the stage, the city announced that gatherings were banned.
"It was a full room, full of energy ... maybe we all knew that it was the last time we were going to be in that space," Dabice tells Bustle. More than ever, the audience relished the chance "to be with other people and have this cathartic release." The punk band played the show, then drove back to their home base in Philly and braced themselves for a year without live music.
It wasn't an easy adjustment for a band that thrives on performance — as any Mannequin Pussy fan will tell you, the band's records go hard, but their live shows go harder. Dabice is the captain of the ship, thrashing around with her Stratocaster, singing and spitting and sometimes leading the crowd in a group scream. "Every person has a rage inside of them that they don't know how to exercise," Dabice says. "So we created this safe community where you can just fucking scream."
In that department, Dabice is leading by example. Her full-throated delivery has always been the centerpiece of the band's sound — even as Mannequin Pussy's last full-length album, Patience, experimented with hummable melodies. Their new EP Perfect, out now, is yet another departure: it was the first time the band went into the studio without any material ready to record. After the pandemic upended their best-laid plans, studiously orchestrating a new album just felt foolish — and maybe even impossible.
"I am not an ironic person, like I am probably embarrassingly sincere in everything I say and do, but definitely I feel like last year was the first time I ever flirted with irony," says Dabice. Just when Mannequin Pussy could finally support themselves as musicians, the bottom falls out of the industry? Perfect.
Since then, the band has bounced back. Not only are Mannequin Pussy joining their friend Japanese Breakfast for the first leg of her tour this summer, but they've also been introduced to a wider audience, thanks to an unlikely TV tie-in: providing the songs for Mare of Easttown's fictional teen band, fronted by Mare Sheehan's daughter. As Dabice told The Guardian, the idea that star Kate Winslet "might know that we exist" is a win in itself.
Below, Dabice talks about her love of Top 40 pop, struggling to write in quarantine, and watching her friends do big things.
On Intimate Lyrics & The Power Of Angsty Music
What was going on in your life around the time you were making Perfect?
Well, 2020 was supposed to be, like for many artists, a busy year for touring. We had put out a record at the end of 2019 that has been our most well-received record; like for the first time in our lives we were selling out our shows and playing big festivals and people wanted to see us and talk to us and that was very nice. But that quickly collapsed, the world did as the music industry did.
We realized after a couple of months that we were all kind of numbing out... there was this external pressure to feel like you're supposed to be using this time, you're supposed to learn a new hobby, or get f*cking shredded for the first time in your life, or finally read a book a week or something, but mentally I was just in such a place of chaos and turmoil that it made it impossible to focus, and impossible to create, and impossible to feel like I could even write music. And so despite trying to do [an online] collaboration, it just didn't really work for us. But we realized that, you know, this was a unique situation and we all were all having these collective emotions over it and were like, "Why don't we just try? We don't have anything, let's just spend time in the studio and see what comes out."
Mannequin Pussy lyrics have always been really personal, and this EP is no different. Do you ever get wary of sharing yourself in such an intimate way?
No, I don't really think about it too much — and maybe I should because there is definitely something to be said about that. I just think certain things need to be said because if you don't say them, then they just scream inside of you and they can do a lot more damage... I really think that sometimes that's the only way to heal from certain experiences, and it's also the only way to really talk and share and be part of a collective grief that a lot of us are going through.
I think definitely for me, going back to angsty music that really made me feel seen and alive and understood — songs have a very special power to them in that way, where you never know who they're going to find in that time of need. Maybe it's a little too self-inflating of the ego to think that your songs do that to people, but I definitely have realized in the past year that they do carry that weight.
On The Magic Of Mariah Carey & Resisting The Urge To Give Up
Is there a band you love that people would think is out of character for you?
I'm a massive Radiohead fan. Everything about the band is perfection; I strive to one day make an album as beautiful as In Rainbows. [But] I wouldn't say anyone has heard a Mannequin Pussy song and heard any elements of Radiohead in it. My musician taste is definitely much softer than the music that I make. I also love pop radio; Britney Spears is an obvious one. "Heartbreaker" by Mariah Carey is one of the best songs of all time, I probably listen to that on a weekly basis. I really like Dua Lipa. I love pop music because it is generated to make you feel good and so much of the music world that I exist in is really morose and heavy, wading through emotional waters, and sometimes you don't want that. Sometimes you need music to be an escape.
Do you have a current musical idol?
My friend Michelle Zauner, of Japanese Breakfast. The highlight of last year was making the "Be Sweet" video together and getting to make something creative. That is someone who I care about and I really believe in and I'm really inspired by. It is not lost on me how special it is to be like, "my friends inspire me."
Is there a moment you felt you "made it" as a musician?
Yes, definitely. The ability to quit our side jobs after Patience came out was absolutely a moment. The moment of "I can support myself through live performances and touring and I don't have to work every single day at the side job in between tours." I went on vacation for the first time in like five years because my life was working constantly and then I took off work and was touring, so there was never really any break.
On the flip side, was there a moment you felt like you were ready to give up on music?
I'm still going through that every day. I feel like I've been more on the verge of quitting over the past year than I have ever been, and I keep asking myself, is it because there is no touring? I keep having these heavy conversations with myself about that because I don't know how much longer we can do this. We've all gone back to our side jobs, we've had to keep working and continuing to make money and the Mannequin Pussy community has been extraordinarily generous with buying merch and supporting us, but it is very difficult to be a band.
This interview has been edited and condensed.