Helen Fielding Finally Cleared Up Those Mark Darcy & Keir Starmer Rumours
It's long been suggested that Bridget Jones' love interest had a real-life inspiration.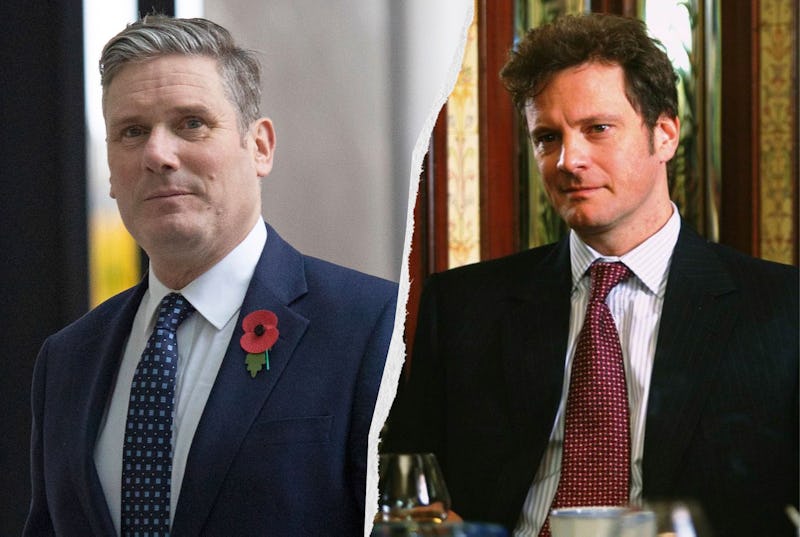 George Cracknell Wright/LNP/Shutterstock/Moviestore/Shutterstock
It may not strictly be a Christmas film, but I can't think of a better time to bring out Bridget Jones than in the run up to Dec. 25. There's something inherently festive about Bridget's relationship blunders, not to mention *that* Christmas jumper scene. It's been 25 years since Helen Fielding started her column which detailed Bridget's on/off relationship with dreamy Mark Darcy but is Mark Darcy based on Keir Starmer? There's some pretty clear links between the Labour leader and one of chick lits favourite romantic heroes. But Fielding has put the rumours to bed once and for all.
Bridget Jones first came to life in a column in the Independent in 1995. At that time Starmer was working as a human rights lawyer. Sound like a certain Mr. Darcy? While Fielding has admitted that there are some similarities between the Labour leader and Darcy she told the Radio Times, "I think he's fantastic. But no, I've never met him. They are very similar, though. He's so good and decent and intelligent, but so buttoned up. I always want to say: 'Come on, Keir, loosen your tie, ruffle up your hair.' He doesn't think of himself as sexy, but he's really sexy. And when he and Boris spar, it does remind me of Mark and Daniel."
During his time as a human rights lawyer Starmer was known for taking on tough cases. He represented environmentalists when they were sued by McDonalds and has an extensive portfolio of pro bono work. This is strikingly similar to Darcy but it seems it's just a coincidence. When asked if he was the inspiration for the fictional lawyer, Starmer told ITV, "everybody asks me this question when they should be asking her because she knows the answer and I don't." He did say he'd be flattered though.
In the past Fielding has said that her own love life partly inspired Bridget Jones. She was single when the column was first commissioned and the Independent asked her to write about what it's like finding love in London. While she was hesitant to write about herself she loved the idea of creating a fictional character. And that's how Bridget was born.
If you want to learn more about the beloved character's creation, Fielding will be joined by stars of the films Renee Zellweger, Hugh Grant, and Colin Firth (who played Mark Darcy) in a documentary celebrating 25 years of Bridget Jones.
Being Bridget Jones airs 9p.m., December 22 on BBC Two.