All The Clues, Theories & Reveals On The Masked Dancer So Far
Fox has hooked us once again.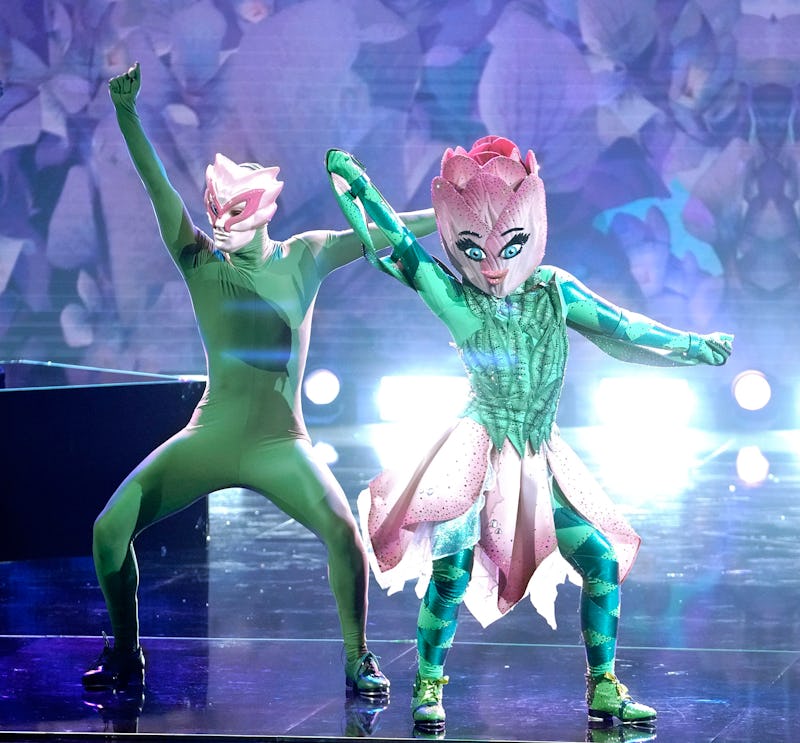 Michael Becker/FOX
What started as a Masked Singer spoof on The Ellen Degeneres Show is now a full-fledged competition show. FOX's The Masked Dancer, which premiered Dec. 27, features 10 disguised celebrities dancing in costume as judges Ken Jeong, Paula Abdul, Brian Austin Green, and Ashley Tisdale try their best to guess who's under the mask. It may prove difficult, as the contestants could be just about anyone: collectively, they have 20 Emmys, 20 Grammy nominations, five New York Times best-selling titles, four Olympic gold medals, and three Broadway show appearances. Here's everything else we know so far.
Masked Dancer Clues
Because the show's creators knew viewers might have a difficult time guessing the Masked Dancer contestants' identities, the format is slightly different from The Masked Singer. "It is harder. This show is harder," Green told journalists at Fox's Television Critics Association event, per CinemaBlend. "The clue packages, there's a lot more information in them." The clues are also in the costumes, stage decorations, and choreography. Additionally, they've added a clue segment called "Word Up" which allows you to hear the dancer's real voice.
Masked Dancer Theories
This new way of delivering clues has already led to some early Masked Dancer theories, with fans guessing everyone from Ariana Grande to Jordin Sparks.
Cotton Candy
Cotton Candy's first clue package said she was "an all-around whiz kid." There were also images of gold three-pound hand weights, cupcakes decorated with eyelashes and lips, and the word "B!RD" in a cloud. Her "Word Up" clue was "primetime." This led some to guess that Cotton Candy is Olympian Gabby Douglas or Simone Biles.
Cotton Candy's second clue package included the word "team player" and images of ice, lipstick, and a bald eagle with an American flag. She mentioned she's "used to setbacks" and felt "iced out" from kids her age because it was "hard to balance practice" with fun. Judges switched their guesses to figure skaters Tara Lipinski and Kristi Yamaguchi.
Her third clue package included a "practice practice practice" sign with seven diamond rings interlinked like the Olympic symbol. She also had a "Super Clue" of five gold-colored balloons, seemingly doubling down on the Olympic gold medal references.
Her fourth clue package showed a golden watch at 3 p.m. and a red, white, and blue sash with the words "Miss Perfection." She also had a picture of her in a super hero cape.
Cricket
Cricket's Episode 1 clues included a Las Vegas jackpot of $90,210,000 and the quote, "When it came to love, it always felt like I was getting Punk'd." The judges guessed Ashton Kutcher, Ryan Reynolds, and 90210 actor Ian Ziering. But on the Jan. 20 episode, Cricket was revealed to be singer Brian McKnight.
Disco Ball
Disco Ball's clue said that "this fast and furious disco ball loves to breakdance!" This led to fans guessing Vin Diesel, Ludacris, and Fast and Furious: Tokyo Drift star Lucas Black. But on the Dec. 27 premiere, Disco Ball was eliminated and revealed to be Tracy Lauren Marrow, aka the rapper Ice-T.
Exotic Bird
Exotic Bird's first clue package said that she was a "mama bird" who was "lucky enough to win big pretty quickly" at 17. Her second clue package said that she once got "a savage bird flu" right before the "biggest opportunity" of her life. Her visual clues included eggs labeled "best by '07" and a football trophy.
Some fans guessed Venus Williams, but on the Feb. 3 episode, Exotic Bird was revealed to be American Idol star Jordin Sparks. Sparks was on American Idol in 2007 and won the show when she was 17. She is also the daughter of NFL player Philippi Sparks and became a mom in 2018.
Hammerhead
Hammerhead's clue packages said he first entered the public eye "years ago" and that he had "one shot, one opportunity" but lost himself. He said now "fear is no longer a factor" for him. Visual clues included a comedian's mic, Las Vegas, and a map of the East Coast. His "Super Clue" was suntan oil. Fans guessed comedian and podcaster Joe Rogan, while judges guessed Jersey Shore stars "Pauly D" DelVecchio and Mike "The Situation" Sorrentino. But on the Jan. 27 episode, Hammerhead was eliminated and revealed to be a different Jersey Shore star: Vinny Guadagnino.
Ice Cube
Ice Cube sported a ton of denim and blues. While it's pretty on the nose, some assumed he had to be either Vanilla Ice or Ice Cube. But Ice Cube was eliminated on the Jan. 6 episode and was revealed to be Bill Nye. The periodic table in Ice Cube's clue package was of course a nod to Nye's beloved science show Bill Nye the Science Guy.
Miss Moth
Moth's clue packages included metamorphosis, tabloid headlines, and the Capitol building. The judges guessed Megyn Kelly or Monica Lewinsky, but Miss Moth was eliminated on Jan. 13 and revealed to be Elizabeth Smart. Now an activist and ABC News commentator, Smart made national news when she was abducted and held captive in 2002.
Sloth
Sloth's first clue package mentioned that he had a bad accident when he was a kid. People said he was "just a Mickey Mouse operation," but now he uses his platform to "inspire a whole new generation to never stop chasing your dreams." However, he added: "no need to call the feds, OK?" The visual clues included a D.R. name tag, toothpaste labeled "Glee," and a laboratory.
His second clue package included the Say Anything boom box, and the "Word Up" clue "leading man." He mentioned he used to live in a foreign country and had a reputation as a bad boy.
His third clue package said he's "not new" to the dance floor. There was a family drawing on a chalkboard, and his "Super Clue" was the number 18.
His fourth clue package said Sloth has been on tour and he's "hilarious." He speaks three languages, and danced in front of a visual clue of a panda.
The judges guesses have been all over the map, including Matthew Morrison, Jason Derulo, and Will Ferrell. Some fans think Sloth is dancer Harry Shum Jr., who was on Glee and broke into the industry when he was 18. Others believe Sloth has to be Maksim Chmerkovskiy, the famous "leading man" and "bad boy" from Dancing with the Stars.
Tulip
In her clue package, Tulip said she used to be teased all the time, so she found a "new, sunnier" place to call home where "people were chill with the stranger things about me." The visual clues included the number 11, an acrobatic club photo, and an "AL to DC" bus ticket.
Her second clue package featured a YouTube video titled "My Best Bud." She said she used to compete with her "best bud," but they realized they shouldn't waste time arguing ("TikTok, am I right?"). Tulip also said her friend is always there for her when she feels "frozen in place." Her Word Up clue was "princess," and a solar eclipse was a visual clue.
Her third clue package said she "never really enjoyed competing" and showed a judges panel with score cards. Her visual clue was a "Masked Dancergram" and her "Super Clue" was a framed photo of a mother-daughter dance.
Her fourth clue package showed an iced coffee cup with a pink star and a bag of family-sized potato chips.
The judges guessed Addison Rae, Charli D'Amelio, and Ariana Grande. But fans on Reddit think Tulip is Dance Moms star Mackenzie Ziegler. She was part of the Abby Lee Dance Company — hence "AL to DC" — and starred in a drama series called Total Eclipse. She also has a big Instagram and TikTok following.
Zebra
Zebra's early clue said that their favorite song is "Feliz Navidad," so some have guessed Mario Lopez. But Zebra's clue package hinted that he's someone older who "you haven't seen in a while." He's "fallen out of the limelight" and grew up in a tough neighborhood. He wore a bronze Olympic medal with the number three on it, drove a red car labeled "os," and showed the number 11.
His second clue package included the words "U.F.C." and a "golden promotion to ZEO." He said he uses his Zebra, Inc. organization to inspire kids. His Word Up clue was "champion."
His third clue package said he "has two left feet" and is "very claustrophobic." Though he knows he's "not the best dancer," he said "getting to perform again has felt like regaining a piece of my soul." There was a visual clue of a graham cracker with an "E" on it, and his "Super Clue" was a "K.O." shirt.
His fourth clue package said he's a "champion" in his field and has two countries cheering for him. There was a visual clue of a gold bag with "$19.92" on it. He also donated a $1,000 bill with a bumblebee on into a "for good will" bucket.
The judges guessed boxer Floyd Mayweather and MMA fighter Tito Ortiz because of the sports references. Fans, meanwhile, think the Zebra is boxer Oscar De La Hoya. De La Hoya fights in an orthodox stance — "OS" — and has won 11 world titles. He represented the U.S. at the 1992 Summer Olympics and also fought in the Goodwill Games.
This article was originally published on