This Masked Singer Black Swan Theory Points To A '00s Pop Star
She blew the judges away with her powerful pipes.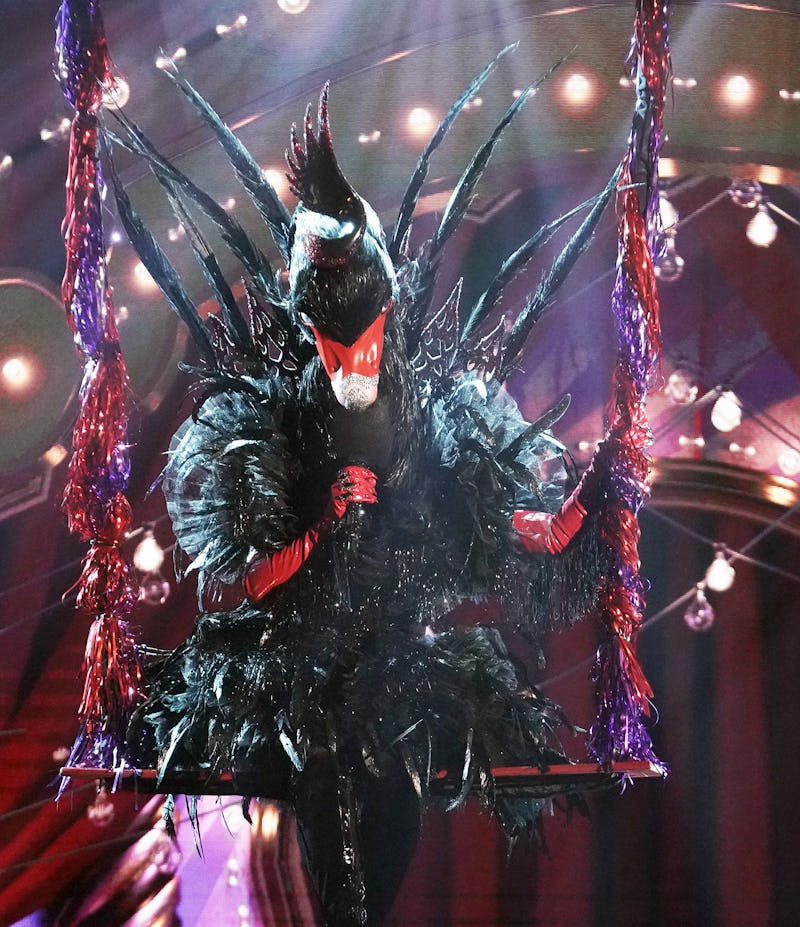 Michael Becker/FOX
The "wild-card" singers have started debuting on The Masked Singer Season 5, and audiences are already discussing which contestants will beat out the extra competition. The current fan favorite leading the pack is Black Swan, who impressed judges with her powerful and rocking rendition of Heart's "Barracuda" in the March 17 episode.
While judges think she could be a professional recording artist like Camila Cabello, Leona Lewis, or Demi Lovato, fans have a theory that Black Swan is JoJo, the popular 2000s singer. The first episode clues seem to line up with her. In Black Swan's first clue package, she said, "Black swans, like me, are incredibly rare. But I didn't factor in that my talent might make me someone else's prey." She said she was caught up and "hypnotized by a Hollywood deal" that she couldn't resist, but "there was a steep price" to pay. She added that she "fell under its spell" and was unsure if she'd ever "see the light of day" again. But her "faithful flock" set her free, and now she seems to be living in a nice white castle. Visual clues included a wanted poster with a "voucher" reward, a hypnotist's pocket watch with the number five, a diamond ring, a red bishop chess piece, a red square, and a big red X.
JoJo, whose real name is Joanna Levesque, was one of the biggest teen pop stars of the 2000s, performing hit singles like "Leave (Get Out)" and "Too Little Too Late." But she eventually got into a years-long dispute with her old record label, Blackground Entertainment, with whom she'd signed a seven-album deal when she was 12. In May 2013, JoJo told BuzzFeed that she'd been unable to release any music for seven years because Blackground wouldn't respond to any tracks she sent.
"I've recorded about three incarnations of this third album," she said. "We've chosen the track listing, we've done multiple album photo shoots, chosen the cover, chosen the credits, everything."
This led to the #FreeJoJo fan campaign, which could be the "faithful flock" that Black Swan alludes to. The number five could also be referencing when JoJo toured with Fifth Harmony, and the X could be for when JoJo was a guest judge on The X Factor in 2019. Additionally, Cluedle-Doo said that Black Swan "has covered a monster''; JoJo once did a cover of "Can't Believe It," a song originally performed by T-Pain, who performed as Monster in The Masked Singer Season 1.
Black Swan's second clue package on March 31 hinted that she has had some complex personal relationships. She thanked the person who "gave me life and the confidence to start this journey," portrayed as a white swan. Black Swan added that "the higher I flew the harder it became for them to keep up," so she let them go after she saw their "heart breaking." But over time she realized "I was only able to soar because of the wings they gave me," and they were able to reunite. Visual clues included a justice scale, a broken heart, a giant penny and nickel, and a river going up a mountain. She also said her celebrity crush was singer D'Angelo, suggesting that she could be a millennial singer like JoJo.
It's possible Black Swan is referring to JoJo and her mom, Diana, whom she admitted she argued with as a young pop star; JoJo has also spoken about having messy relationships in the past. But we will have to wait and see if the clues continue to point to JoJo. Other popular fan theories include Fifth Harmony member Ally Brooke or Leona Lewis, and based on her impressive pipes, Black Swan could make it all the way until the end.