Matt Hancock's Latest TikTok Is The Most Matt Hancock Thing Ever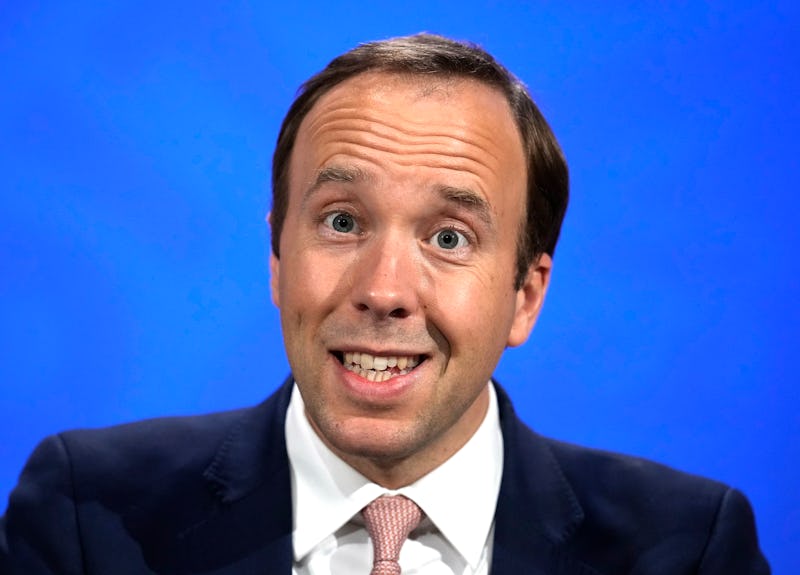 Matt Dunham - WPA Pool/Getty Images
Following his scandal-fuelled resignation as the government's Health Secretary in 2021, Matt Hancock has moved on to a string of surprising new ventures. From his controversial appearance on ITV's I'm a Celebrity... Get Me Out of Here! to the underwhelming release of his book Pandemic Diaries, the West Suffolk MP has managed to remain in the public consciousness — and perhaps not always for the right reasons. Now, the politician has migrated to TikTok, where he is taking over your FYP with the most Matt Hancock content imaginable.
One viral TikTok clip, in particular, has caught the attention of many on social media, that shows the MP carefully ironing his shirt on camera before declaring his decreased garment as being "perfect."
Meanwhile, Hancock has also shared TikTok's of himself attending a live Dancing On Ice taping, speaking to followers outside Downing Street, hosting Q&A sessions, dancing with his former I'm a Celebrity campmates, and flogging his aforementioned book — which debuted at 191 on the Nielsen book chart last year.
Naturally, social media has had a lot to say about Hancock's TikTok presence, which has earned him more than 170,000 followers and 1.4 million likes as of publication. "It's Sunday night and I'm watching an MP iron a shirt... I need to have a word with myself," one follower joked on TikTok.
"So, this is what Matt Hancock's doing on TikTok these days, and it's… quite something," another Twitter user wrote, while another described his transition from "daily government briefings to ironing shirts on TikTok" as a dramatic "fall from grace."
You can find some of the very best memes and tweets reacting to Matt Hancock on TikTok, below.