Everything To Know About Mayans M.C. Season 5
There are plenty of plot threads to explore in a new season.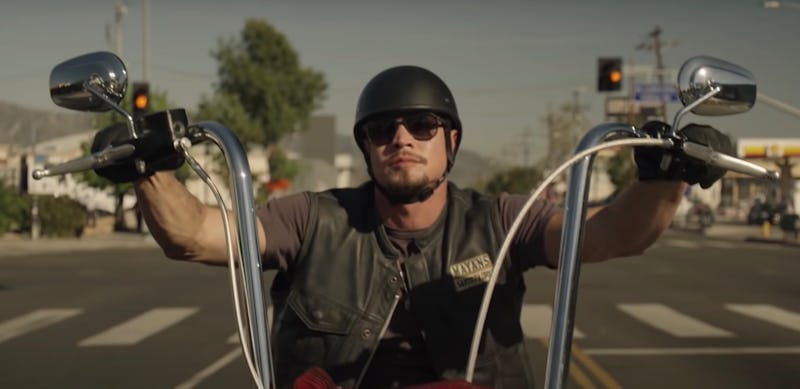 FX Networks
Though Mayans M.C. — the Sons of Anarchy spinoff that follows Ezekiel "EZ" Reyes and the Santo Padre Charter of the Mayans Motorcycle Club — is wrapping up its fourth season, showrunner Elgin James said this isn't the end for series. "We know where it ends. I know the very last shot. It's not in Season 4," he explained to Variety. "So I'm just going to say there at least has to be one more [season]. But we know exactly where it ends, and we have been headed there for a while now."
FX has not confirmed if there will be a Mayans M.C. Season 5 yet, but James explained that the network knows exactly where he wants to take the show. "I wasn't able to verbalize [the ending], or I was too scared to verbalize it, until last season," he said. "I was like, by the way, this is how it all ends." He told the actors and then the studio and the network so they could "get a sense" of what was going to happen, but he added that "we'll see if [the ending is in] Season 5 or Season 15."
Here's everything else we know about a potential Mayans M.C. Season 5 so far.
Mayans M.C. Season 5 Plot
While we don't know yet know what a fifth season would be about, Season 4 has already been setting up possible plot threads that Season 5 could explore. In Season 4's penultimate episode, Miguel Galindo returned to the neighborhood to have a meeting with EZ, Alvarez, and El Banquero's sister Soledad. Soledad proposed that Galindo serve as Soledad's liaison north of the border to increase all their profits. While EZ believed this was the perfect way for Santo Padre to get back on top, Alvarez said he was no longer interested in teaming up with another cartel. Taza then stormed out after Alvarez granted his wish to go nomad — with none of the members having any idea that Taza killed a fellow member and covered up the murder of a Sons, which led to the current war they're having.
Meanwhile, Adelita was threatened by Lincoln Potter, who revealed he knows that Agent Linares was murdered so she could get her baby back. Elsewhere, Emily's sister Erin was seemingly killed. It was also revealed that Creeper's new girlfriend, Kody, is actually an undercover cop named Kate — and her boss is pushing her for more concrete information on the club.
The Mayans M.C. Season 5 Cast
No official announcements have been made, but barring any season finale deaths, we can assume the main cast members — who include J. D. Pardo, Clayton Cardenas, Edward James Olmos, Michael Irby, Carla Baratta, Sarah Bolger, Danny Pino, Emilio Rivera, and Ray McKinnon — will return.
Potential Premiere Date For Mayans M.C. Season 5
Though there was a longer gap between Seasons 2 and 3 at the start of lockdown, Mayans M.C. has typically taken about a year to air new seasons. Renewal news has also always dropped in the same month that the finale aired. So if this pattern holds, that means we will hopefully hear if the show is renewed this month, and Season 5 could potentially drop in June or July 2023.
This post will be updated as more Mayans M.C. Season 5 details become available.