Grey's Anatomy Fans Are Ready For Amelia & Kai To Just Kiss Already
"You just became my favorite person."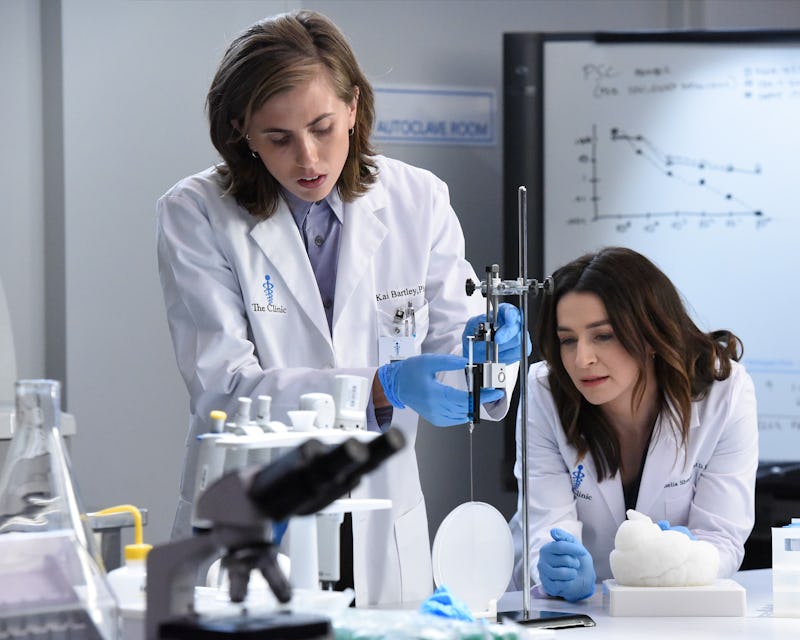 ABC/Bonnie Osborne
Spoilers ahead for Grey's Anatomy Season 18, Episode 7. Amelia and Kai's slow-burning sexual tension is hotter than ever on Grey's Anatomy. But just when it seemed like they might finally get together, the pair once again left viewers wanting more. Following a major breakthrough in the pair's stem cell research, Kai proved how much they truly see Amelia with a thoughtful speech. "I'm glad today worked out," Amelia said afterward, prompting a flirty suggestion from Kai: "Me, too. It means we get to keep working together. You want to celebrate? Grab some dinner?"
The chemistry between the characters was palpable, and though it seemed like they might even kiss, Amelia declined the dinner offer because she had to catch a flight back to Seattle. "But I will see you next week," she coyly told Kai, who turned around to get one last look as the pair parted ways. At this point, it seems less of a matter of if Kai and Amelia will start dating than when. And judging by fans' reactions on Twitter, that moment can't come soon enough.
The seeds have definitely been planted. First, there was the moment that Amelia noted Kai's research must require great patience. "You prefer instant gratification?" they replied. Moments later, Kai asked Amelia why she'd chosen a career in neurology as the two got to know each other better while awaiting lab results. After Amelia explained that nobody's ever asked her that because they just assume she'd followed in her brother's footsteps, Kai replied, "Who's your brother?" The seemingly enamored Dr. Shepherd's response? "You just became my favorite person."
There are, however, some complicating factors — namely Link, who hasn't given up on Amelia following their Thanksgiving hookup. Oblivious to the fact that Jo was confessing her feelings for him, Link decided to stop holding on to the hope of getting married and pursue a relationship with Amelia anyway. But given Link's track record of rejected proposals — and the heat between Amelia and Kai — Jo shouldn't count herself out just yet.
"To me, when a woman turns down a marriage proposal, that's about as dead as a relationship could get," E.R. Fightmaster, who plays Kai, told Bustle. "But I am not trying to get in trouble with Link fans."
Regardless, Fightmaster is definitely shipping Amelia and Kai. "I'm obviously allowed to tell you very little, [but] I can tell you this: I'm rooting for them."
The actor certainly isn't alone.