Buying Taylor Swift Tickets Sparked "The Great War" & She's Not Happy About It
"It really pisses me off," Swift said about the Ticketmaster fiasco in a long statement on Nov. 18.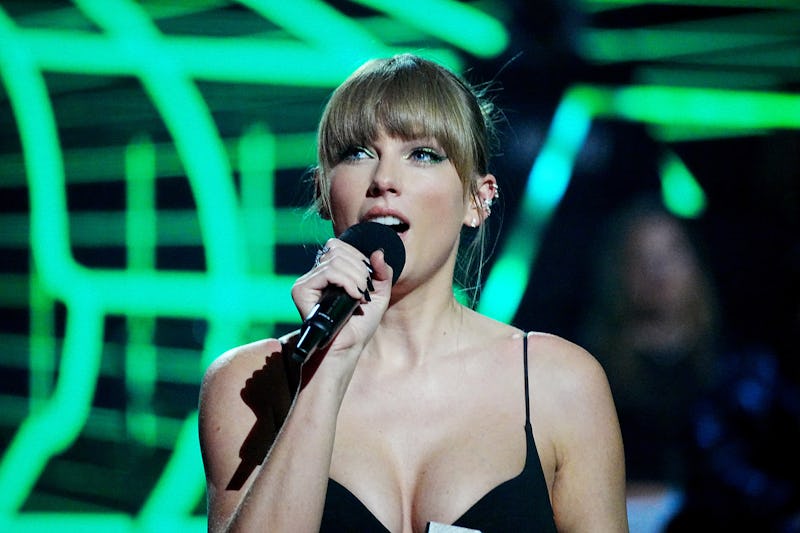 Jeff Kravitz/FilmMagic/Getty Images
The Swifties Hunger Games officially began on Nov. 15 — a.k.a. the presale for Taylor Swift's Eras Tour. The singer's first tour in five years kicks off on March 17, but before jamming to songs from all 10 of her studio albums, Swifties had to face their worst fear: Ticketmaster. Fans who were lucky enough to receive Verified Fan codes for Ticketmaster's TaylorSwiftTix presale logged on at 10 a.m. in their local timezone to buy tickets, only to be met with reports of constant glitches, site crashes, and hours-long queues just to access the ticket page. The presale debacle led the company to cancel the planned general onsale on Nov. 18. Obviously, Twitter was not thrilled — and neither was Swift.
On Nov. 18, Swift spoke out about the debacle on her Instagram Story, explaining that it was "really difficult for me to trust an outside entity" like Ticketmaster to serve her fans and "excruciating" to watch the system fail without any solution. "There are a multitude of reasons why people had such a hard time trying to get tickets and I'm trying to figure out how this situation can be improved moving forward," she wrote. "I'm not going to make excuses for anyone because we asked them, multiple times, if they could handle this kind of demand and we were assured they could. It's truly amazing that 2.4 million people got tickets, but it really pisses me off that a lot of them feel like they went through several bear attacks to get them."
Swift concluded her note by hinting that more tour dates might be added in the future. "To those who didn't get tickets, all I can say is that my hope is to provide more opportunities for us to all get together and sing these songs," she said. "Thank you for wanting to be there. You have no idea how much that means."
A few hours after presales began, Ticketmaster announced they were experiencing "historically unprecedented demand" for tickets, with "millions" of people logging on to attempt to buy tickets. In order to accommodate the traffic, Ticketmaster pushed back presales for West Coast shows by five hours and also postponed the CapitalOne cardholders' presale to the next day, Nov. 16, because those with Verified Fan codes were already facing hours-long virtual queues. After the CapitalOne presale, Ticketmaster announced that they were canceling the planned general on-sale that was scheduled for Nov. 18 due to "extraordinarily high demands on ticketing systems and insufficient remaining ticket inventory to meet that demand." The site also wrote an entire blog outlining the unexpected setbacks they faced during the presale.
The many fans who did not get through in the presales were not thrilled by Ticketmaster's decision. Luckily, some fans had great success on the first day of the presale. But regardless of their success, all of them took to Twitter to create the best memes and tweets, many of which compared their ticket-buying experience to Swift's Midnights bonus track "The Great War."
Some fans declared war on Ticketmaster after dealing with the excessively long virtual lines and constant crashes.
Other fans listened to the advice of "Shake It Off" and simply laughed off the horrors of buying tickets by making hilarious jokes and memes.
While some fans were able to celebrate their victory on Twitter, others just started praying for better luck in the later presales.
However, when Ticketmaster ended up canceling the general onsale, Swifties made one thing clear: They were messing with the wrong fanbase.
Ticketmaster has not indicated how they will sell the remaining inventory of tickets, if there are any. Therefore, it looks like "The Great War" doesn't have an end in sight.