Everything To Know About Taylor Swift's 10th Studio Album, Midnights
Swift dropped seven extra Midnights tracks on Oct. 21 at 3 a.m., sending fans into a frenzy.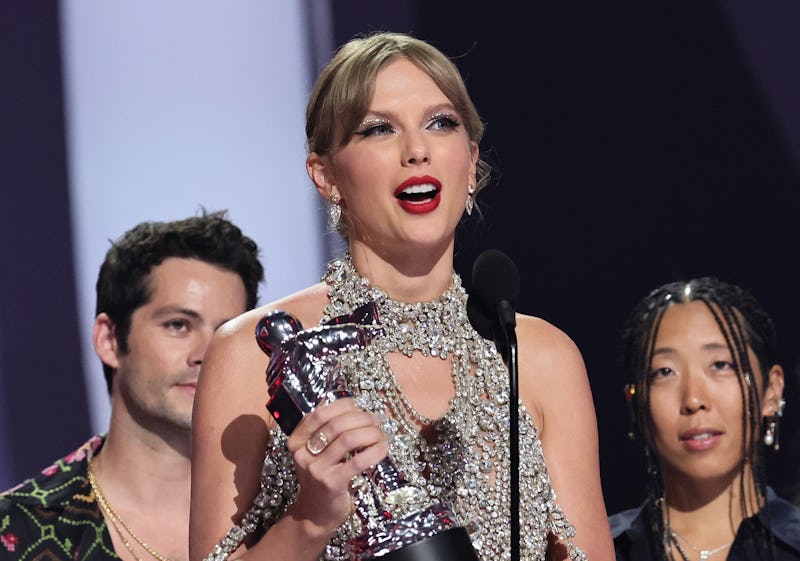 Theo Wargo/Getty Images for MTV/Paramount Global
As if Taylor Swift's self-directed "All Too Well" short film winning three awards at the 2022 MTV Video Music Awards wasn't exciting enough, the Aug. 28 ceremony ended with a major reason for Swifties to celebrate. While accepting Video of the Year, Swift announced that a new album — aka TS10 — is officially on the way very soon. While the surprise announcement of a new album was the major moment of Swift's speech, it's worth noting that her Video of the Year win was quietly historic. Having won for "Bad Blood" in 2015 and "You Need to Calm Down" in 2019, Swift is now the most-awarded artist ever in the category.
The VMAs ended less than an hour before midnight, and Swift told fans to wait until midnight to learn more about what was to come. Swifties soon discovered that this new release would be an entirely fresh studio album, which will comprise of 13 new tracks, two music videos released during the album release week, and some special surprises along the way. At 3 a.m. on Oct. 21, hours after the album finally dropped, Swift revealed 7 bonus tracks, sending fans into a frenzy.
Here's what we know about Swift's Midnights.
What Is Taylor Swift's TS10 Album Title?
Swift's promise to reveal details at midnight turned out to be extremely prescient because, during the first seconds of Aug. 29, she revealed the name of TS10: Midnights. The project will tell "the stories of 13 sleepless nights scattered throughout my life," as Swift announced in a letter posted to social media. "We lie awake in love and fear, in turmoil and in tears," she began. "We stare at walls and drink until they speak back. We twist in our self-made cages and pray that we aren't — right this minute — about to make some fateful life-altering mistake."
"This is a collection of music written in the middle of the night, a journey through terrors and sweet dreams," she continued. "The floors we pace and the demons we face. For all of us who have tossed and turned and decided to keep the lanterns lit and go searching — hoping that just maybe, when the clock strikes twelve ... we'll meet ourselves."
The album art features a closeup of Swift in shimmery blue eyeshadow, holding a lighter. In an accompanying image, she sits at a dimly lit desk with a phone in her hand.
What Was Midnights Released?
Midnights was released on Oct. 21, 2022. Coincidentally, the release date of Midnights is the date of Kim Kardashian's 42nd birthday. The singer is known to do everything with great intention when it comes to releasing music, and fans speculate her longtime feud with the reality star and ex-husband Kanye West could be part of it. While the Kardashians and Jenners may be celebrating another trip around the sun for Kim K, Swifties will be memorizing every song on Midnights.
Swift initially teased the release date during her VMAs speech.
Swifties had predicted that Swift might be announcing something during the VMAs — but most of those theories centered on the next re-recording, not an album of new songs. For example, this VMAs takes place 13 ceremonies after Swift and Kanye West's notorious 2009 exchange, and Swift's "Look What You Made Me Do"-esque dress could also be seen as a nod to that night and, as a result, her Reputation album. Fans have also been waiting for Speak Now and 1989 to be re-recorded. But alas, Swift's surprise VMAs gift was instead her 10th studio album.
Also — 10+2+1 = 13, which is her favorite number.
What Is The Midnights Tracklist?
When announcing the album, Swift revealed Midnights will have 13 tracks (13 is her favorite number after all), but did not reveal the song titles, with the cover art simply listing "Track One," "Track Two," and so forth. On Sept. 21, Swift announced on TikTok that she would start revealing the Midnights tracklist one song at a time in a series she calls "Midnights Mayhem With Me," where she randomly draws one of 13 balls from a "technologically advanced device" (a bingo cage) that will determine which song title she will reveal.
"I know that I have a habit of dropping cryptic clues and Easter eggs when giving information about new music, and I'm not here to deny that, but I am here to defy that," she said in her first video. Unsurprisingly, she drew the number 13 first, revealing that the last track on the album is called "Mastermind." In typical Midnights-era fashion, Swift posted all of her "Mayhem" videos at midnight, with the exception of the last four tracklist reveals, which happened throughout the night on Oct. 7. One major development fans learned of when she dropped the rest of the tracklist was that track no. 4 will be a duet with Lana Del Rey titled "Snow on the Beach."
On Oct. 21 at 3 a.m., hours after she dropped the anticipated Midnights tracks, Swift surprised fans with 7 bonus songs. "Surprise! I think of Midnights as a complete concept album, with those 13 songs forming a full picture of the intensities of that mystifying, mad hour. However! There were other songs we wrote on our journey to find that magic 13," she Tweeted. "I'm calling them 3am tracks. Lately I've been loving the feeling of sharing more of our creative process with you, like we do with From The Vault tracks. So it's 3am and I'm giving them to you now."
The Midnights tracklist, including the 3 a.m. tracks:
"Lavender Haze"
"Maroon"
"Anti-Hero"
"Snow on the Beach" (featuring Lana Del Rey)
"You're on Your Own, Kid"
"Midnight Rain"
"Question...?"
"Vigilante Shit"
"Bejeweled"
"Labyrinth"
"Karma"
"Sweet Nothing"
"Mastermind"
"The Great War"
"Bigger Than The Whole Sky"
"Paris"
"High Infidelity"
"Glitch"
"Would've, Could've, Should've"
"Dear Reader"
Will There Be Music Videos For Midnights?
While Swift decided not to release a single for Midnights prior to the album's release, that doesn't mean there won't be any music videos. On Oct. 17 (at midnight, of course), Swift unveiled the Midnights release week schedule, which includes two new music videos, along with lyric videos for the entire album and a "special very chaotic surprise" (the 7 bonus tracks) at 3 a.m. ET on Oct. 21.
Swift dropped the new video for "Anti-Hero" on Oct. 21, Midnights release day, at 8 a.m. ET, alongside the mysterious #TSAntiHeroChallenge.
The singer will release the second Midnights music video at midnight on Tuesday, Oct. 25, but did not reveal which song it would be. Fans are guessing that the second video will be for "Vigilante Shit," because Swift held her phone upside down while revealing that track title and "Anti-Hero" in her "Midnights Mayhem With Me" series.
Taylor Swift's Lyrical History Of Midnights
Swift has perhaps been working toward Midnights throughout her entire discography. As Bustle's Brian Anthony Hernandez noticed, Swift has mentioned "midnights" or "midnight" in at least six previous songs throughout her career, along with dozens of other mentions about the nighttime.
In 2012's Red, she sang about having "breakfast at midnight" on "22." Meanwhile, 1989 features "Style," Swift's ode to a flighty romance, and "You Are in Love," her ode to a much more secure one — both of which feature memorable moments at midnight. And who could forget Reputation's "New Year's Day," where Swift sings about wanting her beau's midnights and the mornings after?
Most recently, sister albums Folklore and Evermore both have super figurative midnight references: "the midnight sea" makes an appearance in "The Last Great American Dynasty," while "Happiness" (a sneaky tearjerker) references "the dress I wore at midnight."
Because Swift's oeuvre has explored midnight in all its forms — from the carefree vibes of "22" to the tenderness of "New Year's Day" — it feels safe to assume that Midnights will cover the similarly diverse emotional territory. But of course, there's only one thing we can know for sure: It's going to be another cozy, Swiftie fall!
This article was originally published on