DaBaby's Grammys Performance Is Possibly The Most Confusing Moment Of The Night
"Is this DaBaby performance a Ruth Bader Ginsburg tribute?"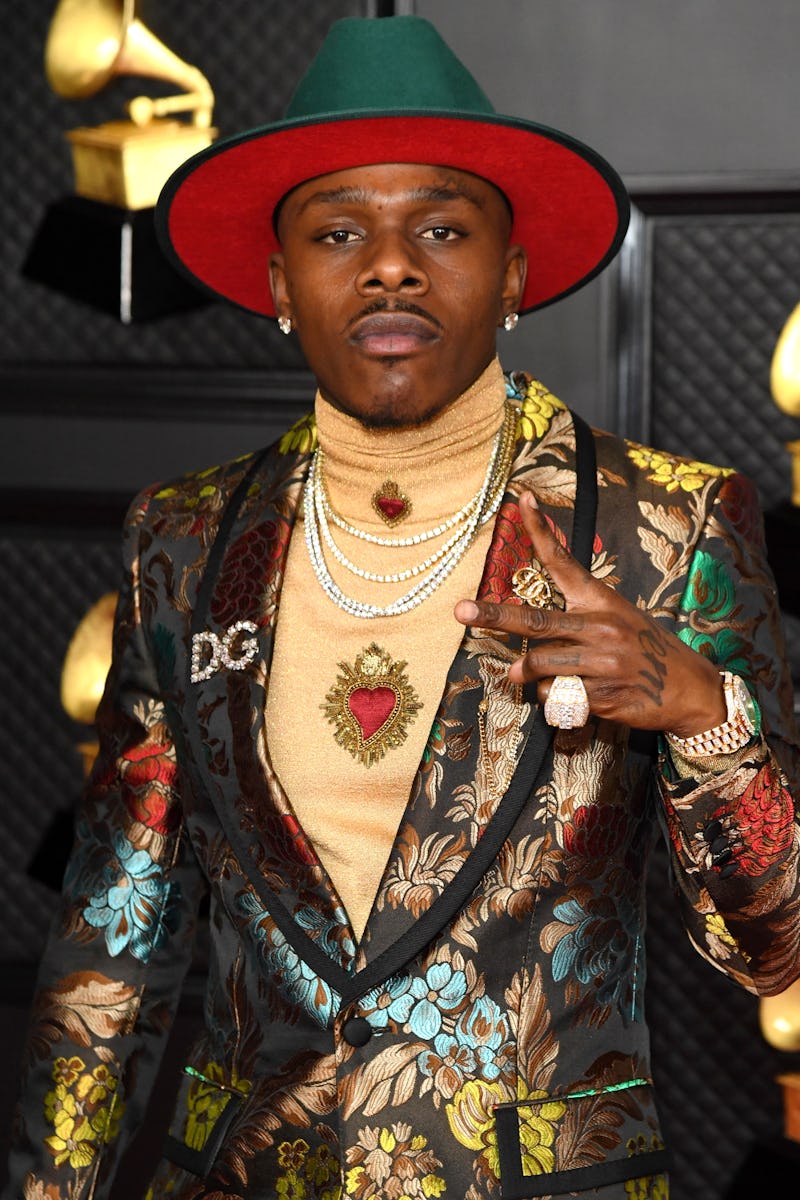 Kevin Mazur/Getty Images Entertainment/Getty Images
With four nominations and a lavish floral Dolce & Gabbana red carpet look, DaBaby didn't come to play at the 2021 Grammys. For his performance, he delivered a high-drama version of his #1 hit "Rockstar" alongside featured artist Roddy Ricch, R&B singer Anthony Hamilton, a violinist, and even a choreographed gospel choir. The new take on the hit took many fans by surprise and inspired many hilarious reactions on social media, including tweets comparing the gospel singers to Supreme Court judges.
Swapping out his colorful red carpet look for a sleek white Chanel suit and diamond gloves, DaBaby performed "Rockstar" while the choir behind him belted harmonies and danced a theatrical step-touch. Fans were especially struck by the choir, dressed in black gowns with white collars, and they immediately took to social media to jokingly compare them to the late Ruth Bader Ginsberg, professors at Hogwarts, and more. "Telling everyone that's Margaret Atwood backing up DaBaby," quipped one Twitter user, referencing the famed Canadian poet. Comedian Desus Nice tweeted, "Da baby got judge judy wildin in the background." And another Twitter user wrote, "Why is DaBaby backed by the United States Court of Appeals for the Ninth Circuit."
One figure absent from DaBaby's performance, however, was JoJo Siwa. After dropping her name in a freestyle last month that was widely interpreted as a diss, he told Entertainment Tonight on the Grammys' red carpet that he asked her to join him onstage for his performance. "We're 1000% JoJo Siwa fans. We love her. We actually reached out to see if she wanted to perform with me at the GRAMMYs," he told ET with his date, his mother, by his side. "But I heard she's somewhere working on a project of her own."
DaBaby's nominations at the 63rd Grammy Awards include Record of the Year, Best Melodic Rap Performance, and Best Rap Song for "Rockstar" with Roddy Rich, as well as Best Rap Performance for "BOP."
Below, fans react to the rapper's elaborate take on his viral smash hit on social media.