Twitter Can't Stop Talking About Gwyneth Paltrow's Ski Crash Trial Outfits & Glasses
"Incredible how Gwyneth Paltrow is facing no jail time yet she is serving."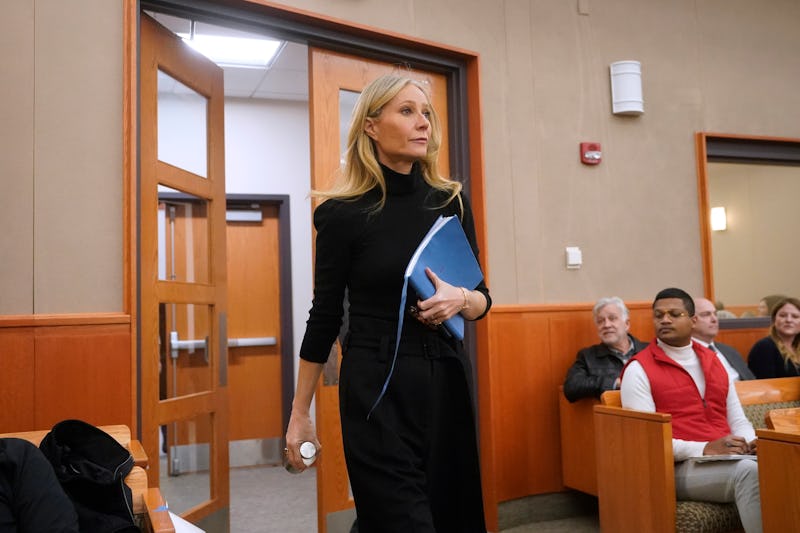 Pool/Getty Images News/Getty Images
Thanks to social media, Gwyneth Paltrow's ski crash trial outfit choices have become a masterclass in dressing up for one's day at court. The trial, in which the Oscar winner is being sued for a collision involving her and then-69-year-old retired ophthalmologist Terry Sanderson in 2016. The civil suit dissects what happened that fateful day in Deer Valley, Utah, as both Paltrow and Sanderson say they had the right of way on the slopes and the other is at fault. Sanderson is suing the actor for $300,000 in damages, and she's countersuing for a symbolic $1. Naturally, the internet has been captivated since deliberation kicked off in Park City on March 21.
One major aspect about the trial, aside from whether Paltrow and Taylor Swift are friends, has been her choice of outfits. The New York Times has praised her neutral-toned ensembles as having "carefully walked the fine line between obviously rich and successful but respectful of both the venue and the location." Her look has been chic, tidy, and aware of her audience — albeit expensive. Paltrow wore CELINE boots that retail for $1,200, not to mention the $250 notebook she shielded her face with.
Many fans pointed out her wire-rimmed glasses, comparing her to Jeffrey Dahmer, Adam Driver as Mario Gucci, Chloë Sevigny in Zodiac.
Jokes about the wire-rimmed glasses aside, users had jokes about her neutral and well-tailored wardrobe for her court dates. "Incredible how Gwyneth Paltrow is facing no jail time yet she is serving," one user wrote. "Don't know anything about why Gwyneth Paltrow is on trial but this outfit is so sick that she shouldn't get in trouble," another chimed in.
The trial even appeared to create a new term for dressing up for a court date: courtcore.
This one tweet sums up Paltrow's aesthetic perfectly: "no one has ever looked more on trial for a skiing incident."
In the meantime, fans will be waiting for the next courtcore moment — and the verdict.