Twitter's Reaction To The Potential Game Of Thrones Jon Snow Spinoff Is Chaotic
The GoT fandom is divided again.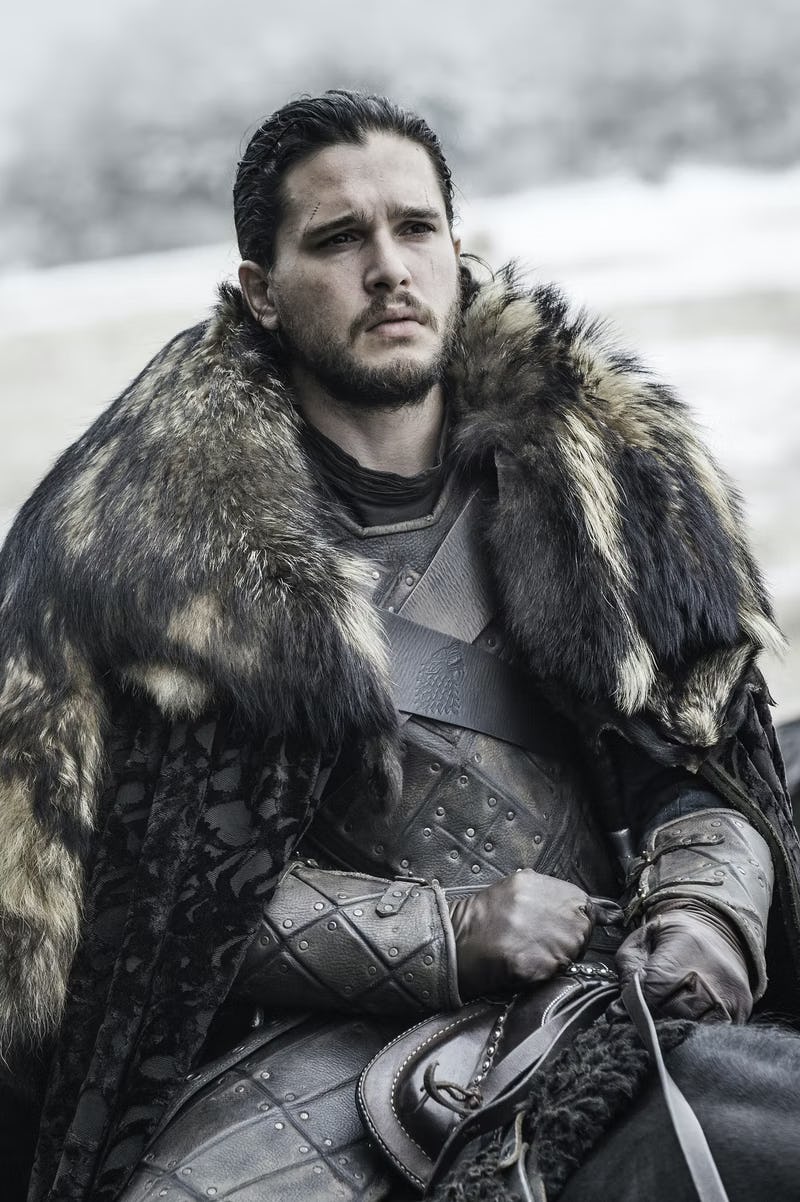 Helen Sloan/HBO
When Game of Thrones went out in a blaze of ratings-record glory in May 2019, fans weren't necessarily thrilled by Season 8 as a whole. Now, they're bringing that same energy to the idea of a sequel series starring Kit Harington as his Game of Thrones character, Jon Snow. Twitter lit up after The Hollywood Reporter revealed the project is in early development at HBO, and there has been a chaotic mix of excitement, confusion, and rejection.
For years, Game of Thrones was one of the most popular, talked-about, and acclaimed shows on television. Showrunners and creators David Benioff and D. B. Weiss brought the captivating world of George R. R. Martin's popular A Song of Ice and Fire book series to screen, but many fans felt they failed to stick the landing. In fact, a fan launched an online petition in 2019 for HBO to "remake Game of Thrones Season 8 with competent writers" that has garnered nearly 2 million signatures to date. Still, HBO hasn't been deterred from trying to return to Martin's world. The network has explored multiple offshoot possibilities, from prequels to the possible Jon Snow spinoff.
For some fans, it's an exciting prospect, especially since it means more of Harington. "Those dastardly folks at HBO think I'll watch the Jon Snow spinoff just because I love Kit Harington," one tweeted, in part. "They're absolutely right!"
Still, the idea was confusing to others. Game of Thrones centered on several characters, with Jon Snow's story in particular being a focus. Many fans felt he'd already gotten a satisfying ending and argued that there's no need for him have a sequel. "You're meant to imagine his future, not watch it," one person wrote as they explained their stance.
The "Why Jon?" camp isn't universally opposed to a sequel. Numerous fans would just rather see another Stark sibling as the protagonist: Arya (Maisie Williams). Her character arc was a fascinating one, and many saw potential given how where the series left her. One fan pointed out how well she was set up, given that she "ends the series on a ship sailing for parts unknown in search of adventure," whereas Jon is "in exile" without "any enemies to fight anymore."
Still, if HBO does go forward with the Jon Snow spinoff, fans have ideas, from revisiting his temporary Season 5 demise to bringing back Daenerys (Emilia Clarke).
And yes, there are still fans who want HBO to just remake the final season or even denounce it, however unrealistic that may be.
Those latter ideas are probably off the table, so fans will just have to wait and see what happens next in the Game of Thrones universe.