Twitter Had A Meltdown Over The Love Is Blind Live Reunion Delay
"Succession is on at 9 we don't have time for this."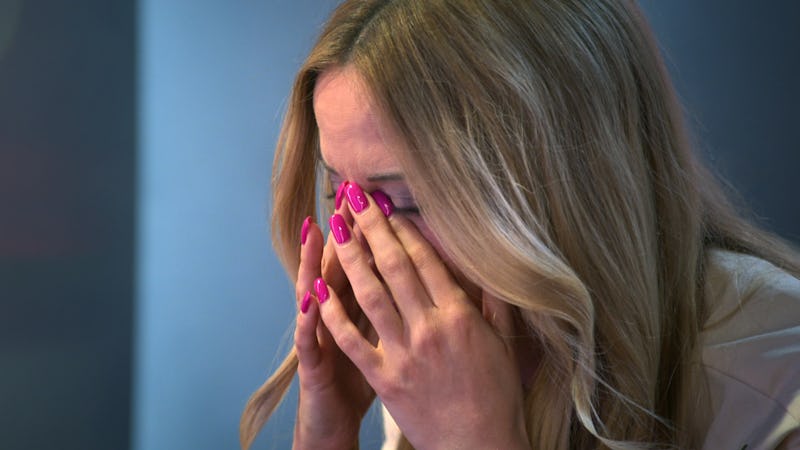 Courtesy of Netflix
As it turns out, love isn't always patient. After touting the first-ever Love Is Blind: The Live Reunion, Netflix's feed experienced significant delays. Without offering an explanation for the late start, the streamer attempted to fill the dead air by promising that the reunion would be worth the wait — because Irina Solomonova was in the house and ready to spill all the tea. Despite first announcing only a 15-minute delay, the event was still "loading" well over an hour later, and Twitter users naturally had plenty to say on the matter.
A popular initial assessment roasted the streaming giant for not being able to pull off "what cable did for years," as one user put it, while others pointed out that Netflix is still raising subscription prices, nonetheless. In fact, many of those who were not-so-patiently waiting to stream the reunion already had appointment viewing lined up for HBO's Succession, Barry, and other broadcast favorites. Naturally, some of the networks got in on the fun, too, with Bravo's Twitter account joking that they would never keep fans waiting for a reunion.
Even congresswoman Alexandria Ocasio-Cortez poked fun at the snafu, encouraging Netflix to enlist the help of Brett Brown's wedding day seamstress to save the day. Others came up with fantasy scenarios of what might be going on behind the scenes — ranging from Irina frantically cutting wires a la Edward Scissorhands to an imaginary backstage breakup between Chelsea Griffin and Kwame Appiah.
Though they did little to quell the roasting, some small updates trickled in along the way. At one point, co-host Vanessa Lachey posted an Instagram video joking that they "broke the internet," but were still ready to go. Then, at 9:30 p.m. ET — an hour-and-a-half past the scheduled start time — Netflix tweeted an apology and offered a bit more of an explanation. "To everyone who stayed up late, woke up early, gave up their Sunday afternoon… we are incredibly sorry that the Love is Blind Live Reunion did not turn out as we had planned. We're filming it now and we'll have it on Netflix as soon as humanly possible. Again, thank you and sorry."
Though the damage had already been done, they're surely hoping love is both blind and forgiving.