Twitter Can't Contain Their Emotions Over This Grey's Anatomy Reunion
Lexie wasn't alone on Meredith's beach.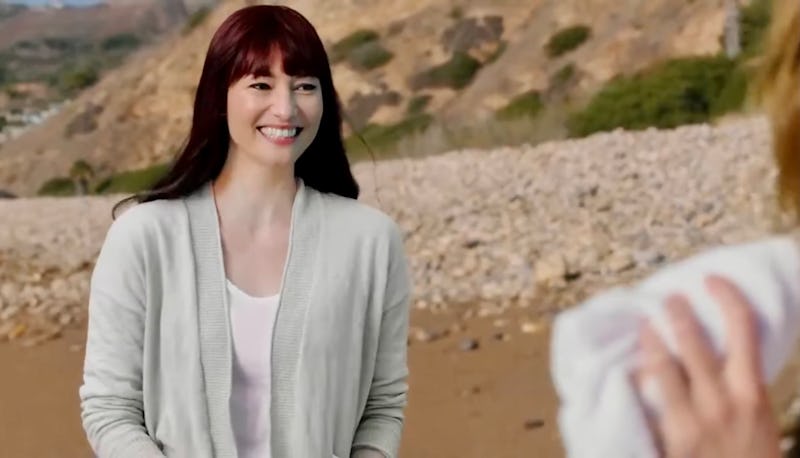 ABC/screenshot
Spoilers ahead for Grey's Anatomy Season 17, Episode 10. This is not an April Fools' joke: in Grey's Anatomy's April 1 episode, Mark Sloan and Lexie Grey returned to the show, and fans on Twitter really needed that "just breathe" reminder.
As teased at the end of the previous week's episode, Lexie (Chyler Leigh) was the first to appear on Meredith's beach, handing her a towel to dry her hands. After some banter about loving the "beautiful" beach, Meredith admitted she didn't know the rules about whether or not she could stay there. "I don't think there are rules," Lexie said, remembering how much she "loved rules" when she was alive. Enter Mark, aka McSteamy (Eric Dane). "You totally did," he interjected, before telling Mer, "You're early, killer." Dr. Grey recapped for her visitors how she "doesn't know how to get back" and that she keeps seeing Derek, but he won't help her — or get close enough to touch — either. "It's not up to him, it's up to you," Mark told her.
But back to Mark and Lexie. First, Meredith asked the question fans have been wondering since the fateful Season 8 finale plane crash that claimed both of their lives. "So, you two are together?" Meredith asked the on-again, off-again couple. Mark's response? "On your beach, it looks like we are." While he and Lexie went off to frolic in the water, Meredith looked on lovingly, saying to herself, "I like it here." As excited tweets began flying on social media, it became apparent that viewers do, too.
The emotional family reunion didn't end there. Mark and Meredith got some one-on-one time, during which the late Dr. Sloan revealed that he still talks to his daughter Sofia, who he's been watching grow up because it's "hard to let go." He said he even tried to "warn" Callie and Arizona not to get divorced and miss "the best part of life" before delivering a line Grey's fans certainly haven't forgotten: "When you love someone, you tell them."
Then, Meredith and Lexie had some more sibling bonding (on swings, no less), with "Little Grey" reminding her big sis that life is worth living. That theme continued later, as the trio lay among flowers on a seaside cliff. "The depth of grief that you felt with all the losses, it's because of the depth of love," Lexie explained to Meredith. "As long as you're alive, you get to feel it, and you get to do something about it."
With the wisdom of hindsight, Lexie and Mark agreed that fighting change and resisting pain is "such a waste of life." After Meredith said she'd missed them both "so much," Lexie informed her that that was "kind of a waste of time, too." Why? "Because we never left you," she explained, sending fans running for a fresh box of tissues.
After the duo implored Meredith not to waste a single minute of life, it became apparent that she'll survive COVID. Indeed, back at Grey Sloan, she was taken off of her ventilator, able to breathe on her own again by the episode's end. (The sneak peek for next week showed her finally waking up again, too.) It's still unclear if that means this will be the last of the beach reunions, but we do know that Patrick Dempsey's Derek will appear at least once more, and the comeback of Sarah Drew's April Kepner is also still on the horizon.
And, hey, maybe those texts from Cristina to Owen could even mean that Meredith's "person" might finally appear by the end of Season 17 as well. Stay tuned.