All The Grey's Anatomy Alums Who Have Returned For Season 17
Mark was a sweet surprise, and there's hope for Cristina and Izzie cameos.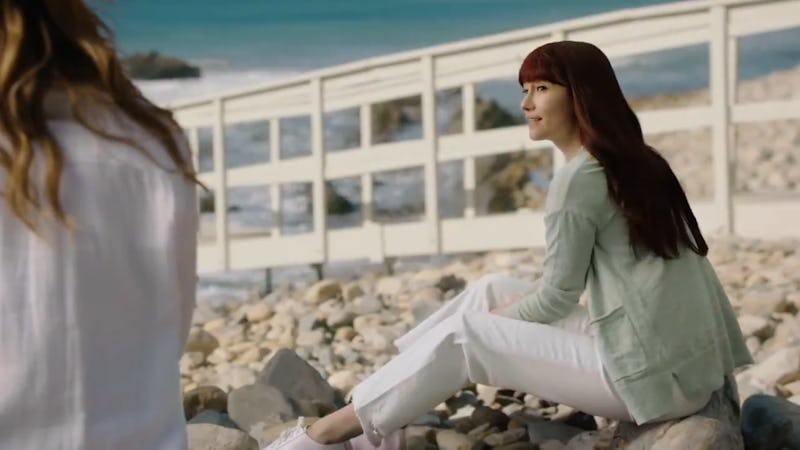 ABC
Spoilers ahead for Grey's Anatomy Season 17. This has been an experimental season for Grey's Anatomy, to say the least. From Meredith's (Mc)dreamy death beach to Teddy's dark, cerebral solo episode, the show is finding new ways to bring past tragedies to the forefront — good news if you're a former Grey's actor who wants to hop back on TV for a low-commitment afterlife role. It's also a welcome surprise for viewers who desperately want to see their fan-favorites again, dead or alive. After the April 1 episode promo revealed Lexie Grey herself would join in on the Malibu fun, there are even more potential cameos to wonder and theorize about, including the return of Meredith's person, Cristina Yang. As the season continues to ramp up, here's a refresher on everyone we've seen return to Grey's so far and who fans can expect to show up in the near future.
Derek Shepherd
In a moment that's already cemented as a Grey's classic, Derek made his emotional return in the Season 17 premiere — smiling and waving at his wife across a gorgeous Malibu beach. In addition to tugging at the heartstrings, Derek's surprise appearance set an important precedent: Anything can happen. Since joining this season, Meredith and Derek have shared some important conversations, ranging from their kids to Meredith's monumental decision to fully reunite with Derek — i.e., die — or stick around.
George O'Malley
Ah, George. The sweet one, "007," returned to Meredith's beach to talk about the nuts and bolts of grief and the implications of her death, should she let go. George's Dec. 3 appearance added some much-needed levity to Meredith's predicament, as well as an essential counterpoint to Derek's dream beach manifestation. Whereas Derek, as Meredith's husband, is simply happy to see her (their familiar chemistry almost makes us root for Meredith to run to him in the afterlife), George is clear that he would have preferred to stay alive if given the chance. It's possible Meredith might feel the same.
Andrew DeLuca
OK, maybe DeLuca doesn't quite count as a "returning" fan-favorite — he only just died, after all — but his appearance on Meredith's beach, and in Teddy's very spooky subconscious during "In My Life," still speaks to death's lingering presence over the hospital. His joyful reunion with his mom on the shore stands in stark contrast to Meredith's inability to embrace Derek, suggesting that it's perhaps not quite her time.
Lexie Grey
One of the most shocking beach reveals first dropped in a promo: Lexie Grey's highly-anticipated return was set to the classic "Breathe," which she made her own in Season 7's musical episode. (Side note: If anything goes this season, can someone please write another musical episode?) In the episode, Lexie gave Meredith some of her classic optimism, explaining that it's a waste of life to worry about the little things — and that even the bad moments make life meaningful.
But since this is Grey's, there was a twist, and Lexie wasn't alone. Our first clue that she would be joined by someone on the beach came in the form of that emotional promo. Unlike Derek and George's appearances, Lexie's was announced ahead of time, which suggested the show could be teasing us with something even bigger. In this case, that was Mark. This wasn't the first time Grey's tricked fans with a trailer: In the promo for Derek's death episode, the show implied he would get hurt in a car accident. When he survived that, viewers let their guard down only to be blindsided by that fatal truck crash later on.
Mark Sloan
Mark's surprise return perfectly complemented Lexie's. Not only was it fulfilling to see the pair together in the afterlife (or at least, Meredith's version of it), but Mark also provided some sage wisdom on Meredith's situation and what it's like to actually leave behind a child. The only thing that could have made Mark's appearance better? Seeing McSteamy and McDreamy together again! But Derek must have been down the beach fishing...
April Kepner
Not every character returning to Grey's during Season 17 is coming back from the dead. On March 12, Deadline reported that Sarah Drew landed a guest spot, reprising her role as April Kepner. April is alive and well, so it's possible she shows up at the hospital to check on Meredith or is co-parenting Harriet with Jackson. While an exciting treat for viewers, April's return could still be very casual in-universe considering she never left Seattle.
Cristina Yang
Of course, Cristina's return is just a theory right now. In October, Sandra Oh told ET Canada that she is "a different person" since leaving the role and would "have to say no" to appearing in the series finale. While it sounds like she's happy to leave Cristina in the past, this interview happened before Meredith's high-stakes battle with COVID, so perhaps things could change down the line. Cristina's return would be enormous but also easily accommodated, whether she comes to Meredith's bedside or — worst case scenario — her funeral.
Izzie Stevens
In Season 16, we found out that Izzie has been enjoying the quiet life in Kansas, casually raising her and Alex's twins (of which he initially had no idea, of course). So she is among the living characters who could very much travel to Seattle to see how Meredith is doing. In fact, her return would be very fitting. Remember, Meredith was one of the people who helped Izzie get through her near-fatal experience with cancer, constantly caring for her and even giving up her wedding so Izzie could get married to Alex. If anyone knows what it's like to be on the brink of death, it's Izzie — her "beach" was the hospital elevator. Plus, as far as feasibility goes, Katherine Heigl has not ruled out a return to Grey's. In a January interview with E! News, she said she would "never say never" to the idea. She also told The Washington Post that she was ready to move beyond the "difficult" reputation she developed during her time on the show.
Alex Karev
Speaking of the twins' father, Alex's return — perhaps with Izzie in tow — would make sense, as he was Meredith's replacement "person," there for her when she gave birth to Ellis and when that patient attacked her. Alex's storyline was left open-ended enough to allow this, though Justin Chambers' swift, unceremonious exit makes it seem like he, too, is done with the role.
Whatever happens, there is plenty of room for surprises... and several reasons to keep a close eye on Grey's Anatomy in the episodes ahead.
This article was originally published on