Rachel & Tino's Hometown Date On The Bachelorette Has Twitter Collectively Cringing
Has the Cheese King has been dethroned?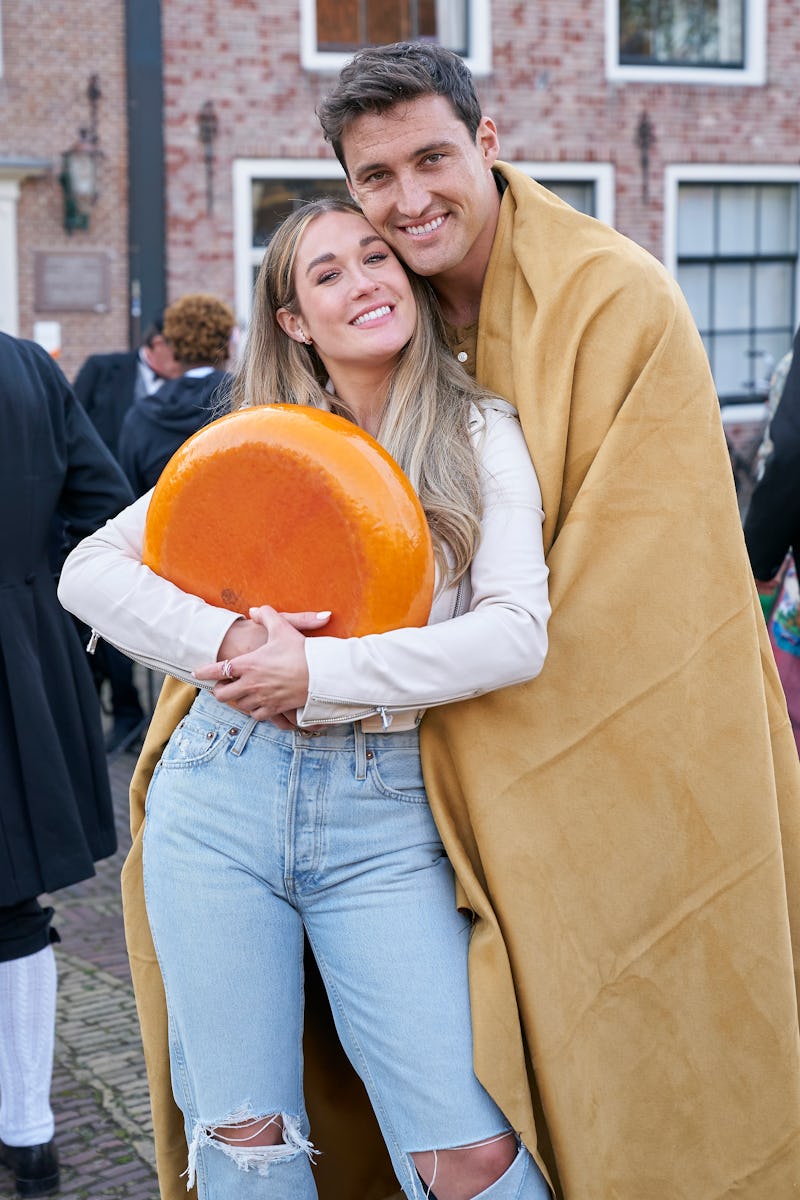 Craig Sjodin/ABC
Episode 7, which aired Aug. 22, seemed to be a tough hometown date for Tino Franco on this season of The Bachelorette. For all intents and purposes, Tino was one of the front runners, and had been all season, potentially reaching his apex in Aug. 15's Episode 6, wherein he was named the Cheese King, at a dairy themed date in Amsterdam. However, his reign ended in record time, once his majesty was met with the difficulties of hometown week.
The cracks in his and Rachel's relationship started to deepen last week, especially after Tino was frustrated after not being awarded the group date rose. The meltdown came in response to Rachel awarding the rose to Tino's fellow contestant, Tyler, despite the fact that Tino believed he'd "totally hit it out of the park" during their alone time. Expectations got the better of the Californian, resulting in more pouting, after he explained that he was "at a loss" for words, and that he was beginning to "second guess everything."
Fast-forward to the following week when Tino's parents met Rachel. The date started simple enough, with Rachel heading to Santa Clarita to meet Tino. However, she expressed some doubt ahead of their meeting. "If they don't approve of me, and like me then how am I supposed to move forward," she said. Later adding, "It's really important to me that they at least give me a chance."
We then quickly cut to Tino's family, who were already in the midst of questioning their relationship. "What if Tino isn't the one she likes best," his mom wondered aloud — great start.
Once Rachel and Tino actually showed up, the family wasted no time grilling the couple on their relationship, wondering how much time they'd even spent together, let alone how much time they had left before making a big decision. "When you know you know," Tino confidently told his father, to which his dad retorted: "We're going to have a talk." During that talk, Tino's father continued his apprehensions, referring to he and Rachel's relationship as a "fairytale," but not in a good way.
Then came time for Rachel to talk to Tino's mom, where she immediately called their relationship "not real." The skepticism was palpable, "she grilled my *ss," Rachel told the cameras. When she then spoke to his dad, Rachel tried to convince him that she knew the real Tino. Needless to say, her answers weren't quite up to snuff. "You're saying all the right things," he said. "We see it as this fairytale thing," adding, "We want to see him fall for the right person.
Despite putting up a brave face, the cracks were beginning to show in Rachel's calm demeanor. "I genuinely almost cried," she told the cameras. "It was going that bad." What might've been a nice first meeting with her future fiancé had turned into a nightmare first impression.
With just minutes left in their conversation, Rachel tried to assure Tino's dad that she felt the two were ready for an engagement. However, Tino's dad was a little more concerned with the fact that Rachel's already been on this journey before, in addition to being apprehensive about his son's readiness to get married. Rachel then got some time to talk to a producer about her arduous experience, which was intercut with further dubiousness courtesy of Tino's parents. Rachel voiced that she didn't even feel like she was given a chance.
"I don't know how I made it out of that house alive," she said. Tino tried to tell her that they "adored" her, but Rachel was understandably hearing none of it.
He pivoted to reassuring her of his own emotions, saying that he's falling in love with her, uninterested in a future without her. "I think I'm feeling like I also have been falling in love with you," she said.
But as the episode came to a close, Rachel was still vocal about her uncertainty. "As good as it feels to hear him say those words, it's really hard for me to think about an engagement when I know that I don't have any support from Tino's parents."