All The Clues Rachel Gets Engaged To Tino On The Bachelorette
The pair's romantic Paris date was just the beginning.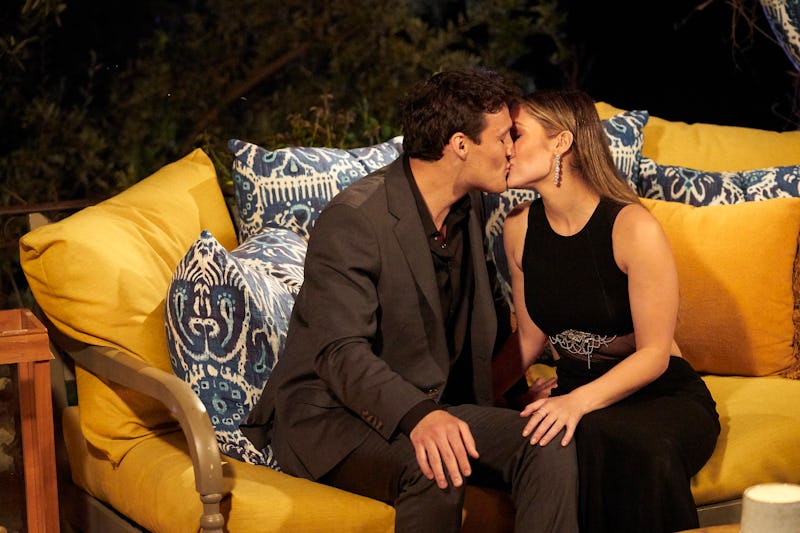 Craig Sjodin/ABC
Spoilers for Season 19 of The Bachelorette. The Bachelorette Season 19 is nearing its end, which means that both drama and romance are about to hit their peak — and it also means it's time to place your final guesses as to who each woman ends up with. As you'll remember, after Gabby endured more than her fair share of unsavory rejections in Episode 3, she and her co-lead, Rachel, opted to change the course of the season. Their plans manifested in an overhauled rose ceremony where the men would have to decide, once and for all, which woman they were committing to.
Obviously, this led to some men outright refusing a rose, but it also narrowed the dating pool for both women. With regards to Rachel, it definitely opened things up for Tino Franco. Though the potential Bachelorette couple has not been without its challenges — an awkward hometown date and Tino's nerves about Rachel dating multiple men — they were able to power through during a deep Fantasy Suites conversation. "I can't go home without you at this point," Tino told Rachel during the Sept. 5 Bachelorette episode. "So, they're gonna have to get on board with that. And they're gonna love you."
A meaningful connection this late in the game obviously bodes well — but it's not the only sign that Rachel and Tino might end up together. Here are a few other clues viewers have spotted along the way.
Their 1-On-1 Date
Tino and Rachel shared their first solo date across the pond in Paris, France, really upping the romantic factor for their outing. Things started out fairly normal, they strolled around Paris, had red wine, and made crepes in a cute cafe. Rachel said it felt like a "fairy tale." Tino was very chivalrous, allowing himself to get drenched in rain while Rachel was dry under the umbrella.
For most of the season, Rachel had been discussing her apprehensions about fully committing to the process, however, it appeared that walking through Paris with Tino was exactly what she needed. She truly got to voice those concerns on the duo's dinner date. Rachel explained her insecurities regarding rejection, to which Tino was very supportive, doing all he could to reassure her that he was there to build something together.
Rachel went on to talk about her previous partner, with regards to her profession as a pilot, and how, in the past, some of her exes hadn't been overly receptive to her busy schedule. "Your passion for your career, it lights me up inside," Tino said, extinguishing some of Rachel's concerns.
And on the topic of family, Tino reaffirmed that a family is exactly what he wanted, much to the delight of Rachel. "I think I needed today, to get back on track and truly feel like this is working for me," she said before they both exchanged about how scared they were at how much they liked one another. "I wouldn't keep accepting roses from you if I weren't willing to go to war for it, or if I didn't see that potential," he said. "I do think I was meant to find this girl, and make her happy forever."
Sign Up For Bustle's Daily Newsletter
With exclusive celebrity interviews, the best new beauty trends, and earth shattering relationship advice, our award-winning daily newsletter has everything you need to sound like a person who's on TikTok, even if you aren't.
Their date closed with the duo smooching while the Eiffel Tower glimmered in the background. Before the sequence ended, Rachel told the cameras, "I think I'm definitely going to fall in love with Tino." And as we finally saw during Fantasy Suites, Rachel and Tino both seem to be on the same page in that area.
Rumors That Tino Gets Rachel's Final Rose
Just like any other season of The Bachelor or The Bachelorette, our current season has been rife with spoilers. In fact, for more than two months now, we've had some idea of who would be in Rachel's final selection of men. Thanks in large part to reality television blogger, Reality Steve, fans safely predicted that Tino would be bound for Rachel's final selection of men — and this turned out to be correct. Reality Steve also shared a rumor that Tino would be in Rachel's final two!
On Aug. 11, Reality Steve dropped his biggest reveal of all — which, spoiler alert, is that Rachel and Tino get engaged on The Bachelorette. Working in Tino's favor is the fact that six of the last nine first impression rose winners went on to propose.
This article was originally published on