Michelle Yeoh Had The Most Badass Reaction To Being Played Off At The Golden Globes
This was her first nomination and win at the Globes.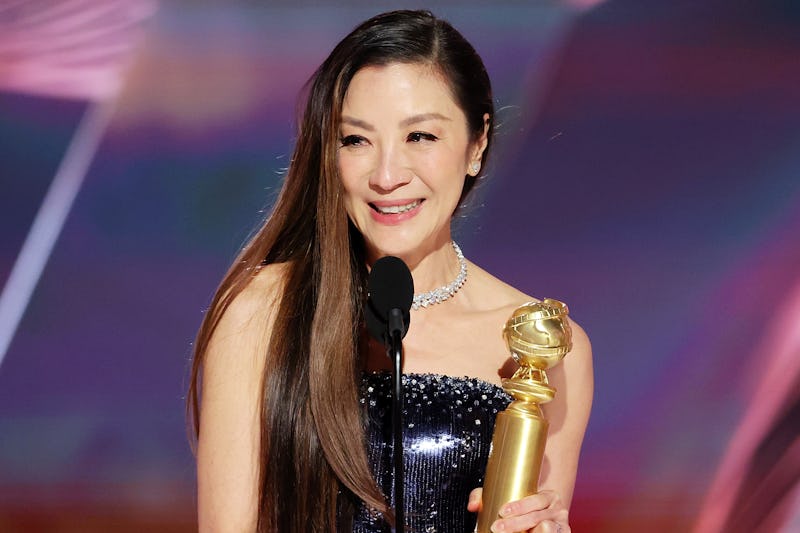 Rich Polk/NBC/NBCUniversal/Getty Images
Michelle Yeoh keeps reminding us she's a legend. On Jan. 10, the 60-year-old actor won the Golden Globe for Best Actress in a Motion Picture — Musical/Comedy for her hit film Everything Everywhere All At Once. And just like her tough, multiverse-hopping character Evelyn Wang, Yeoh didn't hesitate to stand up for herself as she accepted her award.
Yeoh was emotional when she began her speech. "I'm just gonna stand here and take this all in. Forty years. Not letting go of this," she said. "It's been an amazing journey and incredible fight to be here today, but I think it's worth it.
"I remember when I first came to Hollywood, it was a dream come true until I got here. Because look at this face," she said. "I came here and was told, 'You're a minority,'" she recalled, adding that someone even doubted if she could speak the language. "Someone said to me 'You speak English.'"
The Crazy Rich Asians actor continued sharing her struggles in Hollywood. "As time went by — I turned 60 last year, and I think all of you women understand this as the days, years, numbers get bigger, the opportunities get smaller, as well," she shared, adding how she felt like she was at the end of her Hollywood run. She added, "Then along came the best gift: Everything, Everywhere All at Once."
But just as she was about to get into the film, the pianist started playing, signaling that it was time to wrap up. "Shut up, please. I can beat you up, okay? And that's serious," she said as the piano player attempted to wrap things up, eliciting laughs from the audience.
Unfazed, Yeoh kept going. She thanked the film's creators and spoke about her love for her character who "resonated so deeply with" her. "She was just fighting. Fighting for love, for her family," she said. Throughout the rest of her speech, the pianist didn't play again.
Naturally, Twitter loved Yeoh's bold response to being played off. One user wrote, "Michelle Yeoh telling the person trying to play her off with the piano music to shut up & she can beat them up may be the best part of the globes.. Queen behavior."
Iconic.