At 28, Michelle Yeoh Left Acting To Become A Mom
"I really, really wanted to start a family. That was my new career move."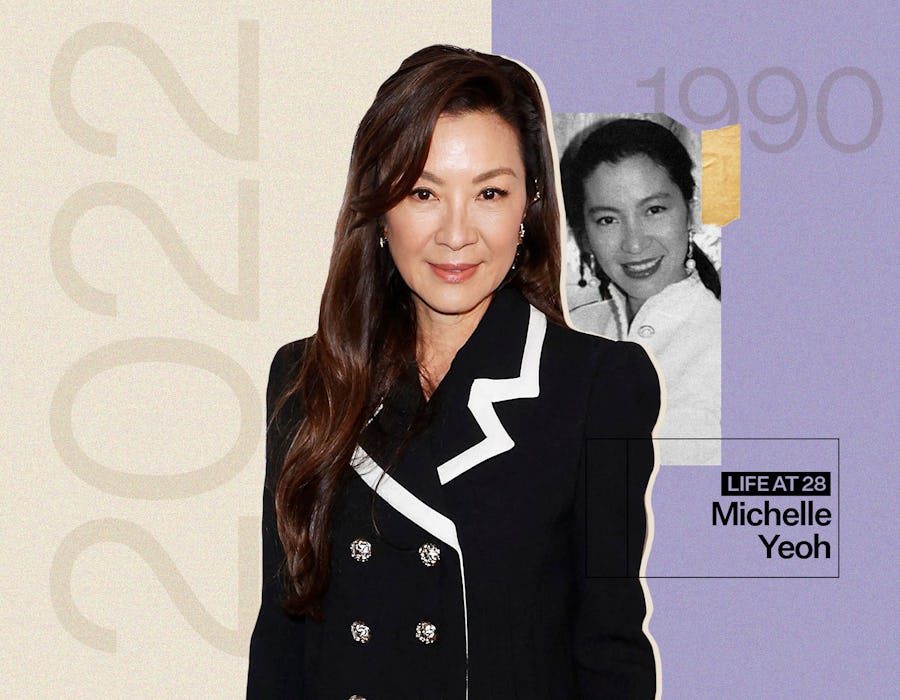 Michael Tran/Getty Images
In 1990, life looked very different for Michelle Yeoh. The 28-year-old had kickstarted her acting career after winning Miss Malaysia in 1983, and had earned widespread acclaim for her performances in action films like Yes, Madam and Magnificent Warriors under the pseudonym "Michelle Khan." It was a career many would kill for — and she was about to walk away from it, because she found something she wanted more. "I loved the idea of having kids," the actor tells Bustle, adding that her mother was very old school and always emphasized the importance of "finding a good man" rather than being independent or having a thriving career. At the time, Yeoh was happy with the idea of ensconcing herself at home and never gracing the silver screen again.
But after several failed attempts, Yeoh discovered that having children wasn't in the cards. So she struck out into the industry once again, this time under her own name, launching a second act with roles like warrior Yu Shu Lien in Crouching Tiger, Hidden Dragon and Bond Girl Wai Lin in Tomorrow Never Dies. And while she couldn't have kids of her own, she would go on to play countless iconic matriarchs and kick-ass maternal figures across her 37 year career, becoming the icy, aristocratic Eleanor Young in Crazy Rich Asians, geisha mentor Mameha in Memoirs of a Geisha, and an imposing Asian auntie in Star Trek: Discovery and Shang-Chi and the Legend of the Ten Rings.
In Daniel Kwan and Daniel Scheinert's mind-bending film Everything Everywhere All at Once, Yeoh plays the Ultimate Mom: Evelyn, a harried laundromat owner who must master the multiverse to save her sweet-natured husband and rebellious daughter. Faced with infinite possibilities for her life — from a world where she's a Yeoh-esque Hollywood star to one where people have hot dogs for fingers — Evelyn realizes there's nowhere she'd rather be than in her own life, with her run-down laundromat and her less-than-perfect family. Everything Everywhere All at Once blends all the lives Yeoh has (or could have) lived, as a martial arts expert and an actor and even a mom, to make a film that's both universe-spanning and uniquely intimate. If multiverses exist, perhaps there's a world where Yeoh never returned to the screen. But luckily, we're not in that one.
Below, Yeoh discusses her first (and only) marriage, her time in the Hong Kong action scene, and the advice she'd give her younger self.
Take me back to 1990, when you were 28.
Oh my God, that was a long time ago. In 1988, I got married to a wonderful man called Dickson Poon. At 28 years old, I decided maybe it was time to settle down, get married, and have a new life.
You took a break from acting until 1992. Did you miss it, or did you consider pursuing a different career?
No, when I got married, it was a conscious decision to leave acting. It wasn't because of pressure from Dickson and his family or anything like that — because in Asia, it does happen where the women are [expected to be] a married housewife or a mother as soon as possible and not work. But at that time, it was my choice to leave because I'm not a good multitasker. I looked in awe at some of the actresses who were able to juggle being a mother, take the kids to school, and act or produce. It blew my mind. I felt if I continued acting, I'd be constantly away from home. I couldn't understand how I could have a full [career while] being married.
I really, really wanted to start a family. That was my new career move. I wasn't thinking, "Oh, I have to find another job."
You and Dickson are no longer married. What happened?
As it turned out, I was unable [to have children]. And if I'm being honest with myself, I didn't want for us to be bitter 10 years down the road. Because in Asian families, people want to have sons and daughters [because] they are an extension and a legacy. And when you have the realization [that you can't have kids], you have to deal with it. You deal with the curveballs that are thrown at you.
How did you get back into acting?
I was very, very fortunate that when I stepped away from our [marriage], it was the media in Hong Kong that actually said, "The audience is still waiting for you. They don't think that you have gone away. They're just thinking that you're working on [a movie] and haven't presented it to them yet." I said, "Oh, really? Wow." Because you know how fickle our business is. If you're gone for a while, there's so many new faces coming in, and so many things that happen over four years.
So I put it out there in the universe and said maybe I should come back. And lo and behold, there was [director] Stanley Tong, who was going to do Supercop with Jackie Chan. We've been friends ever since I started my career, and I knew him when he was a stuntman. He knocked on my door and said, "Remember that promise you made me many years ago, when I said that one day, if I become a director, and I had a good movie, I could call on you?" And he did.
In your 20s and 30s, did you feel pressured to only take on certain kinds of roles?
I was very lucky because once I started my career in Hong Kong action movies, I was embraced very quickly and given amazing opportunities. Then I got married, and when I came back out, my first movie was Supercop, and I couldn't have asked for more.
But I was always very conscious of the fact that I was not satisfied with just being the damsel in distress. So when they gave me the opportunity to play Yes, Madam and Magnificent Warriors, [I loved that] they were very strong women. So there was never any doubt for me, or the people who worked with me, that being a strong woman was a possibility. It's there. We just have to allow women to be who they are.
Did you have any mentors in the industry?
I was very lucky because I was doing action films at the beginning of my career, and everyone who was there, I met all of them. The first one I met was Sammo Hung, and he's like a big brother. Jackie Chan I met because he was the first person I worked with in a commercial before I entered the world of movies. And then I think the word got out that, "Hey, there's this girl who wants to do [martial arts] with us." In the heydays of Hong Kong filmmaking, it was a very tight-knit community, and they helped each other out. Many of them did not have the privilege of attending [film and acting school], and it was baptism by fire. We're very blessed nowadays that we have the opportunity to learn about the technical elements of the camera. But in Hong Kong, at some of the earliest stages, there were many who learned on set, and with the right help, became very adept at turning out these amazing movies.
So they were all my mentors. Every time I walked onto set, I was learning from the stunt person, from the makeup artists. Because I didn't go to film school, and I didn't have real drama lessons. I literally just had to keep my ears and eyes opened, and be like a sponge. Along the way, people have been very generous in teaching me. So that was the way, and now I have a lot of friends from all walks of the movie business.
In the movie, Evelyn sees all of these different lives that she could have lived. If you weren't an actor, what job would you have wanted to do?
Oh God, I don't sit down and think of that. When I was younger, I thought I'd love to do something that took me out to nature the whole time because I have a great love of the seas and the mountains. But I could never decide on what to do. I would love to be able to go into documentary filmmaking. I did one on the orangutans in East Malaysia in Borneo. I would like to continue that because the world is a gift, and you have to go and explore it and live it.
What was your personal style like at 28?
Hong Kong is very chic, so there was a lot of pressure. I'm more [into] jeans and a white T-shirt, but I discovered very quickly when I first got there that when people say casual, they don't mean casual. Don't go into somebody's house with sneakers and think that's "casual." But I loved it. I mean, fashion is clothes and jewelry, and back then it had a texture to it. Fashion makes you an individual person, and it's how you put it together that speaks to you. It's like, that nose ring you have is so cute. I'm sure your mom didn't think so, though.
Oh, thank you. Yes, she wasn't thrilled about it.
"You think you're a cow or a bull?"
That is exactly what she said.
I come from that generation, I totally get it.
What was the soundtrack to your life back then?
I'm a romantic person, and at that time, I listened to a lot of Cantonese and Mandarin songs. Because the lyrics are truly, truly, truly romantic. It sets a different ambience. I remember the first song when I got to Hong Kong was a song by George Lam. Every time I hear that song, I'm reminded of the first time I heard it on the radio.
What advice would you give your 28-year-old self?
Believe in yourself! No, seriously. I think even if I could go back today, I couldn't tell her [to do] anything different. Because it's a journey that you have to go through. Even in hindsight, saying, 'Don't get married! Don't do it'? No, it's this path that made me who I am today. Because it taught me that there are ups and downs in life, and that there are dreams that remain a dream. But it's okay. You still have to walk it and dream it.
This interview has been edited and condensed.