Mick Jagger Has No Time For Your Harry Styles Comparisons
In a new interview, Jagger denied similarities to Styles, saying he was "much more androgynous."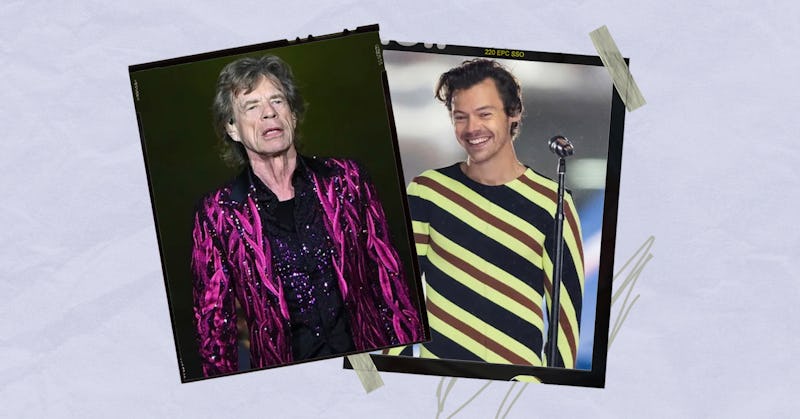 Paras Griffin/Getty Images; Gilbert Carrasquillo/GC Images/Getty Images
Harry Styles has made it no secret that he's a huge fan of Mick Jagger, and the feeling is mutual — as long as you don't compare them to each other. In an interview published on May 22, the Rolling Stones member denied that there were many similarities between himself and Styles, saying he has only a "superficial resemblance" to himself in his heyday.
When asked about Styles by the Sunday Times, Jagger was quick to praise the singer, saying they have an "easy relationship" before dismissing comparisons in their looks and performance styles. "I mean, I used to wear a lot more eye make-up than him," Jagger said. "Come on, I was much more androgynous. He doesn't have a voice like mine or move on stage like me; he just has a superficial resemblance to my younger self, which is fine – he can't help that."
Fans have been comparing the 78-year-old music icon to Styles for years, from them both being the frontmen of two of the most popular British bands in history to their shared penchant for sporting genderless clothing and makeup (plus, their groovy onstage dance moves don't help). In fact, the similarities ran so deep that Styles gave a hilarious impression of Jagger on Saturday Night Live in 2018.
Despite his feelings on the comparisons, Jagger has spoken highly of Styles before. In 2015, Jagger said the One Direction alum has "got it going on," among other glowing compliments, in an interview with The Mail on Sunday's Event magazine. "I know him, he comes to see me in lots of shows," Jagger explained. "And yeah, I can see the influence. But I don't say anything to him, I just tell him he looks nice. I like him. He's very decent." Perhaps Jagger will return the favor (and explain his slight shade) by attending Styles' Love On Tour 2022, which kicks off in Scotland on June 11 in support of his new album Harry's House.