Millie Bobby Brown's Debut Novel Has A Special Tie To Her Own Family History
The Stranger Things star is now an author, too.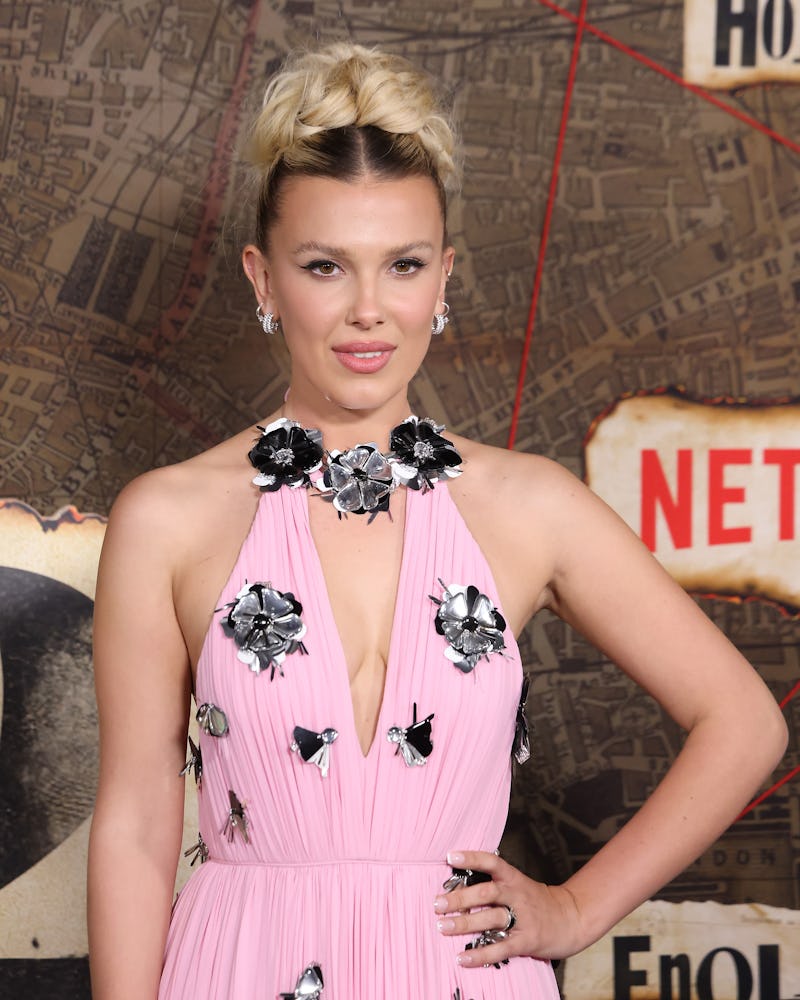 Taylor Hill/FilmMagic/Getty Images
It wasn't that long ago that Millie Bobby Brown was an unknown preteen, but oh, how quickly the kids grow up. Since making a name for herself as Eleven on Stranger Things at age 12, she's gone on to accomplish more than most do in a lifetime, from becoming a film producer at just 13 to making a cameo in Mariah Carey's Magical Christmas Special. Her latest project is just as impressive: Brown is officially an author.
The Enola Holmes star announced her debut novel, Nineteen Steps, on social media on Friday, March 24. Brown not only shared that it is due out on Sept. 12, she also revealed the synopsis. "Nineteen Steps is a historical novel about an amazing, courageous 18-year-old woman called Nellie Morris, who lives with her family in Bethnal Green, in London's East End, while the second world war rages on around them," she said in both video and text. "When a tragic accident occurs during an air raid one night, the consequences are catastrophic — and life will never be the same again for Nellie."
Her publisher, William Morrow, hasn't revealed the cover yet, but it gives further information on its website. "Nineteen Steps is a deeply affecting, mesmerizing page-turner," it says in part, adding that it is "an epic story of longing, loss, and secrets."
In her announcement, Brown highlighted that her novel was inspired by true events and her family's history. She herself was born in Spain, but her parents are British and at least one of her grandparents used to share stories with her of living in WWII-era England. After she lost her "nanny Ruth" to Alzheimer's disease in November 2020, she wrote a tribute that mentioned her grandmother's war memories, per the Daily Mail. "Ill [sic] tell everyone about you and the lessons u [sic] taught me," she wrote.
It appears Brown has made good on her word. Though she didn't specify whether or not her protagonist is based specifically on her grandmother, she showed a photo that appeared to be of the two of them together in her announcement video. Whoever inspired her protagonist, William Morrow teases that Brown has created "an unforgettable, brave young woman."
Drawing inspiration from her family isn't new for the multihyphenate star. Brown's skin care and beauty brand, Florence by Mills, takes its name from her great-grandma. The company's website explains that Brown has learned "that beauty is really all about loving and expressing ourselves," and Florence was "a woman who embraced herself and did things that made her happy all her life."
Nineteen Steps is out on Sept. 12, and then — who knows? — maybe it will become another starring vehicle for Brown on the big screen. Her family should be proud.