An Ultimate Guide To The Star-Studded Mulligan Voice Cast
Chrissy Teigen and Tina Fey front Netflix's new animated comedy.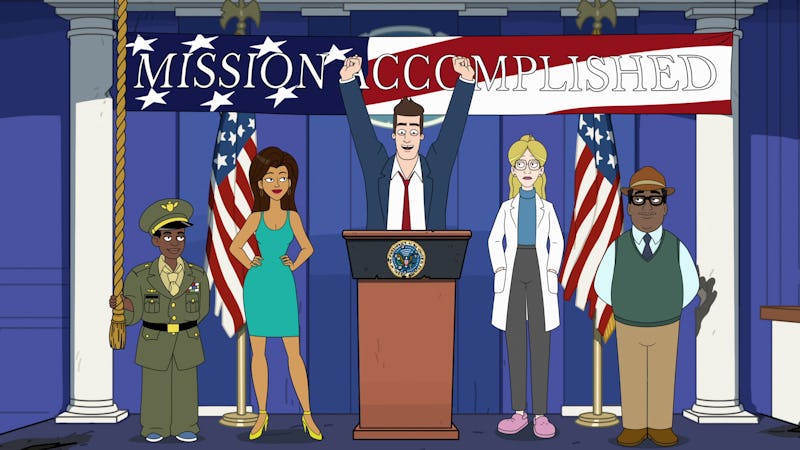 Hailing from the Unbreakable Kimmy Schmidt co-creators, Netflix's Mulligan turns the apocalypse into a laughing matter. The animated comedy series finds Earth destroyed in an alien attack, tasking a "rag-tag band of survivors" to start society over from scratch. "It's an opportunity to learn from humanity's past mistakes and get things right this time," the streamer's logline teases. "Or make the same mistakes all over again. Probably the second one." Either way, viewers will definitely recognize the Mulligan cast's voices.
Among the celebrities who voice characters in Mulligan are series regulars Nat Faxon, Chrissy Teigen, Tina Fey, Sam Richardson, Dana Carvey, and Phil LaMarr. They're joined by recurring guest stars Daniel Radcliffe, Ayo Edebiri, Ronny Chieng, and Kevin Michael Richardson.
In the post-apocalyptic world, Teigen's Mulligan character becomes the de facto FLOTUS — and might even find love in the process. "In these big action movies there's always this couple that's thrown together in the heat of the action," Sam Means, who co-created the new series with Robert Carlock, explained to Animation Scoop, specifically mentioning Vivica A. Fox and Will Smith in Independence Day and Keanu Reeves and Sandra Bullock in Speed. "But we wanted to look at, "What if they actually had to have an adult relationship after that, in this very heightened post-apocalyptic real world? How would they get to know each other? They're the chosen couple of the new world, but they don't know anything about each other. On some level, it's a rom-com about two people getting to know each other."
After Netflix dropped the Mulligan first look on April 11, Teigen tweeted, "FINALLLLLLLY!!! Doing this type of show with these hilarious people is a dream. I hope you love it because I really really really love it."
Here's a breakdown of which animated character each star voices on Mulligan.
Nat Faxon Is Matty Mulligan
Faxon, who also voices Elfo in Netflix's Disenchantment, stars as the titular hero: a "working class everyman from Boston" who single handedly saved Earth from the alien invasion — but is now in way over his head as the leader of (what's left of) humanity. The only thing he wants more than to be loved by everyone is to win over Lucy.
Chrissy Teigen Is Lucy Suwan
After her whirlwind romance with Matty during the alien attack, Teigen's Lucy Suwan, aka Miss America, becomes First Lady. Having just met, it turns out that they have nothing in common, though. Still, the beauty queen believes deeply in America (which you can see in her beer commercials), and she wants to use her newfound influence to help fix the world. But first, she must figure out how exactly to accomplish that feat.
Tina Fey Is Dr. Farrah Braun
Also an executive producer on the series, Fey's Dr. Braun is a military super-scientist who's still trying to "have it all" as a single, working mom. Despite her best efforts, she's still dismissed as just a "female scientist."
Sam Richardson Is Simon Prioleau
As Simon Prioleau —the only surviving historian and one of Matty's top advisers — Richardson, who's appeared in Veep and Ted Lasso, is desperate to save what's left of human history before it disappears. Though Matty thinks Simon is a "useless nerd," he's eager to reinvent himself as a confident cool guy. No one is buying the addition of fedoras to his wardrobe, though.
Dana Carvey Is Senator Cartwright LaMarr
Carvey is another Saturday Night Live alum giving voice to Senator Cartwright LaMarr, the self-appointed Vice President, whom the streamer describes as a "simpering, scheming, political animal who is anxious to rebuild everything just the way it was, when guys like him were in power." Because his power depends on Matty's popularity, he's forced to prop him up — for now.
Phil LaMarr Is Axatrax
As Axatrax, LaMarr — an OG Mad TV cast member and prolific voice actor — takes on the role of a dignified general and the only alien survivor of the invasion. Now a prisoner of the intellectually inferior humans who defeated him, Axatrax is imprisoned in the White House bowling alley and becomes an unlikely "shoulder" to cry on for Matty. He might have some ulterior motives, though.
Kevin Michael Richardson Is TOD-209
Before lending his voice to TOD-209, a military cyborg Dr. Braun developed for the Pentagon, Richardson played several characters on Family Guy, The Cleveland Show, and The Simpsons.
Ayo Edebiri Is General Scarpaccio/Jayson Moody
Edebiri, aka Sydney from The Bear, guest stars as aimless teenager Jayson Moody, who assumes the identity of General Scarpaccio after snagging a dead Marine officer's uniform. Now the head of the Joint Chiefs, he gets to "do cool stuff like shoot guns and fly helicopters."
Daniel Radcliffe Is King Jeremy
The party-boy son of an English Lord who was working in the British Embassy when the aliens attacked, Radcliffe's character, Jeremy Fitzhogg, dubs himself King Jeremy when he realizes he's the last surviving British citizen. Luckily for him, everyone in America thinks he's smart because of his accent.
Ronny Chieng Is Johnny Zhao
Chieng, a correspondent on Comedy Central's The Daily Show, voices Johnny Zhao, a Hong Kong billionaire who spent the attack partying with models on his yacht. After coming ashore in D.C., he teams up with LaMarr to try to make money matter again in a world that doesn't need it.