Fans Of Big Little Lies Will Be So Into Anatomy Of A Scandal
Let's just say the TV adaptation of the popular book features some pretty big names.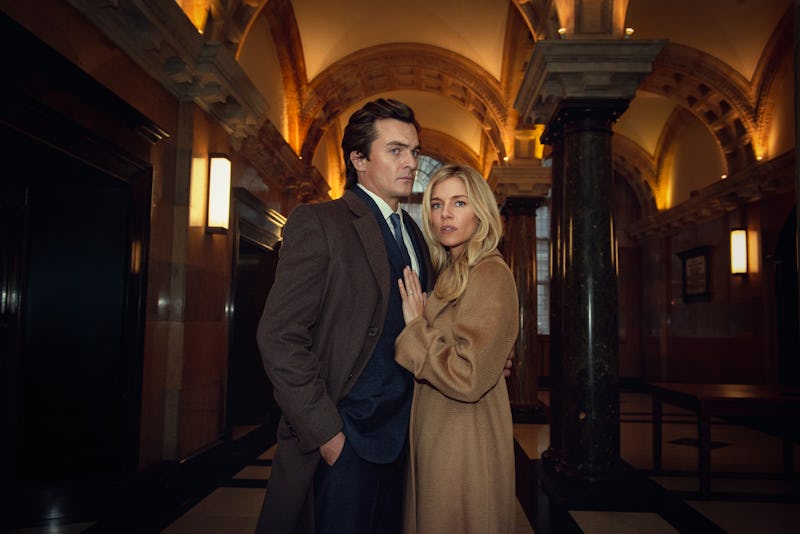 Netflix/Ana Cristina Blumenkron
Political dramas are some of a Netflix specialty – think House of Cards, The Mechanism, and Designated Survivor. But the streaming giant's thorny thriller, Anatomy Of A Scandal, might be the best yet. Offering a complex and nuanced look at public scandal, the #MeToo movement, and the justice system, the six-part series stars some pretty big names. Rupert Friend, Sienna Miller, and Michelle Dockery, to name but a few. But it the team behind the series is also exciting: Big Little Lies creator David E. Kelley and former House Of Cards showrunner Melissa James Gibson. Excited? Same. Here's everything to know about Anatomy Of A Scandal.
Anatomy Of A Scandal Plot
Telling the story of rising politician James Whitehouse and his affair with a junior member of his staff named Olivia, the new show is an adaptation of Sarah Vaughan's 2017 novel Anatomy Of A Scandal. When the Parliament minister's affair ends in an accusation of rape, his wife Sophie Whitehouse remains adamant he is innocent while prosecutor Kate Woodcroft believes he is 100% guilty – and the new political drama follows both women as they fight to uncover the truth.
Anatomy Of A Scandal Cast
So far, the biggest news that has arrived about the upcoming series is the list of actors that make up the starry cast, as previously stated. Most notably, Sienna Miller and Michelle Dockery will take on the female leads, with Miller playing James' wife Sophie and Dockery taking on the role of prosecutor Kate. Rupert Friend will star as James Whitehouse, who is at the centre of the scandal. Charlie's Angels and Aladdin star Naomi Scott portrays Olivia Lytton, a parliamentary researcher who becomes embroiled in the case, while Ben Radcliffe plays a young Whitehouse. Josette Simon, who played Jal's mum in '00s teen drama Skins, and more recently appeared in The Witcher, is slated to play Angela Regan, QC.
We also know that the series will be directed by showrunner David E. Kelley, who worked on Big Little Lies, as well as the '90s classic Ally McBeal. So it's safe to say that Vaughan's story is in safe hands.
Anatomy Of A Scandal Trailer
In Mar. 2022 the first trailer for Anatomy Of A Scandal gave a first look at what to expect, soundtracked by an eerie cover of the Yeah Yeah Yeah's iconic dance-punk track "Heads Will Roll" and hinting at some truly chilling dialogue.
The new novel adaptation hits Netflix on Apr. 15, and will consist of six episodes.
This article was originally published on