Everything To know About Élite Season 4
With a new season comes a new school year at Las Encinas.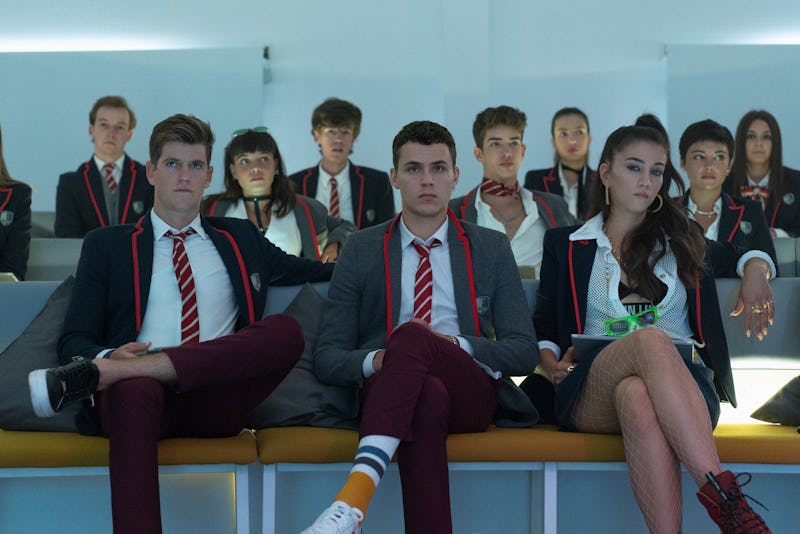 Netflix
With over 20 million viewers for Season 1 and a 100% rating on Rotten Tomatoes for Season 3, Netflix's Spanish teen thriller-drama Élite is clearly a major hit for the streaming platform. Set at the fictional high-end secondary school Las Encinas, the series centers around three working-class students attending on scholarship and their relationships with the wealthy classmates who surround them. Featuring an ensemble cast that includes Arón Piper, Omar Ayuso, and Claudia Salas, the show has received comparisons to Gossip Girl and has been critically lauded for its progressive takes on teen drama tropes. It's also developed a devoted fanbase, who will certainly be excited to hear that Season 4 of Élite will arrive on Netflix very soon — here's everything we know.
Élite Season 4 Cast & Crew
Aside from Piper, Ayuso, and Salas, who will all be returning to the series for Season 4, cast members Itzan Escamilla, Miguel Bernardeau, and Georgina Amorós will also reprise their roles for the upcoming set of Élite episodes. Joining the cast are Carla Díaz (El Príncipe), Martina Cariddi (While At War), Manu Rios (Pepe's Beach Bar), French-Spanish singer Pol Granch, Diego Martin (Velvet Collection), and Andrés Velencoso (Edha). "Nos vemos prontito," wrote Rios on Twitter alongside the announcement, which roughly translates to "See you soon" in English.
Eduardo Chapero Jackson and Ginesta Guindal are set to direct Season 4 of Élite, while Jaime Vaca, David Loranzo, Almudena Ocaña, and Esther Morales will serve as screenwriters. Produced by Zeta Studios, Season 4 will also see Carlos Montero, Diego Betancor, and Vaca as executive producers.
Élite Season 4 Plot
With a new season comes a new school year at Las Encinas. The school just hired a powerful European businessman as its new director (Martín), and he wants to bring some order to the institution, which he believes "has been running amok in the past few years," per Netflix's description. His three spoiled teenage children (Díaz, Cariddi, and Rios) come along with him, and they're prepared to shake things up at Las Encinas in order to get what they want, no matter who suffers as a result.
As expected when it comes to Élite, a rivalry between longtime students and the school's newcomers, including Martín's character and fresh classmates (Granch), will ensue. According to the streaming platform, the battle will test the characters' "value of friendship, love, loyalty, the discovery of one's own sexuality, the invincible power of the privileged and the culture of silence." The season will conclude with a bombastic and tragic confrontation complete with a victim and a perpetrator — whose identity has to be revealed. Does that sound like enough drama for you?
Élite Season 4 Release Date
Following Season 3 in March 2020, Netflix announced that Élite had been renewed for two more seasons. On April 12, the streaming platform announced that Season 4 of the drama is set to premiere on June 18, 2021. While the number of episodes in Season 4 is yet to be revealed, it's expected that Netflix will follow the previous three seasons and produce eight episodes.