Nicole Kidman Marked Moulin Rouge's 20th Anniversary With These Iconic Photos
"The greatest thing you'll ever learn is just to love, and be loved in return."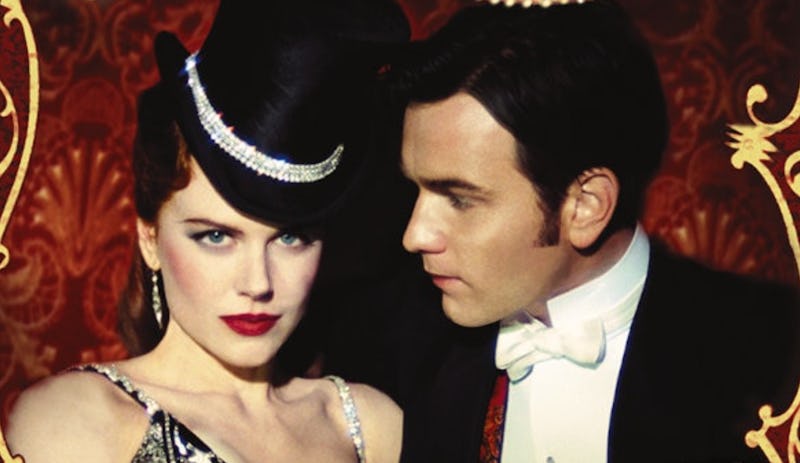 20th Century Fox/Moulin Rouge
Suddenly the world seems such a perfect place — maybe because today is the 20th anniversary of Moulin Rouge. The Baz Luhrmann-directed musical about the brief yet all-encompassing whirlwind romance between a penniless writer, Christian (Ewan McGregor), and a Moulin Rouge courtesan, Satine (Nicole Kidman), originally hit theaters on June 1, 2001, and it has remained a cultural phenomenon ever since. To celebrate the milestone, the film's very own sparkling diamond shared stunning throwback photos on Instagram from the set.
The photos feature Kidman and McGregor brightly smiling together while dressed in an eclectic mix of dazzling top hats, suits, and corsets that take inspiration from the film's turn of the century setting. Others pay homage to unforgettable, show-stopping scenes from the film like Satine's performance of "Diamonds Are A Girl's Best Friend," which featured Kidman soaring through a glitter-filled sky on a trapeze. In between the two are images from multiple photoshoots around the time of the film's release.
"Some of my favorite memories from Moulin Rouge," Kidman wrote in the caption. She then shared one of the film's most iconic quotes: "The greatest thing you'll ever learn is just to love, and be loved in return."
Shortly after Kidman posted the photos online, fellow Moulin Rouge co-star and singer-songwriter Kylie Minogue commented on the post and called Kidman an "icon." In the film, Minogue played the Green Fairy that Christian encounters after drinking absinthe with his friends.
Even two decades after its release, the impact of Moulin Rouge and its message of freedom, beauty, truth, and love continues to inspire audiences. In 2019, the musical adaptation of the film made its Broadway debut with actors Karen Olivo and Aaron Tveit stepping into the shoes of Satine and Christian. The show, which was temporarily shuttered due to the coronavirus pandemic, is set to make its return to Broadway on September 24. Multiple productions in London, San Francisco, and Japan have also been announced.
How wonderful life is now that Moulin Rouge is in the world.