Noah Erb Hits It Off With A Fan Favorite From Matt James' Season On BiP
Here's what to remember about the Bachelorette star.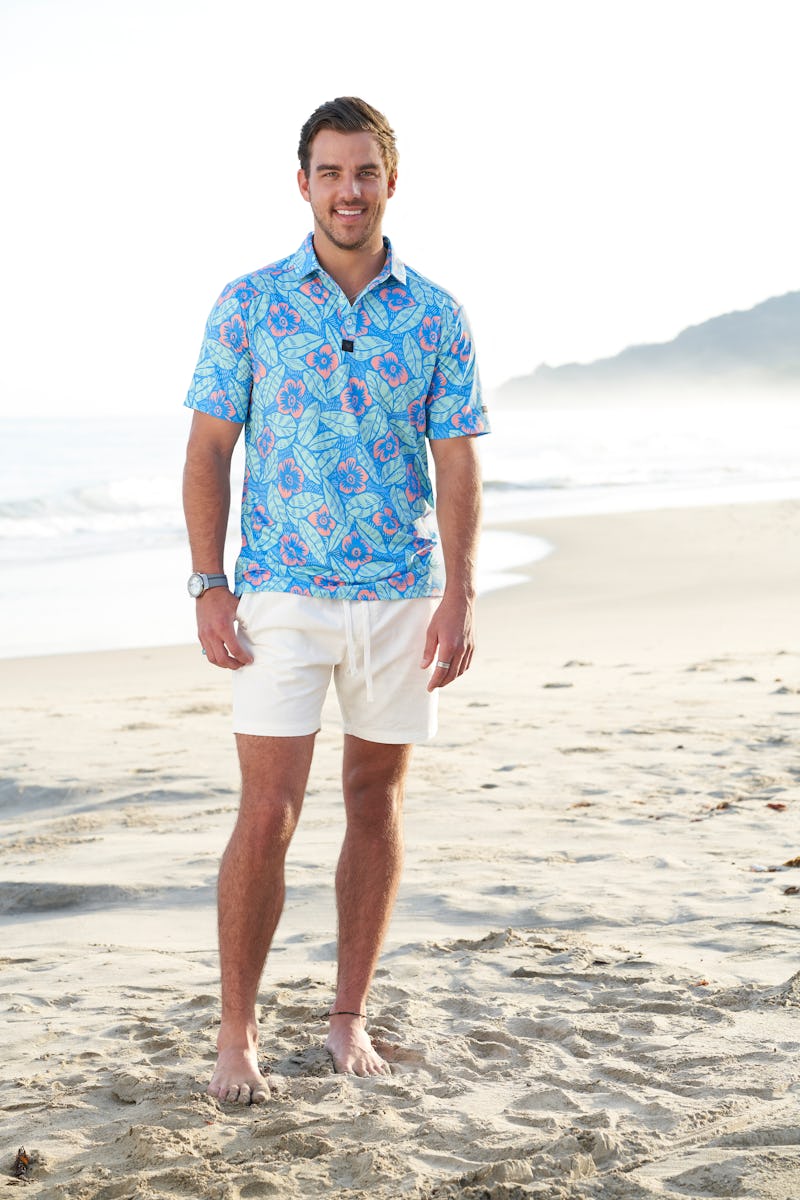 ABC/Craig Sjodin
Noah Erb is hitting the beach for Bachelor In Paradise Season 7. Fans of the franchise will remember the moustachioed travel nurse as a late arrival on Tayshia's season of The Bachelorette, where he clashed with fellow contestant Bennett Jordan before later being sent home. He's hoping to have better luck finding love in Mexico, and rumors suggest he'll hit it off with someone from Matt James' Bachelor season (more on that later). Here's what else to remember ahead of BiP's Aug. 16 premiere.
Noah's Instagram Is One Long Vacation
According to Noah's Instagram, he still works as a travel nurse who "loves Jesus, loves people, loves living and refuses to leave this world unchanged." The rest of his feed shows just how much of that world he's been seeing. He's posted photos in snowy Utah, Miami Beach, Tulsa, Oklahoma, and New York City, and has been joined by a few fellow Bachelor Nation stars along the way. Ivan Hall and Demar Jackson, who were also on Tayshia's Bachelorette season, met up with him in Florida, while Connor S from Hannah B's Bachelorette season and Madi Prewett from Peter's Bachelor season visited the botanical gardens with him in Dallas. One of his posts references his upcoming appearance on Paradise, featuring him standing stiffly on the sand with the caption,"Cheers to this season not being as awkward as my pose."
Noah Worked As A Nurse Throughout The Pandemic
According to an April 14 Instagram post, Noah was most recently stationed in Oklahoma City, but he also worked at an ICU in Denver earlier in the pandemic. "Having the opportunity to help in these trying times is nothing short of an honor and I wouldn't change it for anything," he captioned a post in December 2020. "Don't forget to Hold onto your loved ones and tell those around you you love them."
Noah also took to social media to post a Christmas message, touching on mental health and the difficulties of staying positive during a global health crisis. "Covid has caused physical health problems but it has also wreaked havoc on mental health and more people are sad or hurting than you realize," he wrote in part. "Nobody is above sadness but nobody deserves to struggle alone."
Noah Is Still Updating His Blog
Noah maintains a blog called Erbswords where he shares reflections on life and faith. His most recent post, titled "Circles in Squares," was published in February of 2021. "We are stuck in a world that tries to fit circle pieces into square holes…more importantly YOUR circle pieces into square holes," he wrote in part. The piece goes on to question how one can fit in or feel safe in an uncertain world, and finishes by stating, "We are on the brink of a beautiful life if we just put in the effort, change the way we view/treat people and show a little more love/grace."
Noah's Bachelor In Paradise Experience
Whether you were a fan of Noah's moustache or not, it appears he'll be hitting the beach without his trademark look. Noah is rocking stubble in the Season 7 trailer, but more importantly, he appears to be cozying up to Abigail Heringer from Matt James' season of The Bachelor. In the trailer, the duo are seen cuddling on a hammock, winking at one another, and clinking martinis. Unfortunately, Abigail does appear to be crying in a brief shot during the trailer, but whether or not that has anything to do with Noah remains to be seen.
This article was originally published on