Olivia Rodrigo Got A Hilarious Reality Check From Her Friend's Dad
OK, but how was he sleeping on her music?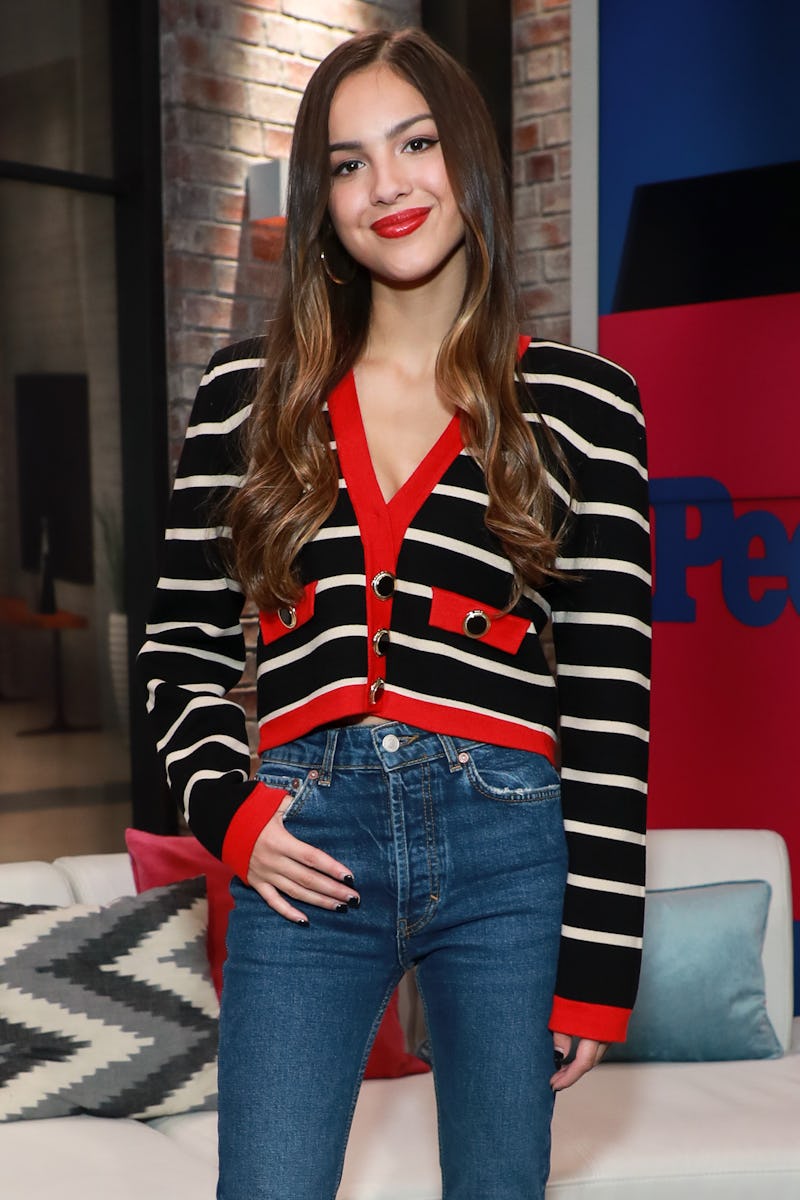 Jason Mendez/Getty Images Entertainment/Getty Images
"Drivers License" may be one of the biggest hits of 2021 so far, but Olivia Rodrigo just got a reminder that her career is still on the rise. Although she has blown up this year, not everyone — like, say, her friends' parents — know her music yet. The star posted a seemingly random group of photos on Instagram on Saturday, April 24, and one of them showed a screenshot of a hilarious and humbling text from a friend about how their dad knows Rodrigo not as a singer but simply as the Olivia "that comes to our house, [and] complains about her ex."
The friend's text recounted the whole entertaining exchange for Rodrigo. "My mom and i are talking about ur new song at lunch and my dad goes 'is this the same olivia that comes to our house, complains about her ex boyfriend? she sings now too?'" it read. "My man has been living under a rock god bless him."
The "Deja Vu" singer — who's first two singles are both currently in the top 15 of the Billboard Hot 100 — evidently saw the humor in her friend's dad's take on her latest career venture. She posted the screenshot in a lighthearted Instagram carousel that also included selfies, a car with a "Don't mess with Texas women" bumper sticker, and a meme with a possum trying to escape a shower. Her caption didn't add any extra details; it just said, "helloooooo."
No commentary is really needed, though. It's enough to know that her friend's dad is unaware of her success in music yet still has heard all about her ex-boyfriend. After all, ever since "Drivers License" dropped, the latter feels like it applies to her listeners, too. Rodrigo's fans are convinced the song is about her rumored ex Joshua Bassett, who is now linked to fellow Disney star Sabrina Carpenter. Both it and her follow-up, "Deja Vu," deal with the aftermath of a breakup and an ex who has moved on.
With her songs being so emotional and deeply relatable, the High School Musical: The Musical: The Series star is rapidly making a name for herself in the music world, even if some of her friends' parents are still just learning that she sings. After Rodrigo released "Drivers License" in January, it quickly became a No. 1 song. Even her idol Taylor Swift took note and has personally applauded the teen's talent on more than one occasion.
Equally exciting for the singer was when Saturday Night Live devoted an entire sketch to her debut single (on her 18th birthday, no less), showing a group of men in a pool hall proudly belting it out. Reacting to it, Rodrigo tweeted, "DRIVERS LICENSE SNL SKETCH IS THE BEST BIRTHDAY PRESENT EVER IM SHAKING."
Now that her much-anticipated debut album, Sour, is out on May 21, it's only a matter of time before all her friends' parents know that she sings.