Oprah Winfrey Explained Her Famous Meghan Markle Interview Reaction
The TV icon shared the thoughts behind the memes.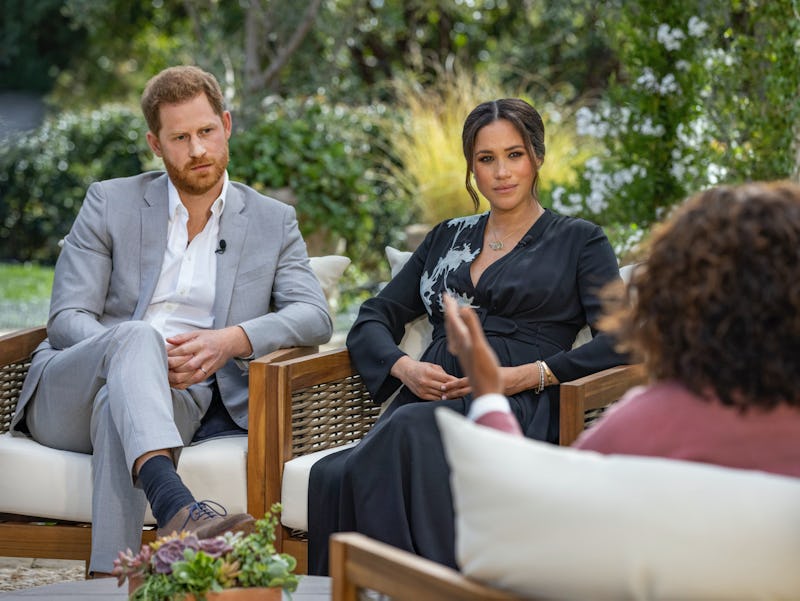 Harpo Productions/Joe Pugliese
More than 61 million people worldwide tuned in to watch Oprah Winfrey's interview with Meghan Markle and Prince Harry in March. The royal bombshells the Duke and Duchess of Sussex shared during the primetime March 7 sit-down ranged from accusations of family racism (which Prince William categorically denied afterward), including concerns over now-23-month-old son Archie's skin tone, to Meghan's discussion of how she felt her mental health struggles and suicidal ideation were dismissed. And if the countless memes didn't give it away, yes, Oprah was just as stunned by Meghan and Harry's candor as viewers were.
"I was surprised," Winfrey explained during a recent interview on Nancy O'Dell's new talkshoplive channel when asked about her thoughts on how forthcoming the couple was. She expanded, revealing that her internal reaction was, "What? You're going there? You're going all the way there."
Although Winfrey admitted she had "no idea that it would have the reverberating impact that it has had and continues to have," that's why the media mogul believes the interview ultimately resonated so much with viewers. "The reason why it was such a powerful interview … What makes it powerful is when you have somebody else who is willing to be as open, as vulnerable, as truthful as they were," she said. "The reason the interview was what it was because they answered the way they did."
The former daytime talk show host also described her interview preparation, particularly her commitment to making sure "things didn't leak and things weren't misconstrued before the actual interview happened." Following the 3-hour-20-minute chat with Meghan and Harry, Winfrey recalls addressing the crew about the importance of preserving the couple's trust, instructing them not to "go out into the world and share" what they'd discussed. Furthermore, Winfrey, who attended Meghan and Harry's 2018 royal wedding, revealed that she did text with the couple beforehand, but only to confirm their "shared intention [to] the truth."
As expected, the royal family's reaction to the interview, at least publicly, was also one of surprise. "The whole family is saddened to learn the full extent of how challenging the last few years have been for Harry and Meghan," read a March 9 statement from Buckingham Palace. "The issues raised, particularly that of race, are concerning. While some recollections may vary, they are taken very seriously and will be addressed by the family privately. Harry, Meghan and Archie will always be much loved family members."
Despite Harry admitting to a strained relationship with William, the brothers seemed to be on better terms at their grandfather Prince Philip's funeral on April 17, reportedly thanks to Kate Middleton. "They were very tense as they walked into that chapel," royal expert Katie Nicholl told Entertainment Tonight on April 19. "As they came out of it, you could see some tension diffused. And I think that was largely down to the Duchess of Cambridge, who made a point of speaking to Harry and when she did that, you can see them visibly relax."
While Harry and Meghan's tell-all interview continues to reverberate with both Winfrey and the public alike, only time will tell how it affects the royal family moving forward.