Anne Hathaway & James Franco's 2011 Oscars Gig Was Even More Awkward Than We Thought
The co-hosts butted heads on more than one occasion.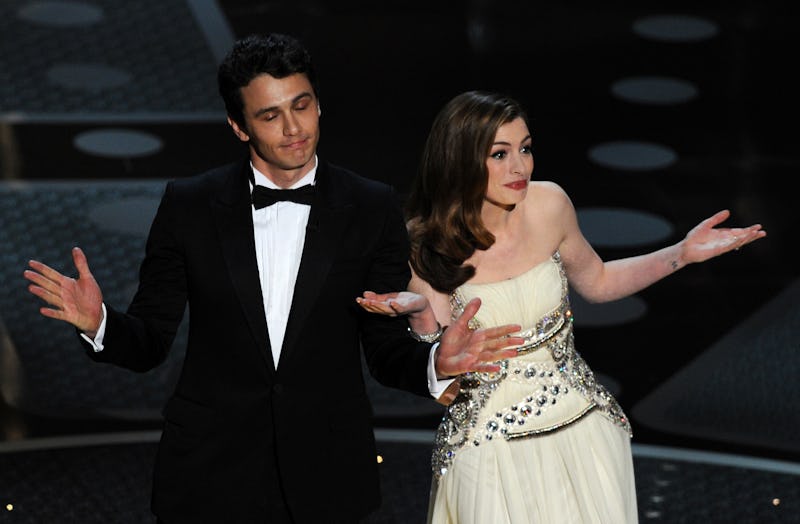 GABRIEL BOUYS/AFP/Getty Images
It's been 10 years since James Franco and Anne Hathaway co-hosted the Oscars, and the show's writers are still cringing over it. "It was like the world's most uncomfortable blind date between the cool rocker stoner kid and the adorable theater camp cheerleader," David wild, one of the Academy Awards' main writers, told The Ringer on Wednesday, April 14. Wild went on to explain that not only was there a lot of behind-the-scenes tension between the two stars, but that they both had completely opposite approaches to hosting Hollywood's biggest night.
"Again, this is a memory, but [Anne] was like 'Maybe you should try that,' and he was like 'Don't tell me how to be funny,'" Wild recalled. Writer-director Jordan Rubin also noted a big clash in their personalities, telling the outlet that Hathway, 38, handled the gig way more professionally than Franco, 42, did at the time. "Anne made herself readily available," Rubin revealed. "I went to her house and worked on the script and she was on a bunch of conference calls and responding to emails and was a great collaborator."
Unfortunately, while Hathaway "showed up ready to play and committed 110 percent," the Pineapple Express star was busy juggling his career and his education, making him unable to give the hosting opportunity his undivided attention. "He always seemed to be on a flight, and it was very hard for me to get a hold of him," Rubin continued. "He was a great guy but often looked like he had just woken up from a nap. It's almost like you're showing up to a tennis court and one person decided that they were going to play in the U.S. Open and the other wanted to play in jeans and just kind of hit a few balls."
After a series of red flags, Wild said that there was definitely "some level of panic" in the production office the evening before the show. However, when he saw Franco smiling out of the corner of his eye, he thought for a brief moment that the two stars had made a breakthrough. Unfortunately, it was just a false alarm. "Anne had gone to her dressing room for a minute," Wild recalled. "James was smiling at her stand-in."
Ultimately, the show — which was watched by 65 million people around the world — received a bunch of negative reviews. The Hollywood Reporter, for example, called it "unwatchable" and said it "could go down as one of the worst Oscar telecasts in history." L.A. Weekly called it "lazy" and "totally embarrassing." According to Wild, though, the show could've gone in an entirely different direction if Justin Timberlake, who was one of their first choices to host the event, would've accepted.
"I had been writing with Justin and I remember the producers said to me, 'Do you want to do a soft ask if he'd host the Oscars?'" Wild recalled. "He said that he'd love to do it, but he thought it was a year too early for him. He wanted to wait until after The Social Network had gone through an awards season." With Timberlake out of the picture, the writers continued to explore their other options. And after Alec Baldwin and Steve Martin joined forces to host the Oscars in 2010, producers knew they needed someone younger to pull in a more youthful audience.
"I thought that it sounded at the time like someone had run pop culture through an algorithm and spit out this thing on paper that sounded like it would appeal to the youth," Megan Amram, one of the show's writers, told the outlet. "But in practice, it was very random." She also noted that the actors were very nervous, adding that the showrunners never quite found their footing. "We were dealing with stars who, while really friendly and personable and eager, were scared. And they were surrounded by handlers who were scared," she said. "We wrote all these jokes, but I don't think we ever landed on a tone or a cohesive feeling of what the show would be."