Everything To Remember About Pieper James From Matt James' Bachelor Season
She's rumored to be dating Brendan Morais after the show.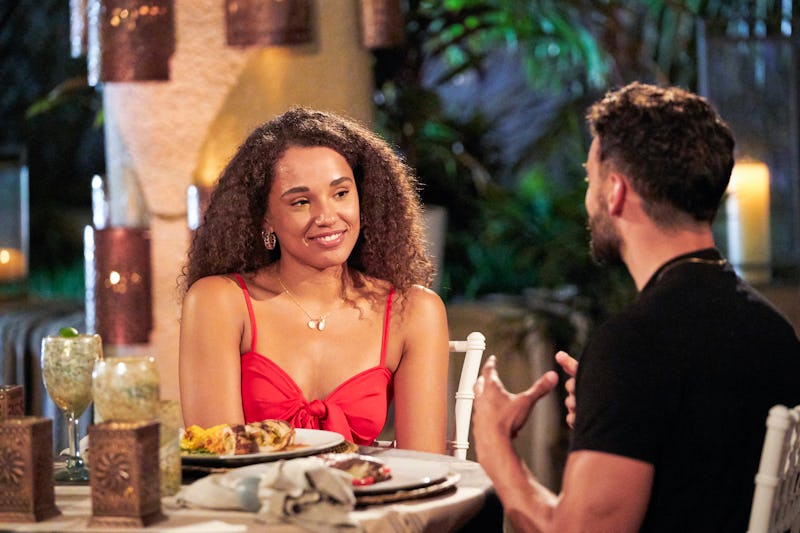 ABC/Craig Sjodin
Pieper James had a rough go of it on Matt James' season of The Bachelor. After making it to Week 7 and confessing that she was falling in love with the 29-year-old real estate broker, he blindsided her by sending her home during the next rose ceremony. In response, Pieper barely said a word to him as he walked her out. "The fact that I put myself out there and it still wasn't...it was exactly what I thought it was going to be," she said during her limo exit, adding that she felt like her "entire soul" had been "stomped on." "I put my happiness on the table for literally nothing. Perfect waste of time."
Her appearance on Season 7 of Bachelor in Paradise seems to end more happily. Though she's yet to arrive on the beach, Brendan Morais — who competed on Tayshia Adams' season of The Bachelorette — has already admitted that he and Pieper hung out before the show. He's currently exploring his connection with Natasha Parker, but he and Pieper have been spotted together since filming ended, hinting he leaves the beach with her instead.
Ahead of Pieper's arrival in Mexico, here's everything else to remember about the 23-year-old Oregon native.
Pieper's Job
Pieper graduated from the University of Oregon in 2019 with a degree in political science and sociology and a minor in business. Now, she's pursuing a masters degree in marketing from DePaul University in Chicago, according to her LinkedIn account. "Getting my M.S to avoid some B.S," she joked in her Instagram bio.
Since June 2020, Pieper has served as president of The Kellstadt Marketing Group (KMG), which is housed within DePaul University and bills itself as a professional graduate student-led organization specializing in the creation of knowledge-sharing events.
Beyond that, Pieper is a model signed to Q6 Talent, 10mgmt, and The Source Models agencies. She's appeared in commercial shoots for brands such as Champs Sports, Finish Line, and Vanity Fair Lingerie. In the past, she served as a brand manager and business development coordinator for Mercedes-Benz.
Pieper's Instagram
As one would expect from a professional model, Pieper's Instagram posts could easily double as a portfolio. Aside from professional-grade photos, she also shares pictures from her globe-hopping adventures — including vacations to Mexico and Indonesia — and has a Stories highlight dedicated to her family.
After her elimination from The Bachelor, Pieper reflected on the experience on Instagram. "I'm so incredibly grateful to have been a part of such an amazing, diverse, and dynamic group of women!" she wrote. "My heart is so full of love from the friendships I made. While I continue to have hesitation about the franchises handling of racial conversations, that does not take away from the bonds I formed." Among the costars she's hung out with since filming are Bri Springs, Rachael Kirkconnell, Chelsea Vaughn, and Kit Keenan.
While celebrating her 24th birthday in August, Pieper also described how moving to New York City earlier in the year changed her life. "I'm really living out my dreams, because more importantly I achieved many short term goals to get here," she captioned the Aug. 11 post. "I'm so thankful to my amazing friends here for making city life spectacular, my friends from back home for assuring me everything will be okay with the changes of moving, and of course my amazing family for supporting me every step of the way."
What Pieper's Looking For
According to her ABC bio, Pieper is "caring, giving, and loves to learn what brings her partner joy so she can foster that happiness." Although she loves spending quality time with her partner, she "also very much values independence and having parts of her life that remain her own." When it comes to a significant other, Pieper "needs someone with confidence and someone who knows what they want in life because forethought is so important to her."
This article was originally published on