Prince William & Harry Unveil Princess Diana Statue Together
"Every day, we wish she were still here with us, and our hope is that this statue will be seen forever as a symbol of her life and legacy."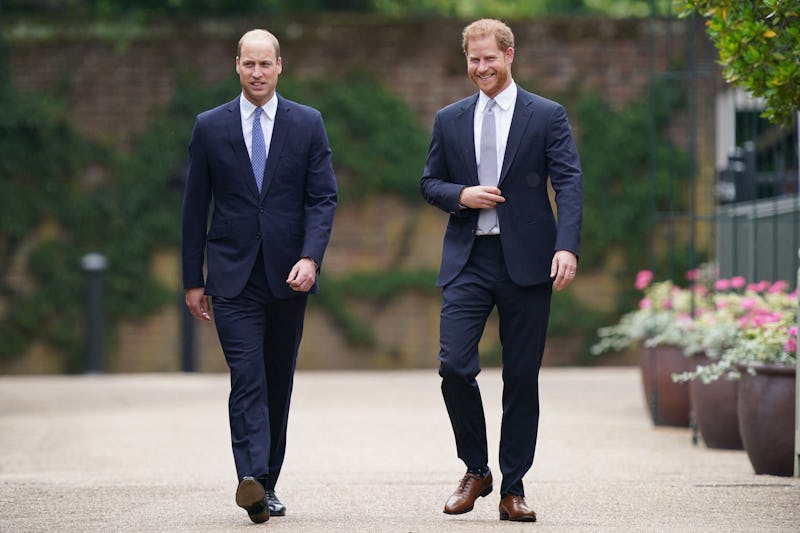 YUI MOK/AFP/Getty Images
Prince William and Prince Harry put their differences aside today (July 1), coming together to unveil a statue of their late mother, Lady Diana Spencer, Princess of Wales, on what would have been her 60th birthday.
The unveiling of the statue by British sculptor Ian Rank-Broadley, whose work includes several designs for British coinage, marks the first time that the royal brothers have been seen together in public since the funeral of their grandfather, the Duke of Edinburgh, in April, after a tumultuous 18 months that has seen Prince Harry's relationship with the royal family become more fractious than ever.
The brothers – in matching navy suits – made a joint tribute in a rare show of unity in front of the small, private audience.
"Today, on what would have been our mother's 60th birthday, we remember her love, strength and character - qualities that made her a force for good around the world, changing countless lives for the better.
"Every day, we wish she were still here with us, and our hope is that this statue will be seen forever as a symbol of her life and legacy," the royals said in a statement thanking the team behind the statue and garden itself.
Although Prince William and Prince Harry are said to be speaking these days, and have been working on their relationship ahead of today's event, with the rift between Meghan and Harry and the wider royal family, and allegations of racism the couple made in their interview with Oprah Winfrey, "things are still very strained," a source told Vanity Fair.
Given everything the Duke of Cambridge and the Duke of Sussex have been through over the past 18 months – contention between the brothers is no longer a closely guarded secret – there was some hope that sharing such a personal moment might start to mend the cracks in their strained relationship.
Royal commentator Emily Andrews has suggested that the private unveiling ceremony was at the behest of Prince William as an "olive branch" extended to Prince Harry in keeping with his wishes for a more private life and ongoing battles with the media. The UK media were not invited to the ceremony, save for one outlet and one camera. However, this hasn't been confirmed by Kensington Palace, and could be part of the UK media's Royal Rota obligations.
Beneath the statue is a plinth engraved with the late Princess of Wales' name and an extract from the poem "The Measure of A Man", which also featured in the programme for a Princess Diana memorial service in 2007. It reads:
These are the units that measure the worth
Of a woman as a woman, regardless of birth.
Not what was her station?
But had she a heart?
And how did he play his God-given part?
The bronze statue revealed in front of only those involved in its creation, Diana's siblings and two sons at Kensington Palace's Sunken Garden – one of Princess Diana's favourite places – depicts the late Princess of Wales surrounded by three children to represent the "universality and generational impact" of her work, per The Guardian.