Prince William & Kate Middleton Were Moved By Helen Mirren's Queen Tribute
The actor honoured the late monarch in a poignant speech at the BAFTAs.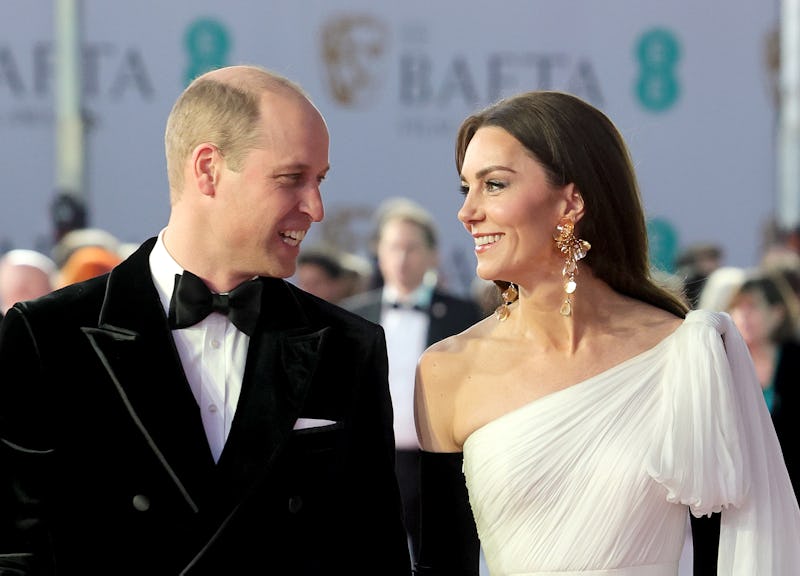 Chris Jackson/Getty Images
All eyes were on the Prince and Princess of Wales as they walked the 2023 BAFTAs red carpet on Sunday night (Feb. 19), attending the ceremony for the first time in two years. Fans were delighted to see the royal couple share a rare moment of PDA when Kate gave William a "love tap" on his behind as they made their way into the event. Meanwhile, during the ceremony Helen Mirren gave a poignant tribute to Queen Elizabeth II. William and Kate looked visibly moved as Mirren thanked the late monarch for her "loyal support" on behalf of the British Academy of Film and Television.
Mirren, who has portrayed Her Majesty on film and stage, described her as "the nation's leading lady" when talking about how millions tuned in to watch her coronation in 1953. "Cinema at its best does what Her Majesty did effortlessly — bring us together and unite us through a story," the actor said. "Your Majesty, you were our nation's leading star. On behalf of BAFTA, thank you for all that you have done for our film and television industry."
In 2013, the Queen was honoured with a BAFTA by Kenneth Branagh for her "outstanding patronage to the film and television industries." Meanwhile, Prince Philip became BAFTA's first president in 1959, which was then held by his uncle, The Earl Mountbatten of Burma, and Anne, Princess Royal. And William was appointed the title of BAFTA's president in 2010.
Speaking to BAFTAs co-host Alison Hammond after her on-stage speech, Mirren revealed that she cried during the rehearsal. "I did feel very strongly about the Queen. You know, I am Elizabethan, she was there my whole life," she explained. Her passing was massive." As for portraying the late monarch, Mirren said it was a "challenge," especially as she didn't want to "let her down."