10 Times Diana & Meghan Spoke Similarly On The Royal Family
From dealing with palace expectations to the intense media spotlight.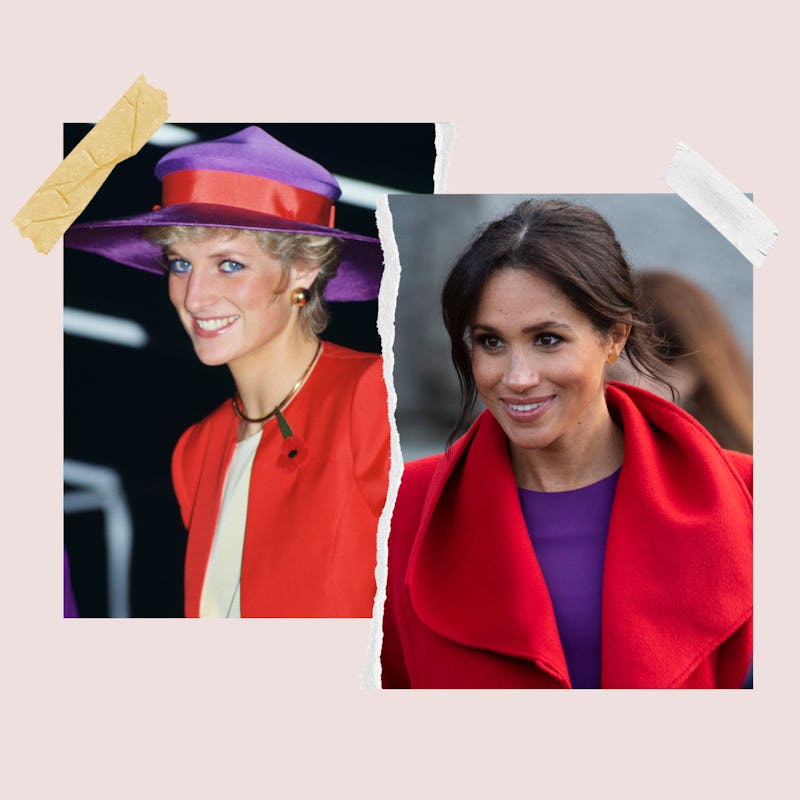 Getty Images
Falling for a royal should have been a fairytale experience for Princess Diana and Meghan Markle. But in reality, joining the British monarchy through marriage was a daunting experience for both. Meghan gained mass support from fellow celebrities when she spoke about the difficulties she experienced as an active member of the royal family during a televised interview with Oprah Winfrey.
Leading the way, the late Princess of Wales opened up about the struggles she faced during her courtship and marriage to Prince Charles in a landmark BBC Panorama interview. Unsurprisingly, there are striking similarities between Diana and Meghan's experiences. Below are some of the instances in which the royal brides expressed similar comments about being newly-ordained members of the royal family.
1. On Feeling Unprepared
Having been born into a noble family, Diana was undoubtedly familiar with the British monarchy. But nothing prepared her for how much her life would change once she married Prince Charles. "No one sat me down with a piece of paper and said, 'This is what is expected of you'," she told Martin Bashir during a BBC Panorama interview. "But then again, I'm lucky enough in the fact that I have found my role, and I'm very conscious of it."
Meghan also felt ill-equipped upon marrying into the prestigious bloodline. "I went into it naïvely because I didn't grow up knowing much about the royal family," she said during her and Prince Harry's interview with Oprah Winfrey. "It wasn't something that was part of the conversation at home, it wasn't something that we followed."
2. On Adapting To Royal Life
That unfamiliarity with royal protocol never really died down for Diana or Meghan. And while they initially tried to fit the mould, they eventually focused on being truer to themselves, which made them all the more relatable. "I do things differently because I don't go by a rule book, because I lead from the heart, not the head. Albeit that's got me into trouble in my work; I understand that," Diana told Bashir.
And while Meghan "really tried to adopt this British sensibility of a stiff upper lip," she came to realise "that what that does internally is probably really damaging," she explained during ITV documentary Harry & Meghan: An African Journey.
3. On Breaking The Royal Status Quo
Both Diana and Meghan deterred from the royal status quo in many ways, but they were perhaps most adamant about keeping a strong connection with those outside the royal fold. "It's vital the monarchy keeps in touch with the people," Diana told The Times editor Peter Stohard in 1994. "It's what I try to do."
As has Meghan, who made it clear during her first royal tour that she was there not only "as a member of the royal family," but "as a woman, as a wife, as a woman of colour, and as your sister."
4. On Being The Perfect Couple
Falling in love is one thing, but falling in love in the public eye comes with its drawbacks. "The pressure on us both as a couple with the media was phenomenal, and misunderstood by a great many people," Diana said during her BBC Panorama interview.
And Meghan's British friends were quick to warn her about what she could face at the hands of the tabloids. "When I first met my now-husband, my friends were really happy because I was so happy," she told ITV. "But my British friends said to me: 'I'm sure he's great. But you shouldn't do it, because the British tabloids will destroy your life.'"
5. On The Public Spectacle Of Their Weddings
Marrying into the royal family has always been a public affair, especially when it's with someone in line to the throne. The Princess of Wales said of her supposedly special day: "The day I walked down the aisle at St. Paul's Cathedral, I felt that my personality was taken away from me. I was taken over by the royal machine."
Meanwhile, Meghan has said of her televised wedding: ""It was like having an out-of-body experience I was very present for. I think we were both really aware, even in advance, that this wasn't our day, this was the day that was planned for the world."
6. On Dealing With A Lack Of Privacy
Both Diana and Meghan experienced a lack of privacy as royal family members. Diana told the BBC: "It took a long time to understand why people were so interested... during the years you see yourself as a good product that sits on a shelf and sells well, and people make a lot of money out of you."
Meghan also was stunned by the very public backlash and invasion of privacy she had to contend with. "I never thought this would be easy, but I thought it would be fair, and that is the part that is hard to reconcile with," she told ITV's Tom Bradby.
7. On Experiencing Media Scrutiny
Diana described the media attention as the "most daunting aspect" of joining the royal family, especially when it started to focus exclusively on her. "I seem to be on the front of the newspaper every single day, which is an isolating experience," she told PBS Frontline in 1995. "The higher the media put you, place you, the bigger the drop."
For Meghan, conversations of race made the media scrutiny even worse. "A member of his [Harry's] family would comfortably say, 'We've all had to deal with things that are rude.' Rude and racist are not the same," she told Winfrey. "And equally, you've also had a press team that goes on the record to defend you, especially when they know something's not true, and that didn't happen for us."
8. On The Pressures Of Being Pregnant & Royal
Pregnancy is an exciting, apprehensive, and emotional time. But for Diana and Meghan, there were the added pressures of acting a certain way while carrying their children.
"William had to be induced because I couldn't handle the pressure any longer, it was becoming unbearable," Diana said, per Andrew Morton's book Diana: Her True Story. "It was as if everyone was monitoring every day for me."
For Meghan, the constant media attention and scrutiny during her first pregnancy affected her immensely. "Any woman, especially when you're pregnant, you're really vulnerable, and so that was made really challenging," she told ITV. "And then when you have a newborn... and especially as a woman, it's a lot."
9. On Dealing With Mental Health
Diana experienced trouble with her mental health after giving birth. During her interview with Bashir, she opened up about the experiences she had with postnatal depression. While Diana received a "great deal of treatment" at the time, she revealed that the royal family wasn't as supportive as they could have been. "Maybe I was the first person ever to be in this family who ever had a depression or was ever openly tearful," she said. "And obviously that was daunting, because if you've never seen it before how do you support it?"
Meanwhile, the constant pressure during her first pregnancy led to Meghan dealing with suicidal thoughts. "I was really ashamed to say it at the time, and ashamed to have to admit it to Harry, especially because I know how much loss he's suffered," she said during the Oprah interview. "But I knew if I didn't say it that I would do it, and I just didn't want to be alive anymore."
Describing it as a "very clear, real, and frightening constant thought," Meghan sought help from "the institution" but was refused. "[I] said that I needed to go somewhere to get help, said that I've never felt this way before and I need to go somewhere, and they said I couldn't, that it wouldn't be good for the institution."
10. On What They Want For Their Children
Despite the hardships they faced during their pregnancies, Diana and Meghan became doting mothers. While Diana never got to see Harry and William grow into the men they are today, she had high hopes for them when they were little. "I want [them] to have an understanding of people's emotions, people's insecurities, people's distress, and people's hopes and dreams," Diana told Bashir.
For Meghan, she wants to make the world the best it can be for Archie and Lilibet. "The things you're able to tolerate on your own are not the same that you are going to put your child in a position of vulnerability for," she said during an appearance at Fortune's Most Powerful Next Gen Summit. "You go every single day, 'How can I make this world better for Archie?' That is a shared belief for my husband and I."