Celebrities Came Out In Full Force To Support Meghan Markle's Oprah Interview
"The mental health consequences of systemic oppression and victimization are devastating, isolating, and all too often lethal."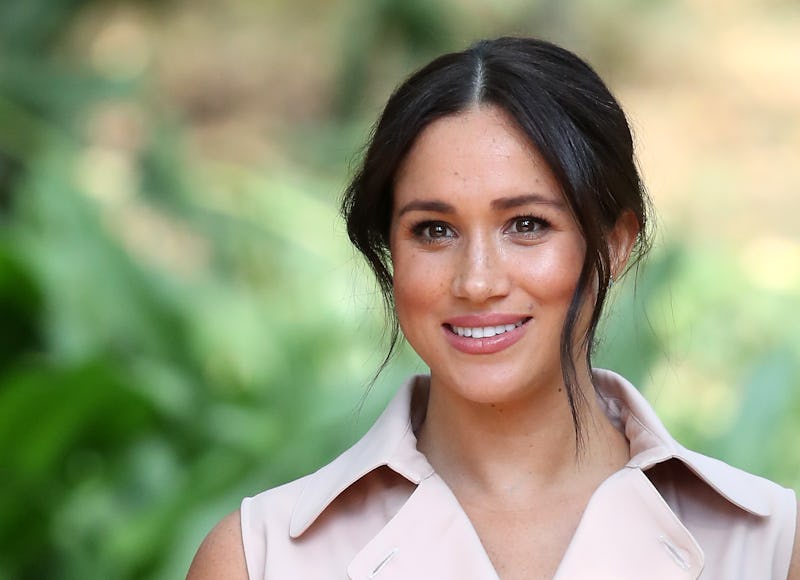 Chris Jackson/Chris Jackson Collection/Getty Images
As viewers tuned in to hear from Meghan Markle and Prince Harry about their struggles with mental health while being denied support by the royal family and institution among other topics, like the racism directed toward Archie before he was even born, Twitter was flooded with support for the couple. Just before and during their highly-anticipated interview with Oprah Winfrey on March 7, celebrities voiced their support for the former royals finally getting everything off their chests.
In the days leading up to the CBS special, Chrissy Teigen echoed her own struggle with media scrutiny and pregnancy loss, writing via Twitter that "this meghan markle sh*t is hitting too close to home for me. these people won't stop until she miscarries. fucking stop it."
Meena Harris was excited to tune in day-of, counting down with the rest of us: "20 mins until tea and crumpets!!!!"
Gabrielle Union-Wade shared a sweet throwback photo of herself, Dwyane Wade, and Meghan, and a message of encouragement, writing, "We see you, we support you, we got your back."
Meghan's longtime pal Serena Williams posted, calling her a "selfless friend" who represents "every day what it truly means to be noble." Williams continued, "We must recognize our obligation to decry malicious, unfounded gossip and tabloid journalism ... The mental health consequences of systemic oppression and victimization are devastating, isolating, and all too often lethal."
Dr. Martin Luther King Jr.'s daughter Bernice King also tweeted in support of Meghan and expressed sympathy for the hardships she was forced to endure. "Royalty is not a shield from the devastation and despair of racism. #MeghanMarkle," she wrote, later adding, "We can know racism exists in an institution and still hurt for someone who was hurt by it. #MeghanMarkle."
Getting ahead of the UK tabloids, Jameela Jamil predicted they'd try to drag Meghan and Harry's name through the mud the following day. "UK media tomorrow trying to pretend today's interview was offensive, when actually it was pretty dignified and protective over those who did the worst," she wrote alongside a video of a cat drinking water from a faucet.
During a conversation with The Washington Post, Hillary Clinton called the tabloids' "cruelty" for going after Meghan "outrageous." The political figure also revealed her disappointment in the royal family for not protecting Meghan.
Amanda Gorman, the United States' first National Youth Poet Laureate, tweeted, "Meghan was the Crown's greatest opportunity for change, regeneration, and reconciliation in a new era. They didn't just maltreat her light--they missed out on it."
Responding to a tweet earlier in the day from Bethenny Frankel, in which the Real Housewives personality told Meghan to "cry me a river," Roxane Gay said that "Bethenny could have just sat there drinking her diet vodka instead of trying to stunt on Meghan Markle."
Chance the Rapper also came to Meghan and Harry's defense before the interview, responding to a Daily Mail op-ed that warned Harry could "come to regret" the tell-all conversation "just like his mother did." The "No Probelm" rapper tweeted, "It takes a lot of nerve to make this threat... while insinuating... AS A MEMBER OF THE UK PRESS... that Princess Di was the one that made the mistake."
On March 5, following a week of Meghan bullying rumors, the duchess' former Suits costar Patrick J. Adams hopped on Twitter to defend her character. In a thread, he described Meghan as "an enthusiastic, kind, cooperative, giving, joyful and supportive member of our television family," and said those bullying accusations were obscene. "Find someone else to admonish, berate and torment. My friend Meghan is way out of your league," he concluded.
Another Suits alum and friend to Meghan, Abigail Spencer, shared her support via an emotional Instagram post March 5, writing that Meghan and Harry "are an incredible team. They are dedicating their lives to lifting up and amplifying those who do not have a voice for themselves."
Writer and podcaster Crissle called out Meghan's skeptics, writing "imagine having the ability to cast doubt on a black woman's story vs the british monarchy and choosing the former."
Though she didn't mention the duchess by name, The View host Meghan McCain tweeted that the "monarchy has been an archaic and toxic concept since 1776."
Tennis icon Billie Jean King praised the openness with which Meghan talked about her mental health, writing that "her honesty will hopefully lead to more acceptance and more help for those who need it."
Skai Jackson channeled all of us sitting on the edge of our seats, writing that "Meghan is spilling all the tea."
Elaine Hendrix, aka Meredith Blake from The Parent Trap, just wanted to be besties with the royal couple. Honestly, same.
Before the interview, journalist Christiane Amanpour called out the "gold-plated hypocrisy" between media coverage of Kate Middleton and Meghan, a topic that was addressed at length in the interview itself.