Princess Diana's Car Is Potentially Off To Chile After Being Sold At Auction
The Ford Escort was bought for close to £50,000 by an anonymous bidder.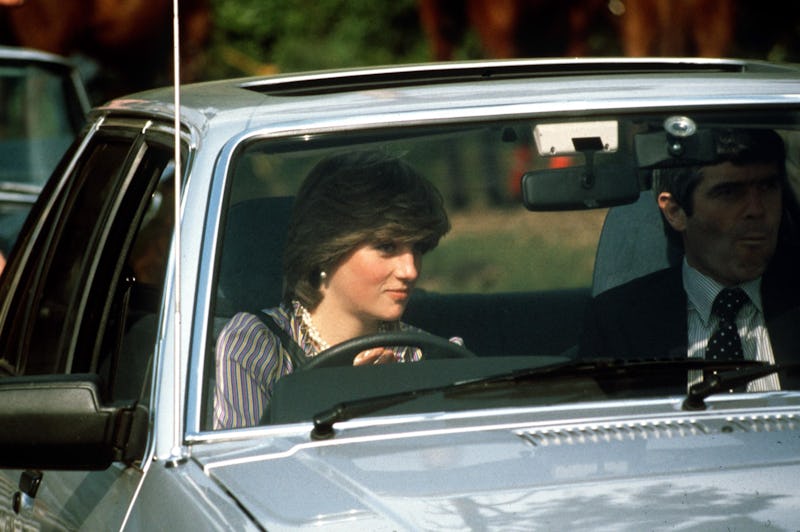 Tim Graham/Getty
Princess Diana's iconic clothes, jewellery, and letters have long been coveted by collectors but now it's the late royal's car – a birthday gift from Prince Charles – that has sold for more than £40,000 at auction.
Photos from the time show a young Lady Diana driving her classic silver Ford Escort Ghia (complete with a silver frog mascot gifted by her sister Sarah) to attend various royal duties, including visiting a primary school and going to watch Prince Charles during his polo games. The Ford Escort was first given to Diana by Charles in May 1981 but was sold in 1981.
It's since been discovered that the 1982 buyer was in fact a "great admirer" of Princess Diana, but kept the car's former owner a secret for 20 years. Per BBC News, the buyer only drove it sparingly "without disclosing its history to her friends."
Now the car has been sold again with a phone bidder winning it for £47,000 during the sale at Reeman Dansie's Auctions in Essex on June 29. The car exceeded its pre-auction estimate of £30,000-£40,000 and, with added fees, came in at a total of £52,640.
Per the Telegraph, the Ford Escort comes with its original registration, WEV 297W, as well as its original paint and upholstery. The coveted car, which has 83,000 miles on the clock, also comes with a replica frog mascot.
According to various reports, a museum in South America has made the iconic purchase and the car will be shipped to Chile.
"Ending up in South America is testament to the level of interest globally that there's been in the car," said Lewis Rabett, of Reeman Dansie Auctions, via The Telegraph. "It's also testament to Diana and her enduring legacy."