7 Dupes That Look Just Like Princess Diana's Engagement Ring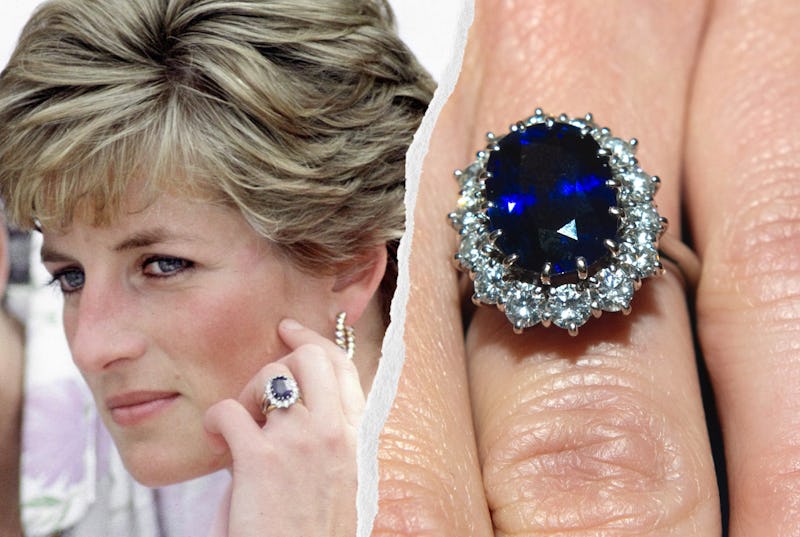 Princess Diana's engagement ring is one of the most iconic pieces of jewelry in the world. It's been celebrated in every iteration, from when it was first seen in public in February 1981, to when Prince William presented it to his wife Kate Middleton in November 2010. And over more than 40 years since it was first designed, sapphires have continued to remain a sought-after engagement ring in all shapes and sizes. In other words, Princess Diana engagement ring dupes are still in high demand.
Unlike many other royals, Princess Diana was famously given her choice of rings in preparation for her engagement to Prince Charles. A selection of rings was presented to Lady Di that included both newly designed as well as archive Royal Family jewels from which she could choose. Diana, of course, landed on a sapphire and diamond ring that would instantly become one of the most recognizable pieces in history.
Princess Diana's engagement ring was designed by the Royal Jeweler Garrard. It prominently features an oval-cut Ceylon sapphire that is estimated to be between 9 and 12 carats in size. The stone is surrounded by 14 round diamonds, all set in white gold. The shank of the ring is clean and void of any other stones. At the time it landed in Princess Diana's possession, the ring costed £28,500, which is roughly $150,000 today.
In March, an image was released of Kristen Stewart in Spencer, a biopic about the late Princess, where she was wearing a replication of this iconic engagement ring. And nearly immediately, Twitter exploded in dismay over the dupe. Many felt the costume designers could have found a more suitable reproduction of such a well-documented piece of jewelry. And they aren't altogether wrong.
Whether you're looking for a fun cubic zirconia alternative or you truly want a splurge for your own precious gem bauble, shop the below options — in celebration of one of Princess Diana's most iconic pieces of jewelry.
We only include products that have been independently selected by Bustle's editorial team. However, we may receive a portion of sales if you purchase a product through a link in this article.
Shop Princess Diana Engagement Ring Dupes