Priyanka's Prediction For Where She'll Be In 16 Years Is Inspiring
"I'll be 46 in 16 years. I'm going to be at my Vegas residency, touring as well on my 10th album, perfume line, books and documentaries already dropped."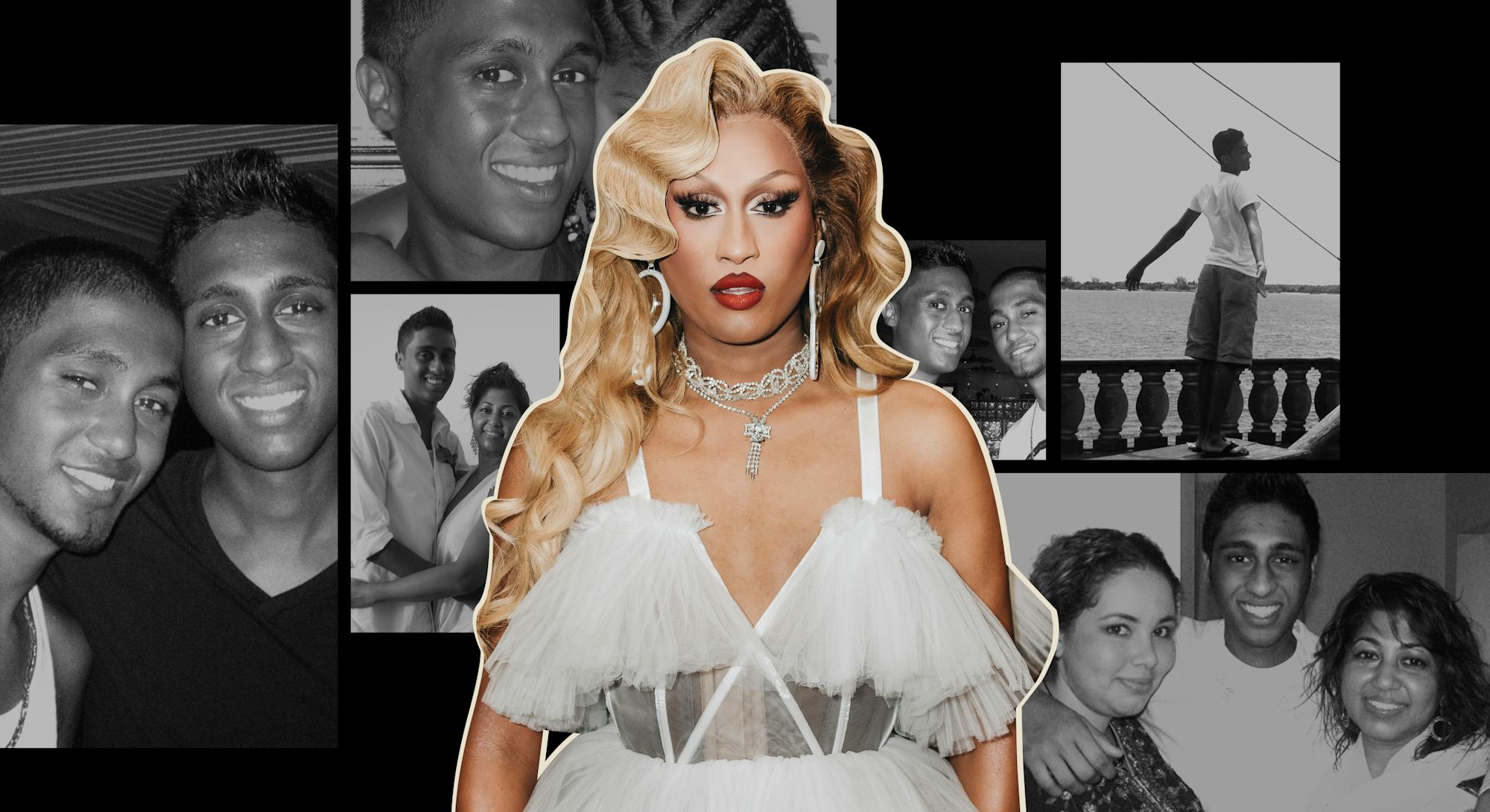 "B*tch, I'm busy," Priyanka sings at the end of her new music video for "Cake." It's true. The winner of Canada's Drag Race is undeniably booked and busy. Aside from unleashing the original song on her May 28 birthday, the 30-year-old drag queen recently premiered her "What's My Game?" video series for World of Wonder, launched the Famous This Week podcast with Drag Race judge Brooke Lynn Hytes, landed the role of community impact director for Vizzy Hard Seltzer, earned the honor of hosting the Toronto Pride Parade, and released covers of hits from Lil Nas X, Harry Styles, and Blackpink's Rosé. Phew, let us catch our breath.
The murder mystery-themed "Cake" music video — which asks and answers the question "who killed Priyanka?" — is what happens when you blend The Hunger Games with Clue. When asked to predict how fans would react to the video's release, Priyanka tells Bustle, "You're dead. No one's going to read this story because everyone's dead already; it's just too much." Priyanka, born Mark Suknanan, elaborates while out of drag from his home in Toronto, "I wanted to create an experience, and I wanted to show that my art is beyond drag. It's just about entertainment. It doesn't matter that I'm wearing a wig. It doesn't matter that I identify as a male outside of drag. Anyone can watch this."
"Cake," the first song from Pri's upcoming EP, came out on his 30th birthday. "My birthday means so much to me because it's my personal New Year's Eve," the entertainer says. "The night before, I'm like, 'Wow, what did I accomplish this year?' I look back and I'm like, 'Holy f*ck. My life just keeps getting better because I keep working hard.' It's so nice to see the results. It's nice to celebrate the accomplishments that you achieve, look back, and reflect." Suknanan, who started doing drag only four years ago, truly does have a lot to ruminate and recognize. Priyanka became the first person of Indo-Caribbean descent to win any Drag Race season in RuPaul's behemoth franchise that started in the U.S. in 2009 before recently spawning international versions in Canada, the United Kingdom, Thailand, Holland, Australia, and Mexico.
Suknanan found success before Drag Race as an entertainment host of The Zone and The Next Star. Since 2017, he has parlayed his on-camera hosting experience into becoming a magnetic drag performer with an ever-growing global fandom.
I do dare whoever's reading this to find a local drag performer's show online and then tip them because those shows are better than the shows that I'm f*cking doing — they're turning it out in their living rooms.
Priyanka snatched her Drag Race crown in September during the COVID-19 pandemic, and with that timing came the obstacles of handling business amid lockdowns. "The struggle of pushing through a pandemic — to make yourself art and to just connect and sit in Zoom meetings all day and pitch ideas to get funding — is hard work," Suknanan admits. "Nothing was handed to me. Just know that if you work hard, you can do it too."
And while she's no Miss Cleo, Priyanka did predict she'd win Drag Race's $100,000 grand prize (she did), so we asked her to predict her future in this fun Q&A. Let's manifest!
Priyanka Q&A
What advice would you give to your 16-year-old self?
The advice I would give my 16-year-old self is just be gay. Well, I say it all the time, but it would have been nice to go through high school as an open, out-of-the-closet gay man, because I know my story is part of the reason why my fans are so excited about me because they relate — they understand being in the closet. There was this suppression that was happening in high school that I wished wasn't happening, but I didn't know that at the time. I thought everything was normal, and thinking about your wife and kids was normal.
Where do you see yourself 16 years from now?
I'll be 46 in 16 years. I'm going to be at my Vegas residency, touring as well on my 10th album, perfume line, books and documentaries already dropped. Oh, how about a family. It would be fun to have a nice family. I love family. I love the idea of the challenge of a family, because a lot of my life has been hustle and bustle and being single and just focusing, focusing, focusing. But I love the idea of having this really career-driven, focused, focused, focused life, but also having the things that people say distract you from it. Having a love of my life, having kids, and doing it all. I can do it all.
What are your proudest moments as a member of the LGBTQ+ community?
Obviously Drag Race. But even before Drag Race, there are things that I'm even more proud of. I'm so proud of myself that I had this bread-and-butter job and decided to quit it to just do drag, and then win Canada's Drag Race. What the hell, if anybody was to ever come to me and say, "Should you quit your job to do drag?" I would throw a shoe at them and be like, "No, what are you thinking?"
I'm proud that I switched up my mind in life, but especially during a good time in my life where you make these big career movements and you move up in your job. And I said, "You know what? I'm just going to start doing what I want." I'm proud that that inspires the community. We obviously get stuck in so many things, and I'm proud that people can say, "Well, we're going to quit our jobs too because she's fine." And I'm happy to be that person for people because we all have our demons.
Where and how are you celebrating Pride in 2021?
This year for Pride I'm hosting Toronto's Pride parade, which is a big deal — a big motherf*cking deal. I remember my first Pride parade and being Dorothy on the Wizard of Oz float and Scarlett BoBo being mad that they didn't put her in the center, and she's the one who got me the job on the float too. So she was like, "What the f*ck?" So yeah, I'm going to be doing Pride this year. I'm also the community impact director for this hard seltzer brand called Vizzy, and I'm launching this grant program called Vizzybility. I am giving artists money to fund their art projects that they want to do, mentoring them, and helping them. So this Pride, I get to be the winner and be the star and be the icon, but I also get to help other people too, which is very up my alley.
That must feel so rewarding.
I know. I'm the Mother Teresa of drag now.
Who inspires you in the LGBTQ+ community?
My mom, a legendary icon. The other day, my dentist office was mad at me because I missed my appointment — but I missed it to get my COVID vaccine. I called my mom and said, "Mom, the dental office is giving me a hard time." She's like, "Tell her to f*ck off." I was like, "You. Are. Legendary!"
Who else inspires me? You know who really inspires me? Aja from Drag Race, because now she's doing her own music and just not giving a flying f*ck about who's paying attention. She's like, "See my album. I love music. This is why I love music. Enjoy it." That's inspiring. It takes a lot of f*cking courage to do that, and that's inspiring to me.
Why did you cover "Montero" by Lil Nas X?
The reason why I chose "Montero" is because 10 years from now, everyone's going to look back at Lil Nas X and say, "Wow, this individual really took a risk and really said, 'f*ck it.'" It's so funny because the reason why I chose that song is because I love the political statement behind it. I love that it is like the "just be gay" anthem.
What LGBTQ+ charity do you love?
I think supporting online drag shows and local drag artists is obviously very charitable. Like those girls are out there hustling for those dollar bills, especially in the states. Giving, tipping, and supporting that drag culture is charity. A lot of drag queens have their own Twitches now, and they have their Insta Lives. I do dare whoever's reading this to find a local drag performer's show online and then tip them because those shows are better than the shows that I'm f*cking doing — they're turning it out in their living rooms.
I also work a lot with Rainbow Railroad here in Canada. They help bring refugees over in countries where it's illegal to be gay, which is amazing. I won the makeover challenge on Canada's Drag Race, and that was the charity I supported when I won.