Rachel Recchia Responded To Zach & Gabi's Bachelor Fantasy Suite Drama
The former Bachelorette voiced her support for Zach's runner-up during the March 27 Bachelor finale.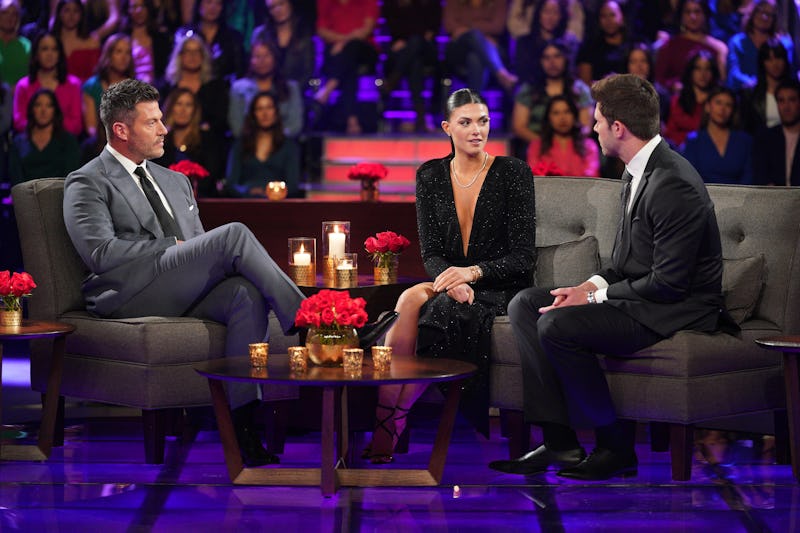 ABC/Christopher Willard
Six months ago, Bachelor Nation fans were left puzzled by Rachel Recchia and Zach Shallcross' Bachelorette Fantasy Suite — which left Zach "blindsided" and prompted the couple's breakup, even though the details of what went down were never revealed.
While viewers probably won't hear from Rachel about that pivotal night, the former Bachelorette is offering her thoughts on the fallout from another Fantasy Suite: Zach's night with Gabi Elnicki, that is. During the March 27 Bachelor finale, Gabi expressed how hurt she was that Zach shared the intimate details of their overnight with Kaity Biggar and, more importantly, with the viewers at home.
"We decided that it was gonna be between us," Gabi recalled — adding that Zach didn't warn her he would be using her name in talking about Fantasy Suites. "I actually didn't know you had told everyone until I watched it last week. And so for me to see that... it was beyond a TV show for me." Zach, for his part, tells Bustle that he "hurt a lot of people," and there were "a lot of things [he] would have done differently."
Gabi was in tears talking about the experience, which she described as "extremely violating." And Rachel took to Twitter to voice her support for the runner-up. "Showing emotion like this takes so much vulnerability," Rachel wrote, adding that Gabi was a "queen."
This actually isn't the first time Rachel has commented on Zach's Bachelor season. Back in February, she seemed to signal her support for her ex during his own journey. "Let's all be mindful and extend a little bit of compassion and grace towards the leads of the show," she wrote in a tweet.
The pilot also reached out directly with a "very sweet message," Zach told Us Weekly that same month. "And she's very supportive ... I'm very happy."
Ahead of this season, Zach told Bustle that he was able to reflect on where things went wrong with Rachel — while still voicing his admiration for the former Bachelorette. "With some time and talking with Rachel about it, it's opened my eyes," he said. "First, being the lead is very difficult. I have respect for Rachel. It's not easy to handle. We just didn't have the communication to get to [the end]. That was something that we both failed on, and something that I wanted to take going into this season."