Bachelor Fans Called Out Zach For Breaking His "No Sex" Rule During Fantasy Suites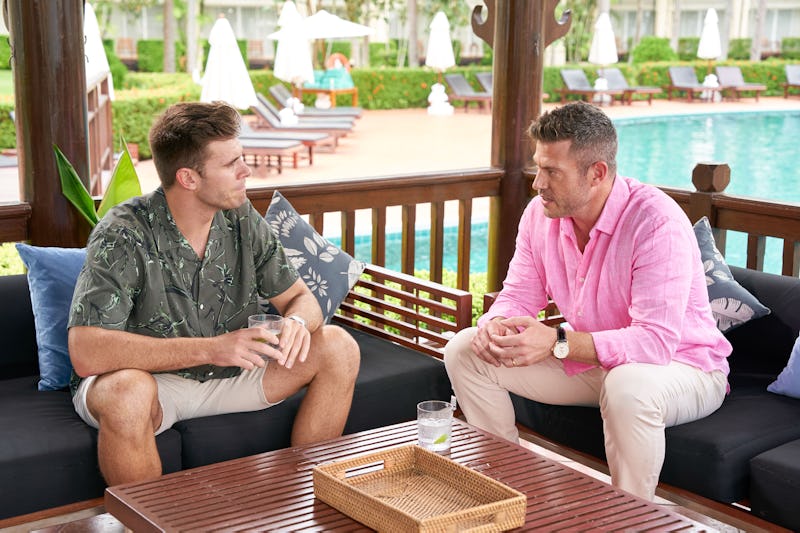 ABC/Craig Sjodin
This time last year, Bachelor fans were reeling over the "Rose Ceremony from Hell," during which Clayton Echard revealed he was intimate with both of his remaining women — and was in love with both of them — while they were standing right next to each other. Zach Shallcross' season seemed like it might maneuver to avoid that level of drama, with the Season 27 Bachelor even proclaiming that he planned to avoid intimacy during Fantasy Suites altogether.
However, by Zach's second overnight date of the week, he changed his mind. "With Gabi [Elnicki] on our overnight, we both agreed and wanted to have sex together," Zach told Jesse Palmer the next morning. "And it was very special, it was important, and it was what we both wanted and needed for the relationship. And I feel terrible, because obviously I've gone against my word, and I have fears with, like, how Kaity would feel, how Ariel would feel."
Fans took to Twitter to call out Zach — not for having sex (a normal thing to do, by this point in the show!) but for making a messy situation by not sticking to his own rule. It all started when Zach told Gabi he was planning to tell his next overnight date, Kaity Biggar, about their time together. "I'm feeling a little bit blindsided," Gabi said in a confessional, adding that her "trust was broken" by Zach. "Because I felt like it was between us. Now it's between us, plus everyone else."
Fans were worried when it came time for Zach's outing with Kaity, when he revealed that he'd been intimate. She knew that was something that could "potentially happen," but was upset that Zach decided to share the specifics with her. "I get that you wanted to tell me, and I know, like, you're saying that to be respectful," she said, "but I honestly, just, like, could have went without hearing that."
While Kaity said it was something they could most past as a couple, Gabi said it felt like she had a Scarlet Letter "A" on her chest by the end of the rose ceremony — leading many viewers to criticize the way Zach handled things.
And of course, several were reminded of last season's drama.
So, will Zach's Bachelor chaos correct itself? According to the man itself, all turns out OK. "I'll tell you this: I found love, absolutely," he told Extra in a February interview. "Now, I can't go into what that looks like. But I did find love."