Gabi & Kaity Are Still "Very Close Friends" After Zach's Bachelor Finale
Here's where Zach's runner-up is today.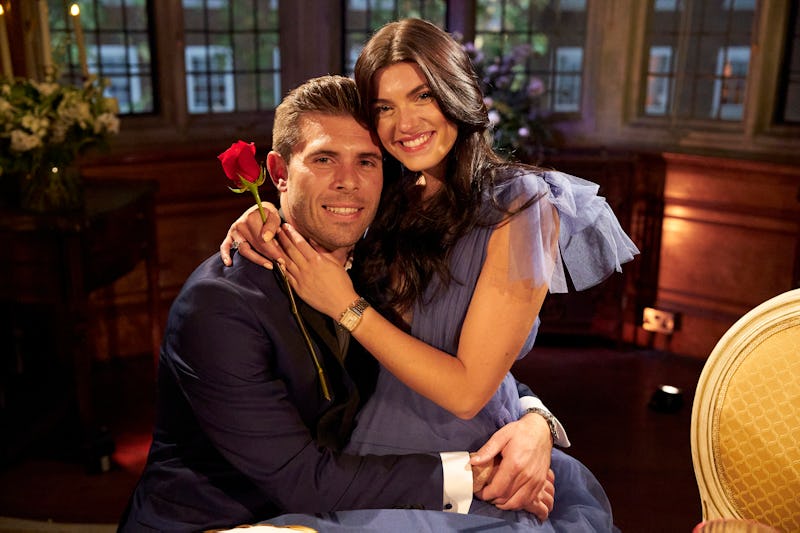 Craig Sjodin/Disney General Entertainment Content/Getty Images
The bloom is off the rose for Gabriella "Gabi" Elnicki and Zach Shallcross on The Bachelor. Before ABC's Season 27 lead handed out his final rose in Thailand during The Bachelor's live finale on March 27, Gabi noted that she was either going to be "left heartbroken or going to be engaged to someone really amazing and special" to her. "I think Zach and I could have a great life together," she said. "But, his heart is in two different places and he has to decide what life he wants to live and who he wants to live it with." In the end, however, Zach proposed to Kaity Biggar, leaving Gabi feeling the heartbreak she had predicted.
"This is heartbreaking, and I don't want an apology," she tearfully told Zach through tears. "I'll find love somewhere, somehow. It's OK." While leaving in the van, Gabi insisted she didn't really care to talk about the split. "I just want to go f*cking home. That was f*cking humiliating. I've been strung along this entire f*cking time now, for what? What really pisses me off is I f*cking knew. I f*cking knew. When your guts speak, you should listen to it."
Leading up to Gabi's elimination, she gushed about feeling confident about what her and Zach's life could look like. When the Austin, Texas-based tech executive revealed to Gabi during a one-on-one beach conversation that he was still torn between her and Kaity two days before his proposal, the Vermont native started to get in her own head more than ever. "I was doing just fine until he was like, 'I have a very tough decision to make.' Well, make the f*cking decision," she said in the episode, admitting she had a "gut feeling" Zach was going to choose Kaity. "I'm sick of self-doubt; I'm sick of feeling like I don't know if I'm enough. When will I ever be enough?"
Sensing that Zach had regrets about their intimacy during Fantasy Suites, Gabi decided that she didn't want to meet his family without having a conversation first. He was able to alleviate her fears that she was wearing a "Scarlet Letter" though, and Gabi went through with meeting Zach's parents and sisters. They all hit it off, and Gabi left "feeling really truly ready to start [her] life with Zach."
When proposal day arrived, Zach had already admitted he was "in love with" both Gabi and Kaity — but he decided only to tell one of them. Reflecting on their journey, Zach told Gabi that falling in love with her made him a better man, before adding a "but..." His runner-up said she knew it was coming and tearfully begged him to stop his breakup speech, insisting she didn't need or want an apology.
Appearing live on ABC's finale and "After the Final Rose" special, Gabi was still emotional while opening up to host Jesse Palmer about the "rejection and heartbreak" of the "humiliating" and devastating split. She also used the word "violating" to describe her feelings about Zach revealing the details of their Fantasy Suites to the entire nation. When she and Zach faced each other for the first time since their breakup in Thailand, Gabi also addressed the messy "sex week" debacle.
"I'm still hurting. I'm hurting even more honestly with everything I've seen," she told him. "We decided it was going to be between us. You said, 'This is just between us." Gabi went on to reveal that she didn't know that Zach disclosed they had sex until she saw it air on TV. "What I wish would have happened is that you would have warned me that you were gonna use my name and that you were gonna tell everyone what had happened. . . . It was beyond a TV show for me. I feel ashamed. For a moment, that felt like love to me."
Zach's response? "The way I handled things was completely wrong," he told Gabi. "There's no excuse for the way I handled things, bringing it to light, and in my mind, I felt that — which is wrong — but I felt like I needed to let everyone know that I went against my word. In reality, it hurt you. You know, in my mind, it was just this secret that I had to not have, but in reality, it was much more than that. And there's nothing I can do to right that wrong, but I want you to know that the last thing I wanted to do was hurt you like that. It was just me being purely trying to be honest, and that doesn't matter because it hurt you more, and my actions have consequences that go to everyone. And from the bottom of my heart, I'm sorry."
After The Bachelor wrapped filming in late November 2022, Gabi's social media posts indicated she'd been spending time with loved ones. Most recently, she posted about spending weekends with her sister and attending a Houston rodeo with friends. What's more, Gabi and Kaity have remained friends post-filming, illustrating that there are no hard feelings between the women. After Gabi shared a TikTok video montage dedicated to "Team Gaity," her fellow finalist replied with several laughing-crying and red heart emojis, writing, "I love you so much."
When a TikTok user called out an awkward moment when Kaity figured out Gabi was the woman Zach broke his Fantasy Suites no-sex rule in the March 20 episode, the Bachelor winner cleared the air. "Gabi and I are very close friends," she commented in a screenshot shared on Reddit. "The entirety of that conversation was not shown. So please take a step back and realize that."
Meanwhile, Gabi also had to defend herself for having sex with Zach in the polarizing Fantasy Suites episode. In the comments section of a March 18 Instagram post, one of Gabi's followers pointed out that she'd been deleting negative comments, reportedly prompting Zach's runner-up to reply, "Yes I am, because I don't need negativity and hate on my page. It's so unnecessary and unkind. There is NO reason to put others down, get off my page if you don't like me."
There's always Bachelor in Paradise.
This article was originally published on