Finally, We Know How Much Control The Real Housewives Stars Have Over The Show
A journalist has uncovered the truth — and he's here to share his juicy insights.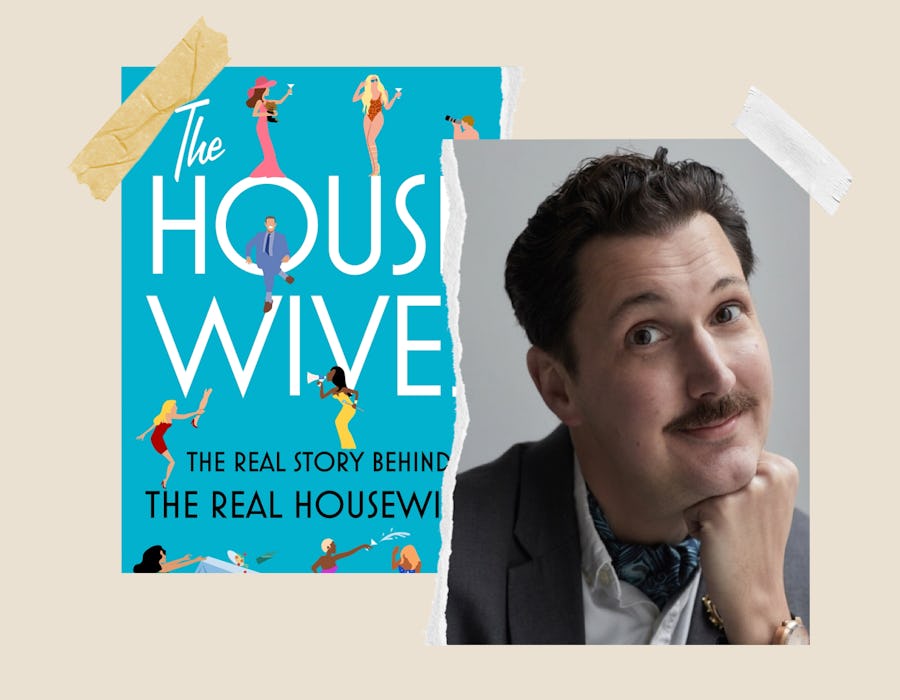 Laura Lewis/Courtesy of Flatiron Books
Brian Moylan lives and breathes Real Housewives. As Vulture's longtime recapper and author of the new book The Housewives: The Real Story Behind the Real Housewives, he has thoughts about every aspect of the franchise. With his encyclopedic knowledge of the shows — he can recount which Housewife smacked which cast member in which restaurant in which season — he's the perfect person to write a book on the subject.
To read this definitive take is to be infected by Moylan's enthusiasm. He argues persuasively that the franchise is more akin to pro wrestling than a standard-issue reality show (he admits he stole that analogy from RHOBH's Erika Jayne), and that watching the series is actually, really making you smarter. When I ask which city's franchise he recommends we all try, he insists Real Housewives of Potomac is "the best of what America has to offer right now": an interconnected, complicated cast, interesting discussions about race — and, of course, plenty of drama.
The book is filled to the brim with insights: How rich are the Housewives? Does Bravo pay for trips? Are producers manipulating everything? Moylan dug up some juicy details, even though Bravo forbade the cast and crew from speaking to him and indicated he wasn't welcome at BravoCon 2019 (he sneaked in anyway with a hilarious disguise).
Below, Moylan talks to Bustle about the Bravo machine, the show's most infamous scenes, and his advice for aspiring Housewives.
Research for this book proved difficult after Bravo discouraged Housewives cast and crew from participating in interviews. How do you think Bravo higher-ups will feel about the book?
Everybody has to do their job: my job is to write this book, and Bravo's job is to control the message about Bravo. I think when they read the book, there's not a lot in there that's damaging. I love these shows, I love Bravo, I love the work they do. But I did want to give fans an honest view of how the shows get made, how everyone gets treated, what it's like to work there. I think they'll have a problem in that they can't control the narrative — that's what they always like to do.
What did you learn while reporting this that most surprised you?
My big Oprah lightbulb moment was when I was talking to Chris Oliver Taylor, who ran the production company that made Real Housewives of Melbourne, Sydney, and Auckland. We were talking about casting, and he said [they'd] figure out why each woman wants to be on the show. Is she looking for love? Is she looking for fame? Is she in a bad marriage? Does she need to make money? Is she just vain? That's the story [producers] follow.
I thought that was brilliant. If anything, it's more real than a lot of fans think it is. They have all these conspiracy theories, and it seems like if anything, it's the women driving this themselves.
Do you think knowing how the sausage is made enhances or detracts from the experience of watching the show?
I think it enhances it. I have more sympathy for the women, and I see less of those invisible puppet strings. We all sense that Bravo's paying for trips and the women are getting freebies, and we still love the shows. But Bravo controlling the message so hard — they don't want us to know [that], because they think the mystique will be gone. I think it's better to acknowledge it ... It's similar to the Kardashians: you know Kim and Kanye are getting divorced, but you're going to watch anyways. There's plenty there that has nothing to do with production.
What do you think longtime viewers will be most surprised to learn?
There's good tidbits about some of our favorite events: the RHONJ country club fight, the [RHONY] boat ride from hell. I think fans will find most surprising that Andy [Cohen] isn't the Svengali that people think he is. He's put in a position where you're meant to think he's in charge, and he obviously has a lot of impact, but it's not like he's the final say. I do thank him for his service in laying the foundation for what this would become, but now it's not like he's overseeing every minute of footage.
How did your feelings change about the women of the show while reporting?
I really empathize with [these women] and what they go through, even once they leave the show and have this fame taken away from them. If anything, I started to see them more as exploited workers. Yes, they are making a lot of money, getting fame and perks. But Dorinda [Medley] was on the show for so many seasons. When she made up "Clip! Clip! Clip!" on the spot she didn't get any extra money for it. But Bravo is still selling Clip! mugs on their website and can rerun those episodes. Bravo keeps its hands clean and is profiting way more than most of the women are. It's kind of a raw deal — most of them aren't going to be Bethenny [Frankel], they're going to be Dorindas or Vicki [Gunvalson]s.
What's your take on the ethics of the franchise's more serious elements, like accusations of harassment and alcoholism?
I think about this as a workplace — these women are coworkers. Bravo and the production companies, especially now that they're trying to diversify, need to protect these women as you'd expect to be protected in a workplace. If you're [RHOD's] Tiffany Moon and your coworkers are attacking you and being racist, I do believe [Bravo] has some responsibility in protecting her and punishing those who would treat her that way. The production companies will let the women trash each other, but as soon as they talk about the network they get shut down. We're entering a world where we're striving for equality and workers' rights, and I think that extends to our reality shows. We want them to behave badly, but we don't want them to be abused.
In the book we talk about The Kelly Clause: because of Kelly Dodd, [Housewives] get fined if they go after each other on Twitter. But that only works so well, as you can tell from Kelly's Twitter.
If a friend wanted to get casted as a Housewife, what would you say?
Every Housewife I've talked to doesn't regret it and is glad they did it, even if they wouldn't do it again. It's almost like doing porn: once you do it, there's no going back. Everyone's going to know everything about you. This thing will follow you around forever. But there are people in my life that I'd be like: "Go on the show. This would be good for you." Often the best Housewives are the ones who don't want it that badly. You see people like Aviva [Drescher] — you can smell that cravenness on her. Fans don't like that. Casting knows that and are taking account of that.
You've said Real Housewives came along when society needed it. What does it mean to culture as it's evolved?
Right now everything is so polarized. A lot of times Housewives seems without that: it's something that can bring fans together. We may not live in the same part of the country or have the same politics. At least we have Housewives! It's also one of the few places we can see women of a certain age interacting together and showing their real lives. That's something we don't get from scripted television. I like to call [them] "my TV friends." As we all get more online and we're living remotely it helps to have those TV friends to gossip about.
You've said the franchise needs to evolve with the times. If it were up to you, how would you do that?
Key among that is adding diversity to these casts — one of the scholars I talked to points out that diversity is not adding a person of color or two. It's not adding spice: it's changing the whole dish. What I like about Eboni [K. Williams] on RHONY is that she met Luann [de Lesseps] at a party at Jill Zarin's house: she's part of this world, but also a woman of color and bringing a new perspective. I'd like to see more of that, where they pick somebody and recast with people who are organically in her circle and more diverse. Sadly, that might mean some of our greats get left by the wayside, but I think there are roles for our "emeritus scholars" in other parts of the Bravo universe. As much as I knock on [Bravo], they make a great product, and I have faith they'll figure it out.
Brian Moylan's The Housewives is available now. This interview has been edited and condensed.