Rihanna Is Pregnant & Expecting Her First Baby With A$AP Rocky
The Anti performer once said she dreams of having three to four children.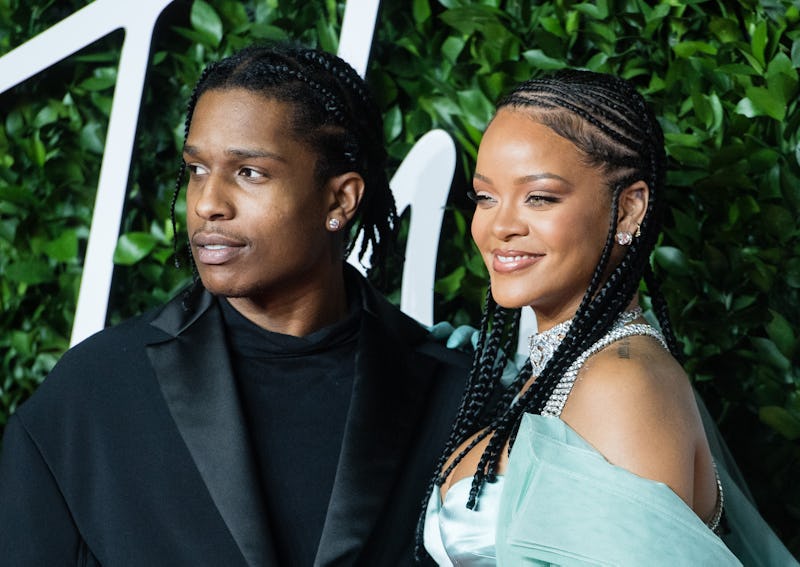 Samir Hussein/WireImage/Getty Images
Rihanna and A$AP Rocky are expecting their first child together. Photos of the couple walking through New York City's Harlem neighborhood with the billionaire entrepreneur's stomach on full display were first published by the Daily Mail on Jan. 31, and now the Anti singer has shared another bump-date on Instagram.
"How the gang pulled up to black history month," Rihanna wrote next to a photo of herself standing sideways, putting her pregnant belly on full display. She also included some pictures from the initial pregnancy photoshoot. In the images, she's sporting a long pink coat buttoned only at the top, gold and multicolored jewelry, and ripped jeans.
The iconic outfit marks Rihanna's first time publicly donning any midriff-revealing clothing since last year. At this point, it's unclear how long the superstar has been pregnant, but odds are it'll be at least nine months before fans get any inkling of new music from the "Work" performer. Maybe we'll see some Savage X Fenty maternity wear in the meantime.
Photographed by Miles Diggs, one of the Rihanna pregnancy announcement images features Rocky giving the mother-to-be a kiss on the forehead, a romantic gesture to the woman he referred to as "the One" during a May 2021 interview with GQ. "The love of my life," he said of Rihanna. Asked about what it's like to be in a relationship, he said, "So much better when you got the One. She amounts to probably, like, a million of the other ones."
In the same interview, the "ASAP Forever" performer spoke about becoming a father one day. "If that's in my destiny, absolutely," Rocky said before cracking a joke: "I think I'm already a dad! All these motherf*ckers are already my sons — whatchu talkin' 'bout!" After laughing, he carefully reiterated his thoughts, adding, "Nah, but like, I think I'd be an incredible, remarkably, overall amazing dad. I would have a very fly child. Very."
Long before their relationship was confirmed by People in November 2020, the pair first linked up in 2012 to collaborate on a remix of Rihanna's "Cockiness (Love It)" and performed the track together at the MTV Video Music Awards. He then opened for the musician on her Diamonds World Tour in 2013, and she appeared in his "Fashion Killa" music video the same year.
The couple sparked romance rumors months after Rihanna's January 2020 breakup from billionaire Hasan Jameel, when Rocky appeared in a July campaign for Fenty Skin. They did several interviews together to promote the collaboration, including particularly flirty GQ and Vogue videos in which they asked each other questions. Speaking to GQ, Rocky opened up about the most difficult part of working alongside Rihanna. "I think the hardest part about working with you is not goofin' off and laughing the whole time. Like this sh*t is comedy," he said. "But it was fun. The hardest part is not having too much fun. You just forget that it's still work at the end of the day."
In a March 2020 interview with British Vogue, Rihanna spoke about her prospects of motherhood, predicting she'd have "three or four" children within the next 10 years — whether she's with a romantic partner or not. "I feel like society makes me want to feel like, 'Oh, you got it wrong…' They diminish you as a mother if there's not a dad in your kids' lives," she told the publication. "But the only thing that matters is happiness, that's the only healthy relationship between a parent and a child. That's the only thing that can raise a child truly, is love."
Additional reporting by Jordyn Tilchen
This article was originally published on