We're Finally Going To Learn More About Rio's Backstory On Good Girls
After four seasons of mystery, Good Girls is peeling back the layers.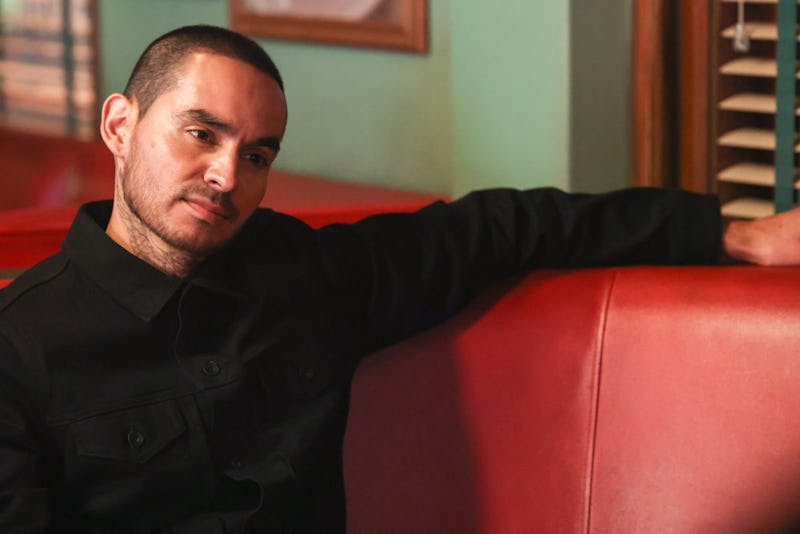 via the NBC Universal press site
Spoilers ahead for Good Girls Season 4, Episode 5. With Secret Service agents closing in, Rio is clearly feeling the heat in Good Girls' April 11 episode. To keep himself out of the fray, he has Beth run around and collect money on behalf of his organization. It's not a role she relishes, but she's even more dismayed to hear that she'll have to keep doing it — at least, until she finds out she'll be meeting with Rio's boss.
The information is juicy enough that Beth is able to leverage Dean's release from prison. But the introduction of those higher up the food chain is important for Rio's arc too: it means we'll finally get to learn more about the man of mystery. Good Girls showrunners Jenna Bans and Bill Krebs previously confirmed to Distractify that Season 4 would showcase more of Rio's backstory — in particular, "how he evolved from being a teenager into the criminal he is today." Introducing the person Rio answers to will undoubtedly help viewers understand him better. Who could be scary enough to make even Rio fall in line?
This could also present danger to Beth and the other women. Right now, it's unclear how much Rio knows about Beth working with the feds to bring him down. In Episode 4, he killed her hitman and possibly knew that he was being used to take out someone who didn't work with the authorities. And this week, he found a tracker in her delivery. Beth has gone toe-to-toe with Rio before and only narrowly survived; if he rats her out to the big dogs, she might not be so lucky.
On the other hand, the introduction of a boss could be good for the both of them. Though Rio and Beth have been working together for four seasons now, their relationship has mostly been defined by conflict (up to and including much of their sexual tension). Someone higher up means there's a possibility that they'll become aligned against a common enemy. At least, that's how Bans and Krebs have made it sound, teasing in interviews that the boss reveal will bring Beth and Rio closer together and set up a "nice, juicy love triangle."
"It leaves Beth with a much more clear understanding of who [Rio] is just as a human, which I think both equally softens her to him and also gives her clarity that this is someone you can't really be with romantically long-term," Bans told Entertainment Weekly at the start of the season. "But it makes it all really messy and juicy. There's a lot of sexiness in there too."
As to who the third party to this love triangle will be, as Bans told Distractify last month: "What we end up discovering is that part of the reason why he's been so smooth is he was influenced by someone else in his life who is also a part of his crime ring and will ultimately end up being a part of a love triangle between Beth and Rio and this other presence."