Rita Ora Finally Opened Up About Marrying Taika Waititi & Their "Perfect" Wedding
Here's a deep dive into their relationship timeline, from that throuple photo to their "really sweet" wedding ceremony.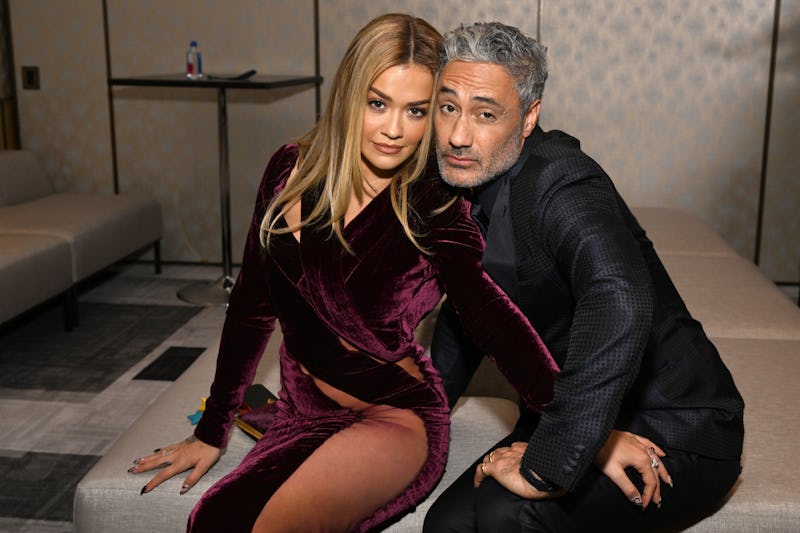 Getty Images
Following months of hints that the two were dating (the most notable being that throuple photo with Tessa Thompson), Rita Ora and Taika Waititi finally made things red carpet official at the premiere for The Suicide Squad in August 2021. Shortly after, the two seemed super close and cuter than ever at the Met Gala, and Ora later told Australian Vogue that she was "in a great place" when asked about her new relationship. After both being spotted wearing wedding bands in August 2022, reports quickly emerged that the couple had tied the knot in an "intimate ceremony" in London. It took several months, but Ora finally opened up about their marriage in January. She revealed several sweet details about their big day in a radio interview and even shared some of the video messages she got from celebrities in her "You Only Love Me" music video.
Those familiar with Ora and Waititi's relationship timeline will know that it's wildly romantic. If you're as invested in this A-list coupling as we are, keep scrolling to find out all about their relationship timeline, their most loved-up moments, and why they're choosing to keep much of their romance out of the spotlight.
April 2021: The Rumours And Australia
In April 2021, a source told The Sun that Waititi and Ora had officially started dating the month prior. The source went on to say that "all their friends know about the relationship" and that "they're really into each other," but they were keeping things "low key."
Fans also spotted Ora and Waititi at Big Poppa's Bar on Oxford Street in Sydney, according to The Sun, with some saying "they were all over each other."
That same month the singer was also spotted exiting a private jet with Waititi in Sydney, alongside Thor stars Chris Hemsworth and Matt Damon. She was later seen on a bike ride with Russell Crowe (who is also starring in Thor: Love and Thunder) and his fiancé. Her presence among the Thor cast led some to believe she may have a cameo in the movie.
While in Australia, Ora gave a #midweekupdate on Instagram. "Good times, memories, random things on my phone and the ones I love," she captioned the post, which featured an image of Ora cuddling someone who looked suspiciously like Waititi.
Later in April, Ora and Waititi attended the premiere of RuPaul's Drag Race Down Under. The pair snuck into the venue, presumably in hopes of avoiding the paparazzi, but were spotted being close and cuddly during the event.
May 2021: First Picture Together
In early May, the pair was pictured for the first time together walking along a street in Sydney. Waititi placed his arm around Ora and the two looked very coupley and cute.
Rumours emerged in May that Ora and Waititi had moved in together in Sydney, reportedly occupying the beach home that the Thor: Love and Thunder director was already staying in. However, nothing has been confirmed on this front.
May 2021: That Photo With Tessa Thompson
The photo seen around the world. In May, Waititi, Ora, and Tessa Thompson became ultimate throuple goals after they were photographed together on the set of Thor: Love and Thunder. The three could be seen cuddling, kissing, and enjoying drinks on a terrace.
June 2021: Taika Waititi Comments On The Throuple Going Viral
During an interview with The Sydney Morning Herald, Waititi was asked about the throuple photos and, unsurprisingly, the director's response was cool, calm, and collected. "I think in the world of the internet, everything goes away pretty quick," he said. When asked whether it was a big deal, Waititi simply replied, "No, not really. I was doing nothing wrong. It's fine."
August 2021: Red Carpet Official
Ora and Waititi unexpectedly rocked up to The Suicide Squad red carpet on Aug. 2, debuting as a couple for the first time. The pair couldn't keep their hands off each other and could be seen beaming as they posed for the cameras, making their relationship totally official.
As Metro describes, at one point they "suddenly came over all giddy and were seen joking around with each other" as they made their way into the Regency Village Theatre in Los Angeles.
August 2021: Birthday Celebrations
On Aug. 18, Ora posted a collection of photos on Instagram of Waititi's 46th birthday celebrations. The first snap sees the happy couple together at dinner, while the rest give a glimpse of the star-studded guest list, which included Kate Beckinsale, Rami Malek, Ashley Benson, and Kristen Stewart.
TV star and magazine editor Vas J Morgan, who also attended the birthday bash, commented underneath the post, "My fave couple ever," while Waititi left three emojis: a love heart, a flame, and another love heart.
September 2021: Met Gala
The pair also looked closer than ever at the Met Gala on Sept. 13, posing together and planting kisses on one another throughout the night.
September 2021: Interview With Vogue Australia
When asked about her new romance in an interview with Vogue Australia, Ora played her cards close to her chest but did reveal she was in "a great place" in her life. She told Vogue that she's looking to keep things as private as possible, having learned "a lot" in her 20s.
October 2021: The Eternals Red Carpet
On Oct. 19, the pair looked loved up on the red carpet once again at the premiere for Eternals in Los Angeles. Ora wore a white gown and carried a sparkly clutch while Waititi donned a pinstriped grey suit.
November 2021: MTV EMAs
Ora was tapped to present at the 2021 MTV Europe Music Awards, so of course she walked the red carpet. She was joined by her beau Waititi, who had some fun playing with her dress in front of the cameras. He even stopped to take a few pics of his own.
December 2021: Christmas Shopping And Red Carpets
As the festive season rolled in, the happy couple were seen out and about in Australia as Rita Ora was filming The Voice: Generations and The Voice Australia. On Dec. 13, the streetwear lovers stopped by an independent store, The Critical Slide Society, which shared a snap of the two posing in cool threads and sunglasses to its Instagram page.
On Dec. 15, Waititi and Ora absolutely owned the red carpet for the Australian premiere of Being the Ricardos. As well as looking totally in love, they looked cool AF in their matching outfits complete with sunglasses.
February 2022: Waititi Is Amazed (And Proud) At How Hot His GF Is
Both Ora and Waititi seem to be getting more comfortable about sharing their relationship online — especially Waititi. In early February, the director proudly shared his girlfriend's Vogue Arabia cover, writing "My gf. Hot," and that he "wrangled wind for a couple of lewks so that makes me hot too."
A few days later, the director posted about how "super proud" he was of Ora landing a role in Disney+'s Beauty and the Beast prequel.
February 2022: Spreading The Love On V-Day
For V-Day, both stars shared adorable messages of love and admiration for each other. Ora posted a series of photos starting with a throwback pic. "Us. 4 years ago. To now," she captioned the post. "Thanks for being cool. And entertaining me forever. Happy Valentine's Day, bestie."
Waititi also posted the same pic, writing that it was the first photo they took together on the night they met. "We've been mates ever since," he wrote. "Then a year ago we decided to 'complicate' things, but it just got easier. Happy Valentine's Day to my bestie."
A day later, Waititi posted an amazing array of images showing just how helpful he is during photo shoots for Ora. Captioning the post "Boyfriends of Instagram," the director can be seen photobombing one shot for Ora's Vogue photo shoot, providing fan assistance for another, and taking a photo of Ora on the red carpet for the 2021 MTV EMA Awards.
February 2022: Matching Tattoos
Well, sort of. Waititi revealed that he got JANE inked on his knuckles on Feb. 12, even though he "doesn't know anyone called Jane." It's not clear who this Jane is, but some believe it either has something to do with the dog in the second picture or that it's a tribute to Jane Foster — Natalie Portman's character from Thor: Love and Thunder — seeing as she has a major role in this film.
Ora also got inked during their visit to Los Angeles-based tattoo artist Winter Stone. The singer got a delicately outlined flower on her upper thigh. "I got blessed by @winterstone - ate amazing food - and saw a pink sky - just a few cool things I wanted to share with you all," she wrote on Instagram.
February 2022: Runway Shows
The couple were spotted snuggling on the front row of Fendi's fall 2022 runway show on Feb. 23. Both wore matching white outfits, and they looked absolutely amazing.
The couple looked stunningly elegant as they took to the red carpet for the Bulgari BZero1 Aurora Awards at Milan Fashion Week on Feb. 27. Ora wore a cream jumpsuit embellished with diamond jewellery, while Waititi looked very suave in a tux and sunglasses.
March 2022: Critics' Choice Awards
Ora and Waititi attended the 2022 Critics' Choice Awards in Los Angeles on March 13, and though neither star was nominated, they stole the show with their incredible looks and their adorable displays of their blossoming love. The two also hit up after-parties and hung out with fellow celebs like Kristen Stewart and Venus Williams.
June 2022: Marriage On The Cards?
No engagement ring in sight, but there were rumours swirling that Ora and Waititi were set to marry in a low-key ceremony later that year. A friend of the couple told The Sun,"They didn't do a whole, 'Will you marry me?' thing and an Instagram post. There's no ring or big build-up. They just got closer and closer and eventually said to each other almost simultaneously, 'I want to marry you'."
August 2022: Wedding Bells
On Aug. 6, Ora's sister Elena shared a snap of Waititi vibing on Instagram stories, with a ring clearly visible on his wedding finger. According to The Sun, Ora and Waititi married at an "intimate ceremony" in London where the singer allegedly changed her surname to Waititi-Ora.
Once their busy schedules permit, the couple are reportedly planning a "big, showbiz-style bash" to celebrate their nuptials, according to The Sun's sources, but are determined to keep it "as private as possible" and don't want to "make a big song and dance about it." Ora is still currently working on The Voice Australia while Waititi has several film projects on the go, including directing a new Star Wars feature.
September 2022: A Marriage Confirmation?
During an appearance on Jaime Winstone's Greatest Night Ever podcast in September 2022, Ora spoke of how happy she is with Waititi. "I'm in love. I'm in love, amen," she told Winstone. "I love love as well. I've always been such a believer in it and I've always felt like I always wanted the fairy tale and that's what I grew up loving." Continuing to gush, she added, "I made that choice. It made me happy and I love Taika. He's so funny and lovely." Many have taken Ora's "that choice" comment as an apparent confirmation of her speculated marriage.
Alluding to there being a celebration of love on the cards, Winstone said: "There might be another greatest night ever coming." To which Ora replied that she hoped there would be, telling Winstone that she could be in charge of it.
Speaking on the audio series, the singer also revealed that her mother and father's 30-year relationship is what inspired her search for love. "My parents have been together for over 30 years, so for me, it was always about love and finding a partner and all that, so I'm really happy I did," she added.
January 2023: Officially Off The Market
It took several months, but Ora finally unquestionably confirmed the marriage rumors during an interview with Heart Radio Breakfast. Asked if she and Waititi had tied the knot, the singer said, "Yes. Here we are," per People magazine. She added, "They say everything happens for a reason. I am officially off the market, people!"
Ora's interview was to promote her new single, "You Only Love Me," which dropped on Jan. 27 with a music video depicting her as a bride on her wedding day. The Voice Australia coach gave fans a small peek at what her own experience was like by including video messages she received from famous friends, including Lindsay Lohan, Jodie Turner-Smith, Addison Rae, Chelsea Handler, Kristen Stewart, and Sharon Stone.
While it doesn't look like her music video character got to have the celebration of her dreams, Ora called hers "perfect" in the radio interview. A "big party" is still something she wants to throw "one day," but the wedding she and Waititi had was "really sweet" and exactly what she wanted.
This article was originally published on