Roman's Sweater On Succession Hints At A Sneaky Connection To Logan
It all ties back to an emotional scene in Season 1.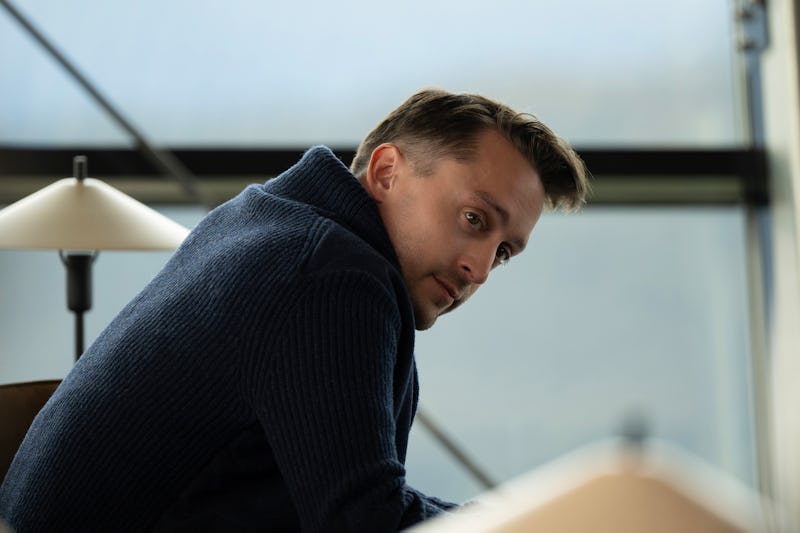 Graeme Hunter/HBO
Spoilers ahead for Succession Season 4, Episode 5. Logan Roy's death continues to have ripple effects on his company and his children — and Roman, in particular, is having a hard time. During the April 23 episode of Succession, Roman broke down in negotiations with Lukas Matsson. "My sister's kind of f*cked up about it, my brother's a mess, and I'm f*cking, I'm gone ... I'm dead, it's over for me." Roman also accused the Swedish tech mogul of actually killing Logan: "You drained the life out of him," he said. "You dragged this thing out for six f*cking months."
It's clear that Roman is the Roy sibling who feels closest to Logan — but even before his emotional moment, there was a subtle sign of Roman's allegiance to his dad. The sweater he wore to Matsson's Norway retreat looks a lot like the one his dad wears in Succession's opening sequence, down to the dark blue color and a similar collar. Upon closer investigation, it doesn't seem to be the literal same sweater: Logan's has a slightly different cable-knit pattern.
But if you're used to watching the Succession theme song every week (it's required viewing!), then it might have looked fairly familiar. Maybe it's another sweater from the Roy patriarch's closet? With all eyes on potential Easter eggs and theories about Succession's final season, it's worth paying attention to as a possible indicator of Logan's ultimate successor. (Hey, the airplane clue turned out to mean something.)
The sweater clues don't stop there. Earlier in the episode, Roman told Shiv about Matsson's desire to buy ATN — and while she suggested letting him, Roman wanted to hold on to the media property. "It's also dad's pride and joy he died trying to keep," Roman said.
"Yeah, well, let's just keep one of his old sweaters," Shiv replied. "Less racist." Roman reacted with a seemingly knowing look — perhaps as if to acknowledge: Yep, I definitely did that.
Let's not forget, he's shown an attachment to his dad's sweaters before. All the way back in Season 1, when the family was in the hospital for Logan's stroke, Roman called Greg for a personal favor. "I know you're picking up PJs and all that sh*t," Roman said. "Just, um, grab a sweater maybe also. My dad's, OK?"
Roman also told his cousin that he'd like one that wasn't washed. "I just want something that smells like him," he said, upon pressing. "I just want that. Is that enough for you?"
So yes, Roman wearing one of his dad's old sweaters would make a lot of sense given their history. But from a creative perspective, Roman's sartorial choice might reflect being even more aligned with his dad as time goes on. There's also the official poster for the season, where Logan and Roman are the only two characters looking the same way — at the camera.
Hmm!